My ride to Stockholm has arrived. SAS uses Braathens Regional's Saab 2000 aircraft for their flights to Oulu and other destinations in Finland.
Oulu Airport has a very small duty free shop and cafe.
I usually prefer boarding via tarmac as it's nice to walk close to the aircraft. In this weather though, I wouldn't mind a jet bridge...
Not-so-clean window at seat 15A.
Saab 2000 has very good power-to-weight ratio and as consequence we're airborne in no time with very little runway used.
Most of Braathens Regional's Saab 2000's have this kind of leather interior. Showing it's age, but seats are quite wide and pitch is more than acceptable. Also visible on the photo are the loudspeakers that are used by the aircraft's active noise canceling feature.
Plenty of space. The small hole in the wall is a microphone used by the previously mentioned active noise cancelation.
Now standard SAS inflight menu for intra-European flights. I didn't buy anything on this flight.
General view of the cabin. The Saab 2000 has 50 seats in a 1+2 layout.
---
Stockholm-Arlanda Airport
After arriving to Stockholm, I quickly made my way to the Scandinavian Lounge which is located on Terminal 5 between piers. It's also a Star Alliance Gold lounge. There's also different lounge next to the Scandinavian Lounge for business class passengers who don't hold Star Gold status.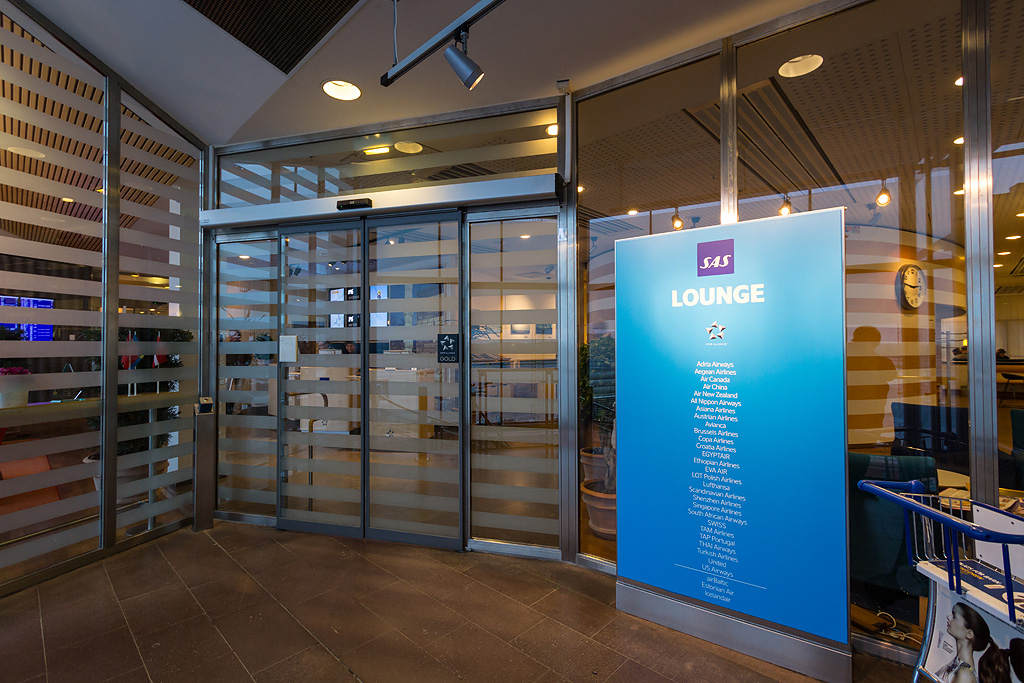 Early afternoon lounge was fairly quiet. I quite like the decor that SAS uses in it's lounges these days. One thing to note, the airport has free Wi-Fi(requires SMS registration) is faster than one on the lounge.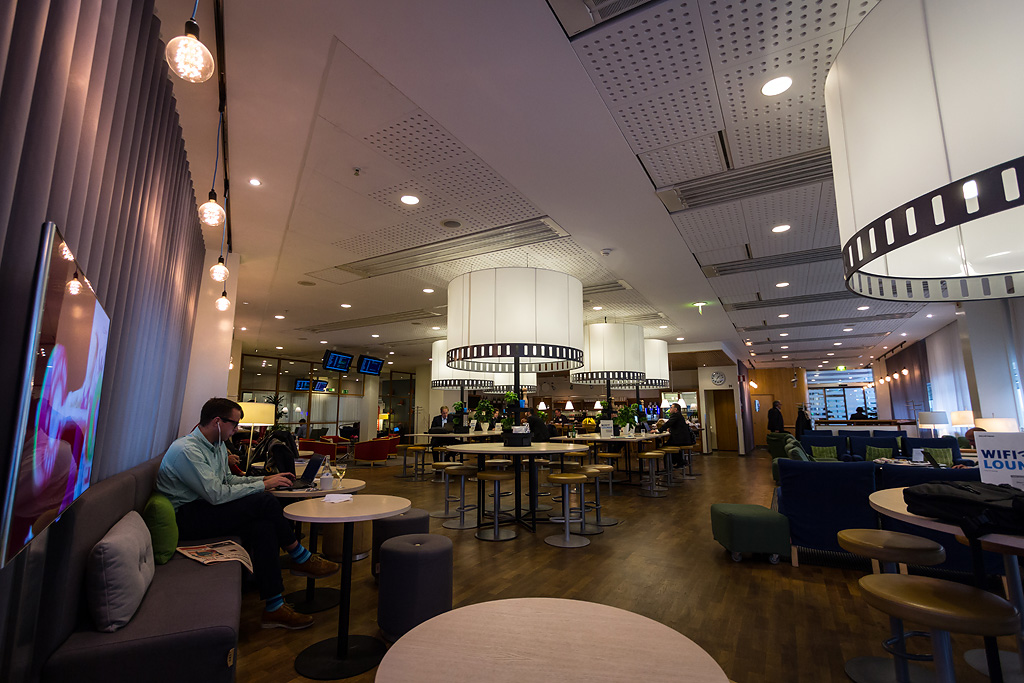 My lounge meal. Food was fairly good and proper food instead of crackers etc.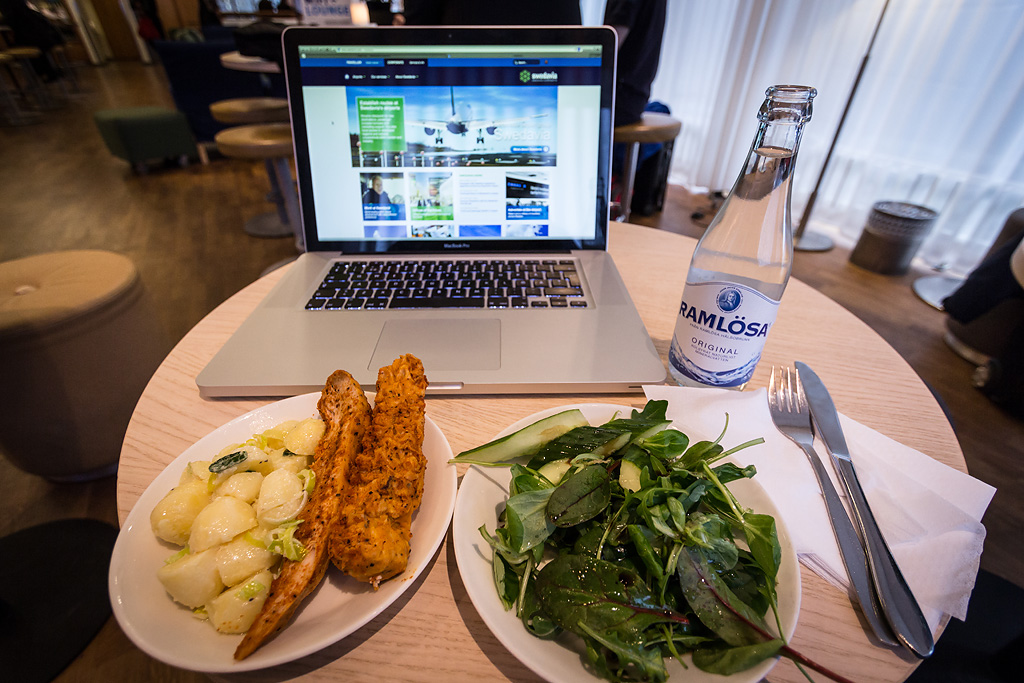 After eating and catching up on all the stuff on the Internet, I went to space near the lounge entrance where there was very good views to the apron and runway. Of course I had to take a few shots, despite the bad weather.
Icelandair B757 going back to Keflavik.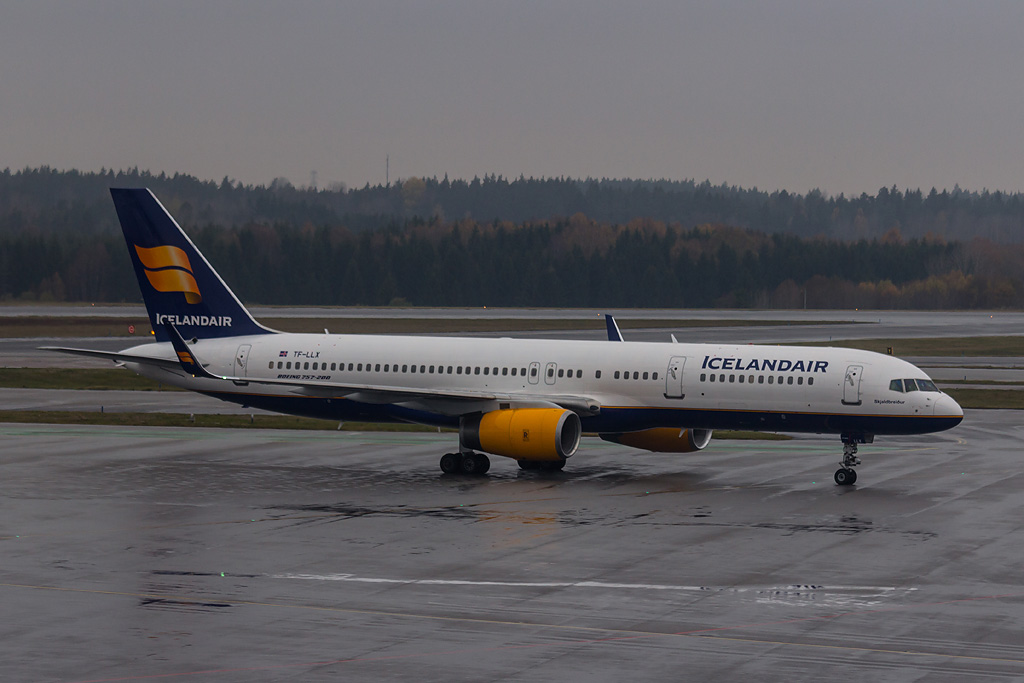 SAS B738 taking off from runway 19 right.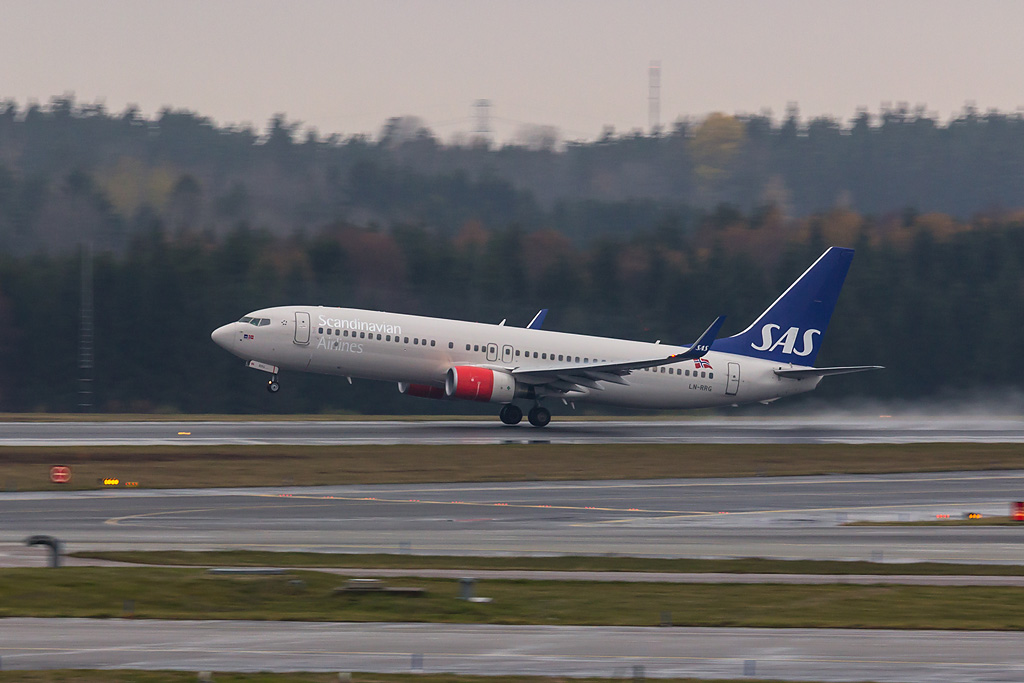 Thai B777-300ER starting it's flight back to Bangkok while IranAir A310 is a about star taxiing to the runway.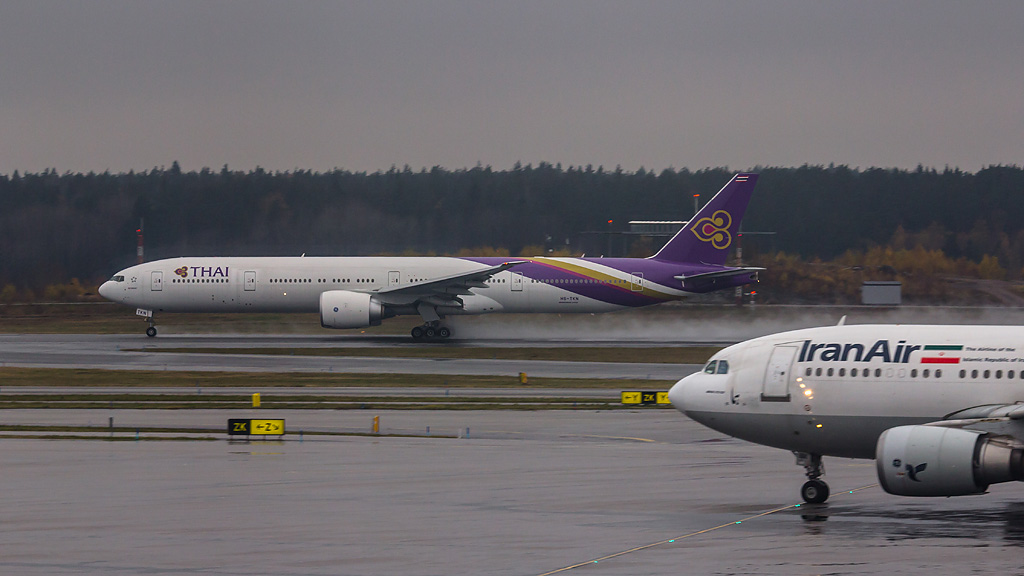 IranAir A310 to Tehran.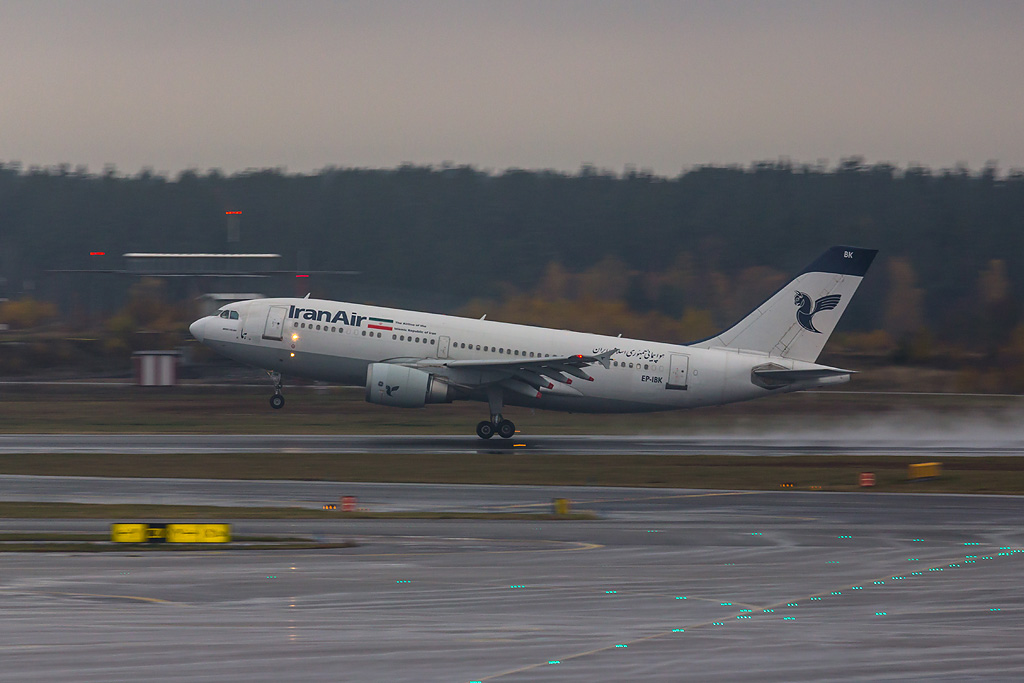 After taking few photographs, I made my way to F-pier's non-schengen area where flights to UK depart. There are also some a bit more unusual destinations from Stockholm.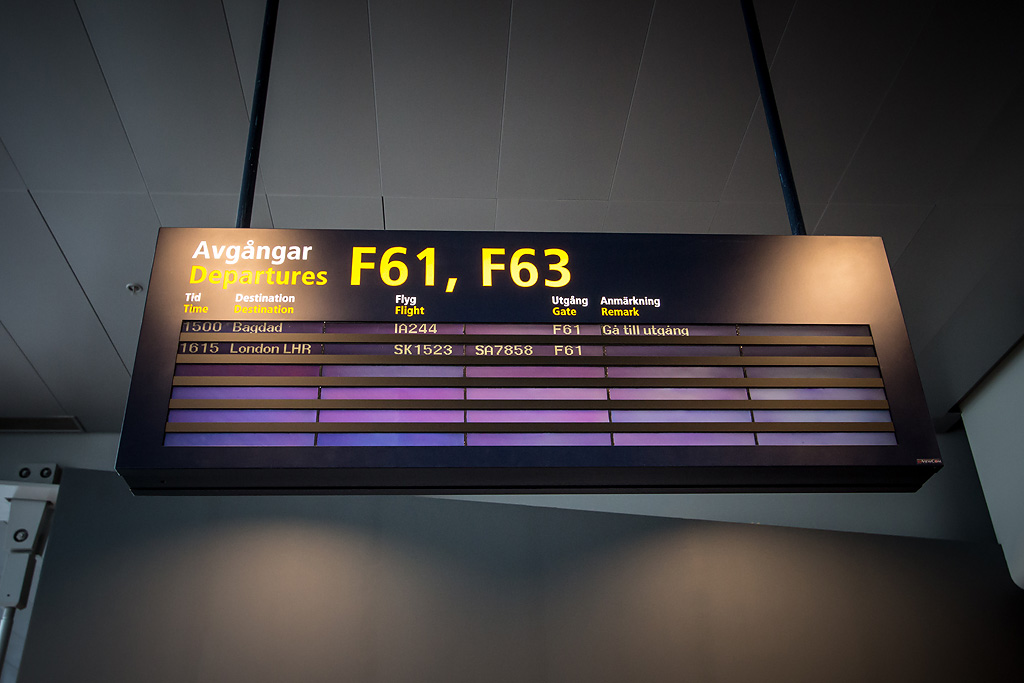 ---
Stockholm-Arlanda to Manchester
Flight Details

Date
Flight
Route
Scheduled Time
Actual Time
Duration
Distance
Aircraft
Seat
Class
23OCT2013
SK2549
ARN-MAN
16:25-17:55
16:17-17:55
2h 28min
1419km
Boeing 737-700
17A
Economy
Boarding was very fast and we managed to get going before scheduled time. Here we're already accelerating at runway 19R. RAF's Tristar also taxiing out for departure.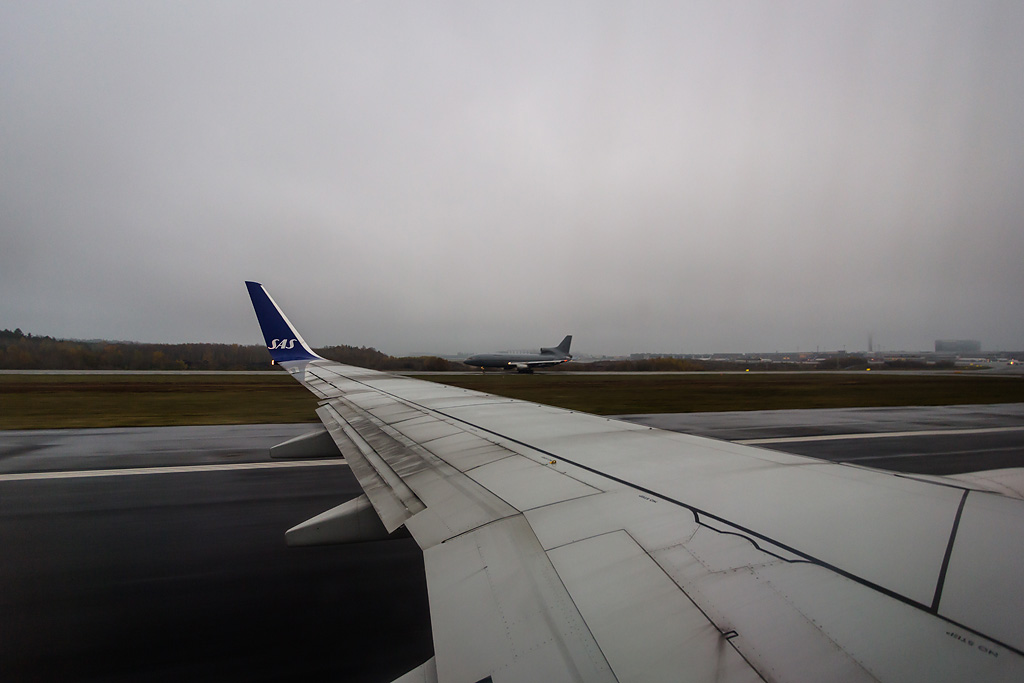 We broke through the clouds in no time into a beautiful sunshine.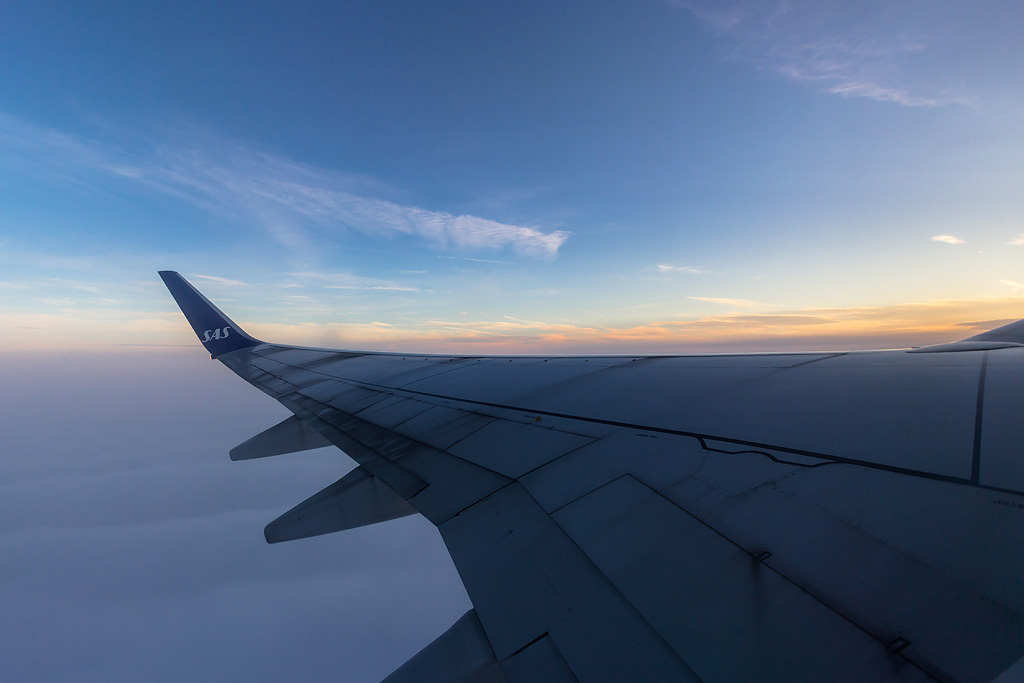 Cabin view as we're somewhere over Norway. This flight has basically the same service concept as on the previous flight with same offerings and prices.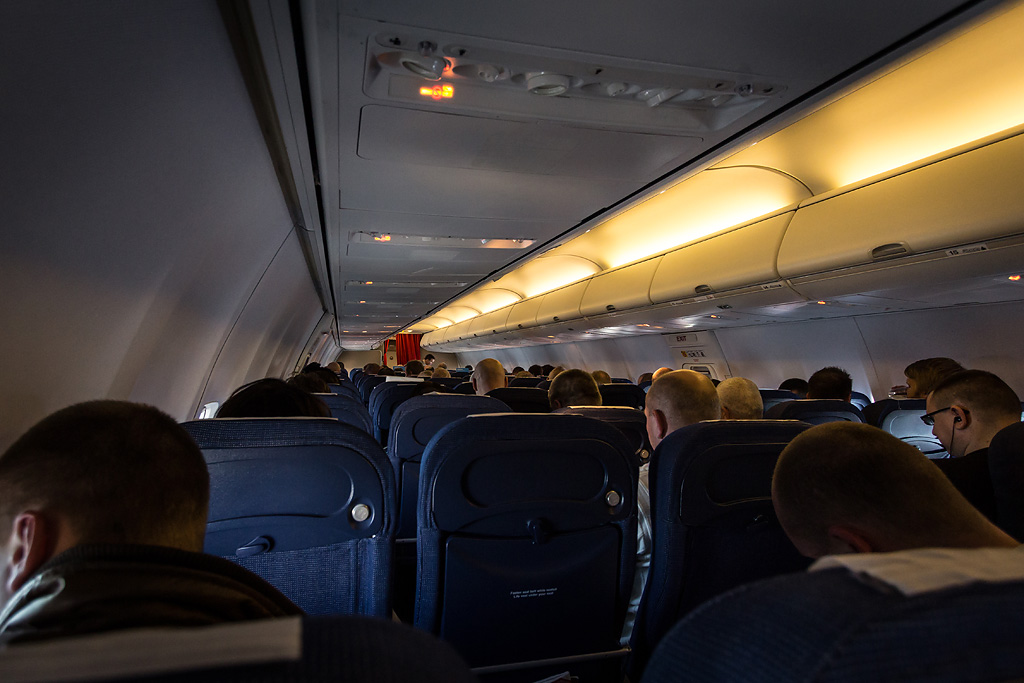 Legroom is passable for short flights. Seats themselves are your average Recaro slimline product. Many people don't like the new slimline seats, but I find them quite good actually. Their form is very good, at least for me and I've never had the problem of them being too hard. Seat width is mostly restricted by the width of the fuselage. This same seat on the Airbus A321 was way better in terms of width as the aircraft fuselage is noticeably wider.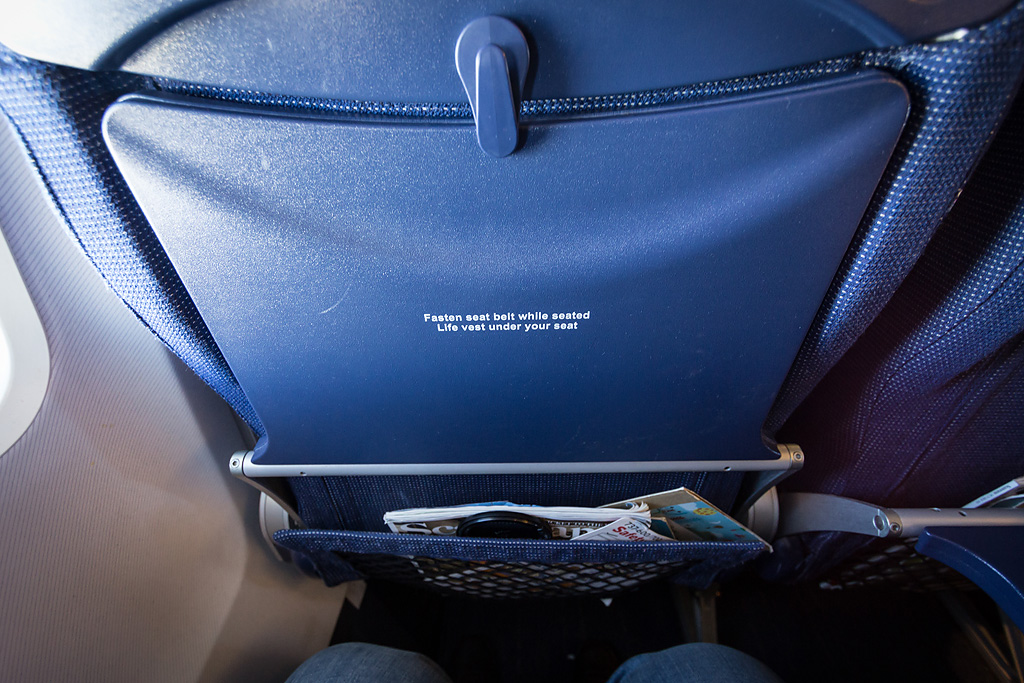 Windows on B737...I really don't like them. They're way too low for me. For photography, I can use camera's live view but for viewing outside, other than anything that's lower than you, they're really bad.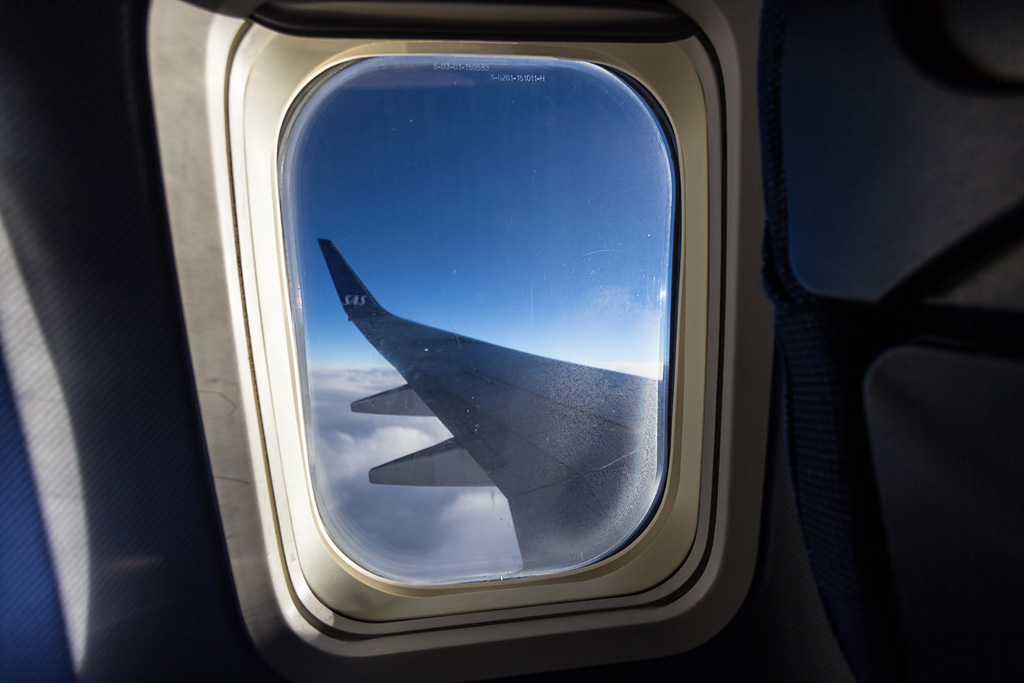 When we finally arrive over UK, the weather has cleared.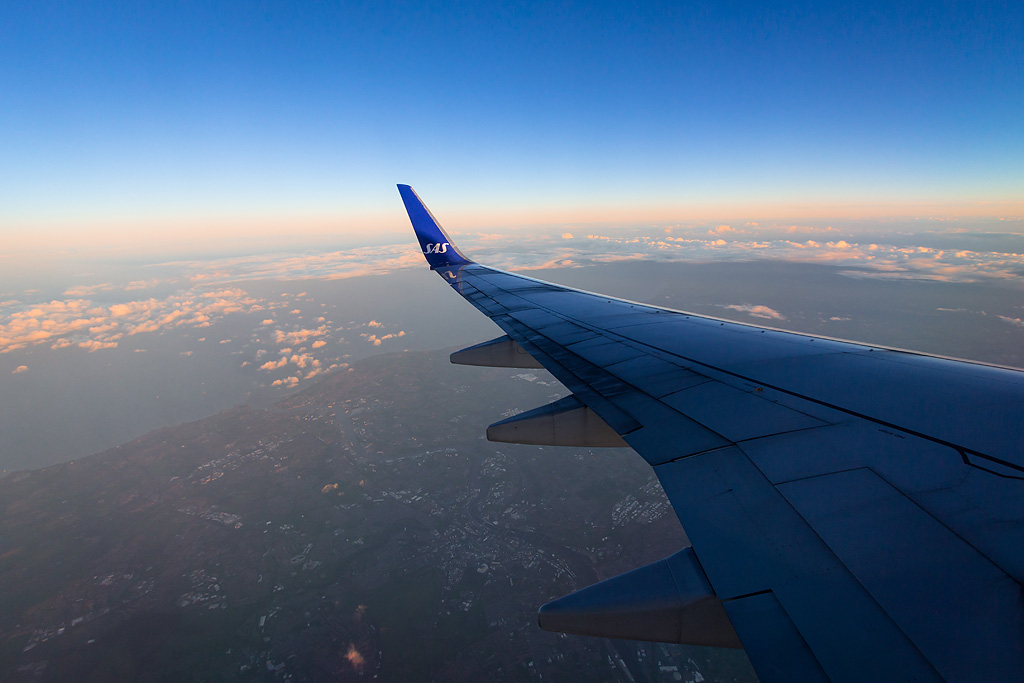 The approach to Manchester was one of the more spectacular ones I've seen in recent times.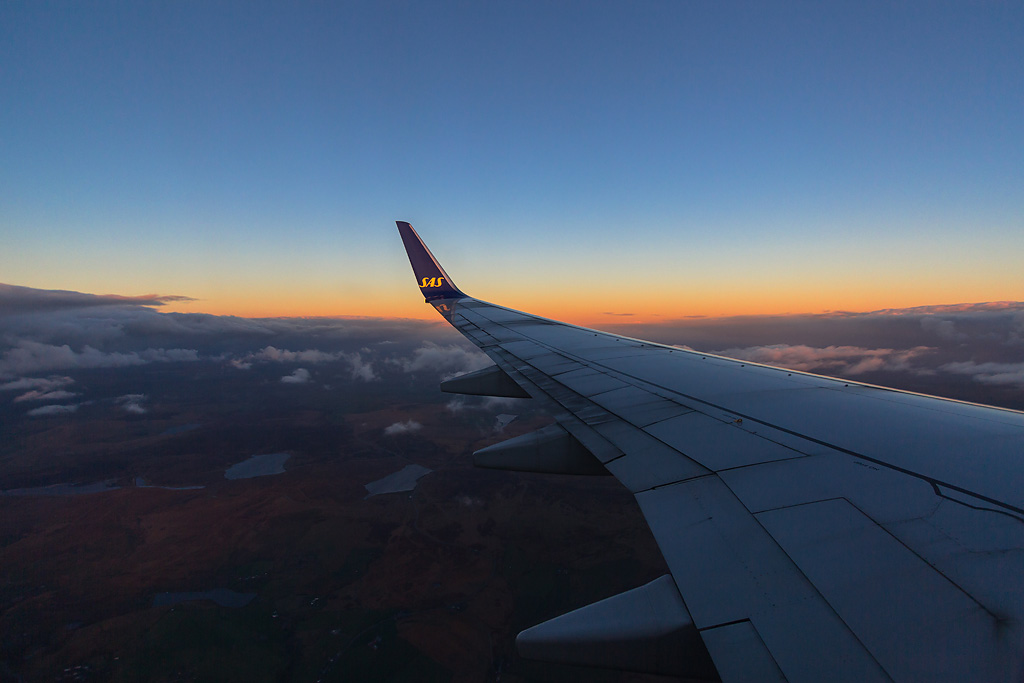 Final rays from the sun today.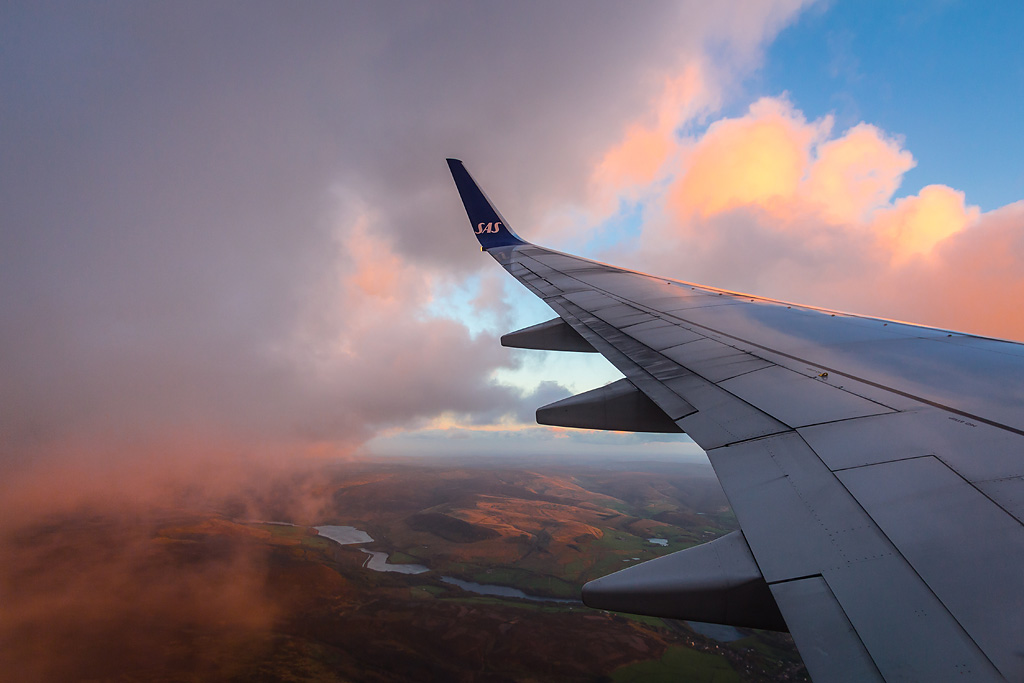 On final approach to Manchester's Runway 23 right.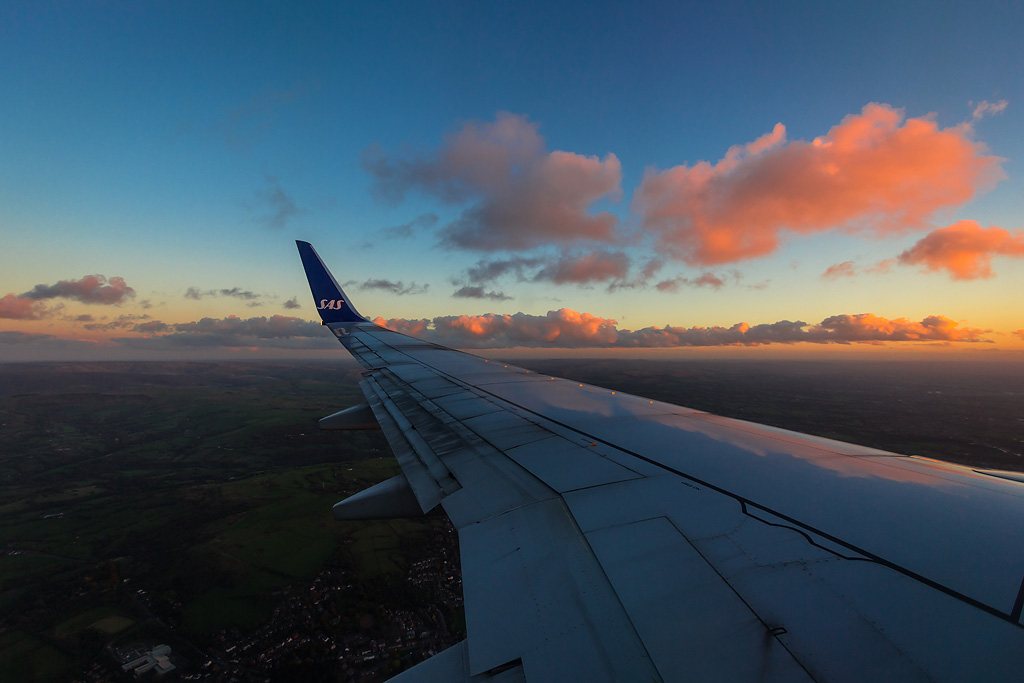 ---
Manchester
I had booked one night stay at nearby Bewley's Manchester Airport -hotel. Room was basic, but ok.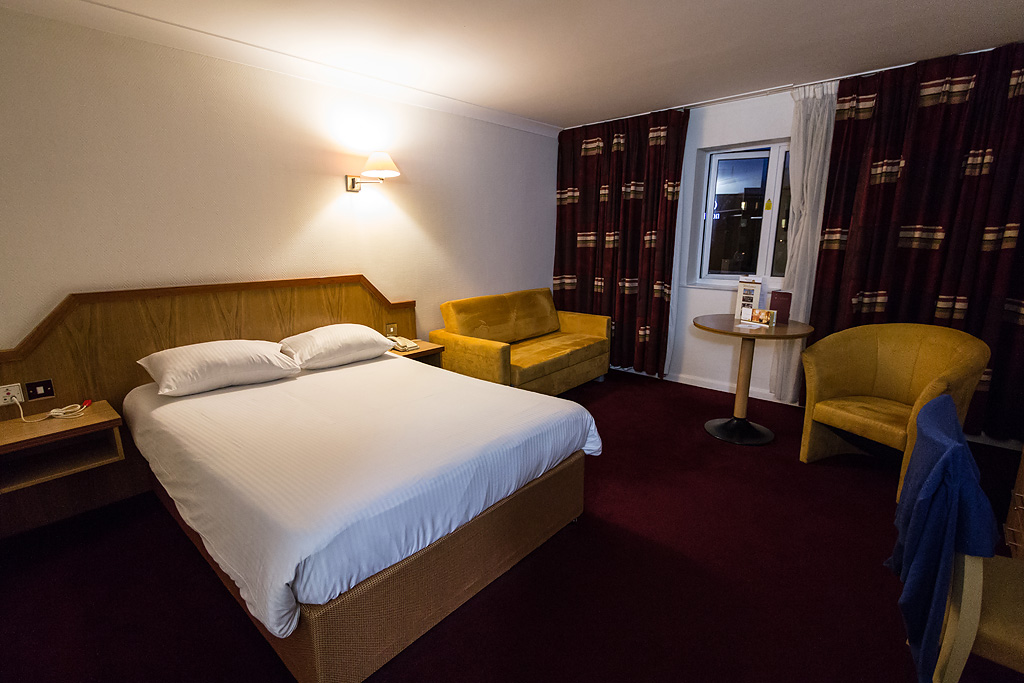 Bathroom.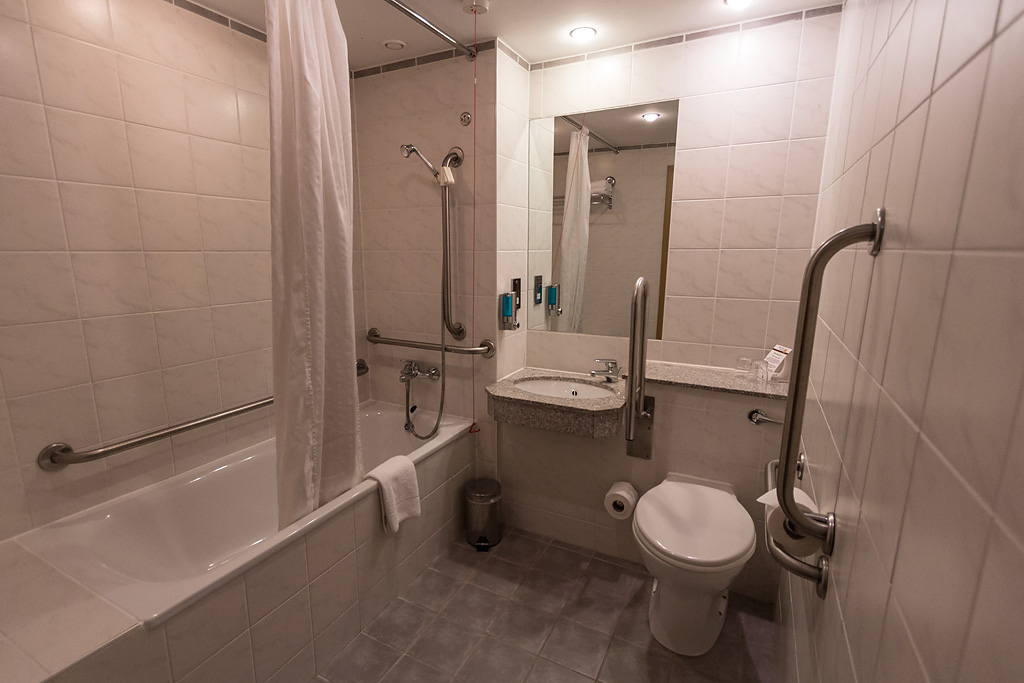 Next morning I got the free shuttle bus ride to Terminal 2. This is after security. Lounges are on the second floor, but I only quickly visited one as it's offerings were rather poor.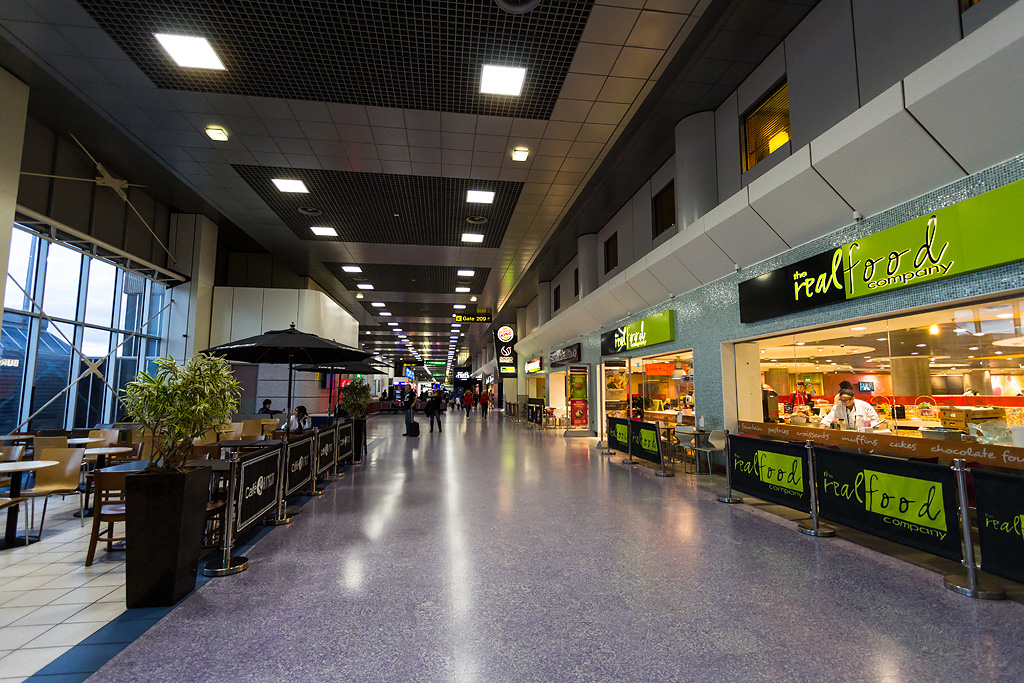 Virgin Atlantic B747 taxiing to stand after trans-atlantic redeye flight.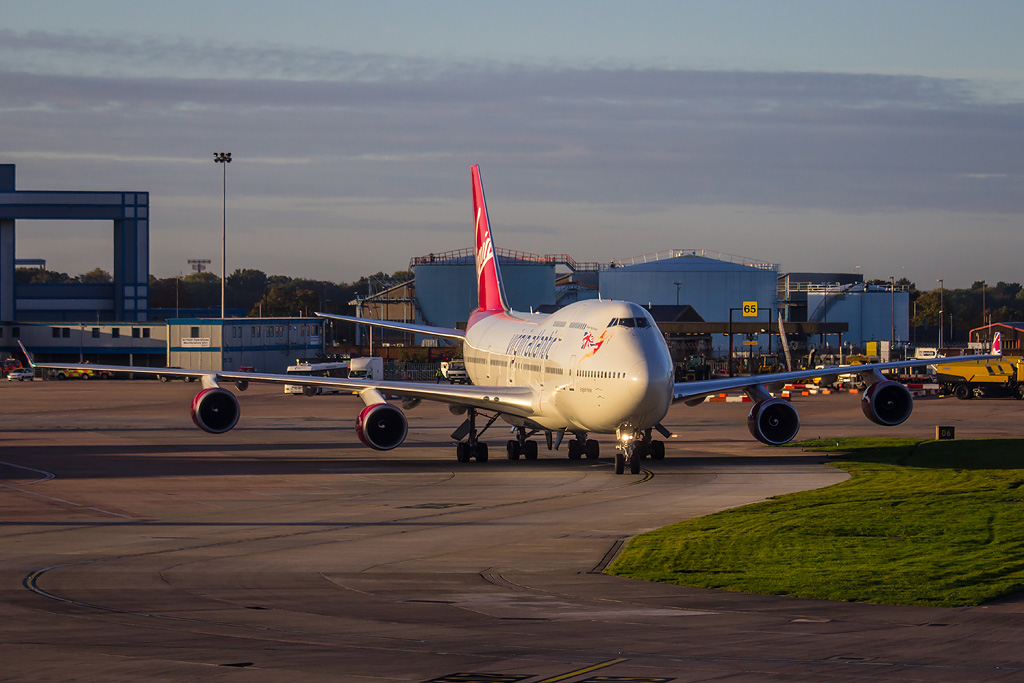 The departure gate is being prepared.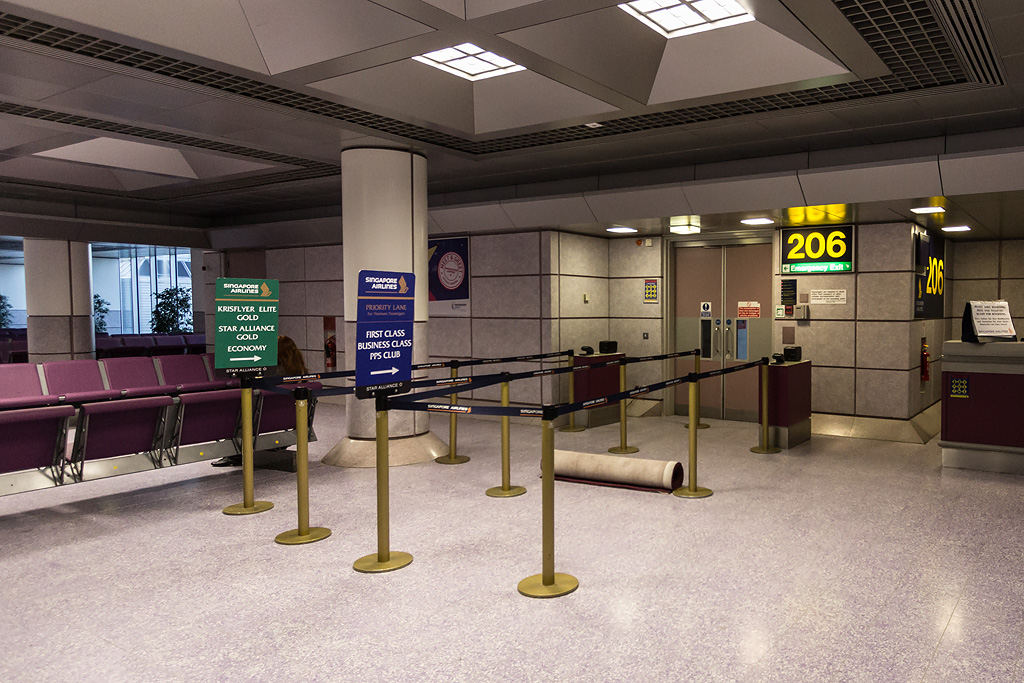 The inbound flight was delayed a bit because of this B757 was pushed back to the taxiway, blocking the inbound flight. They waited maybe 10 minutes before the B757 taxied out of the way.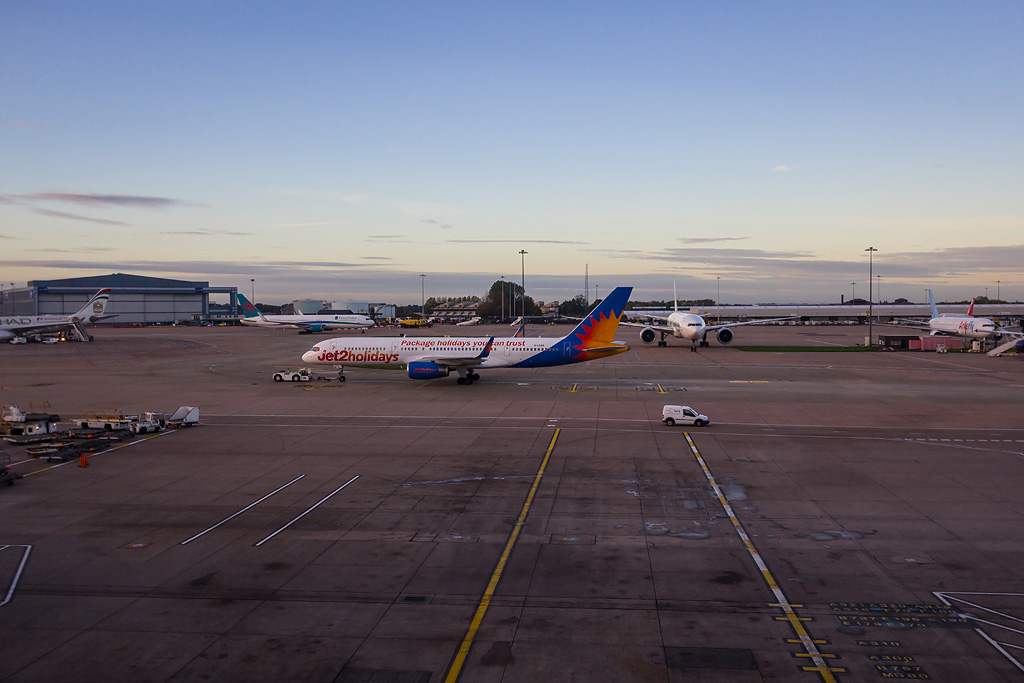 She's one gorgeous looking machine. And there couldn't have been better weather to go flying.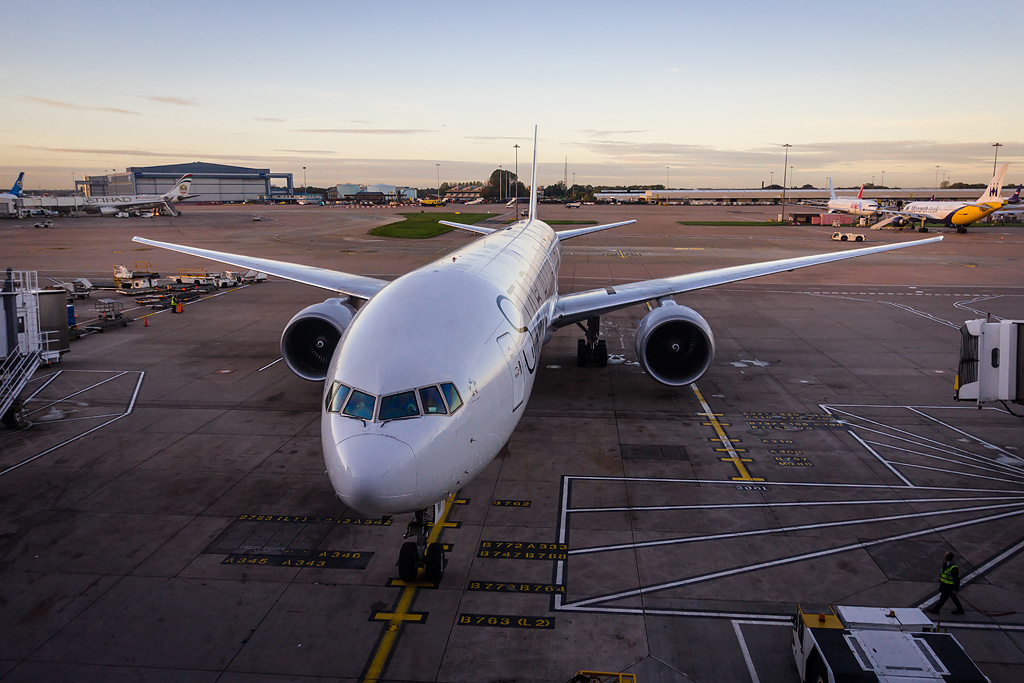 ---
Manchester to Munich
Flight Details

Date
Flight
Route
Scheduled Time
Actual Time
Duration
Distance
Aircraft
Seat
Class
24OCT2013
SQ327
MAN-MUC
09:10-12:15
09:25-12:28
2h 03min
1133km
Boeing 777-300ER
38A
Economy
Sleek and large wing of the B777-300ER.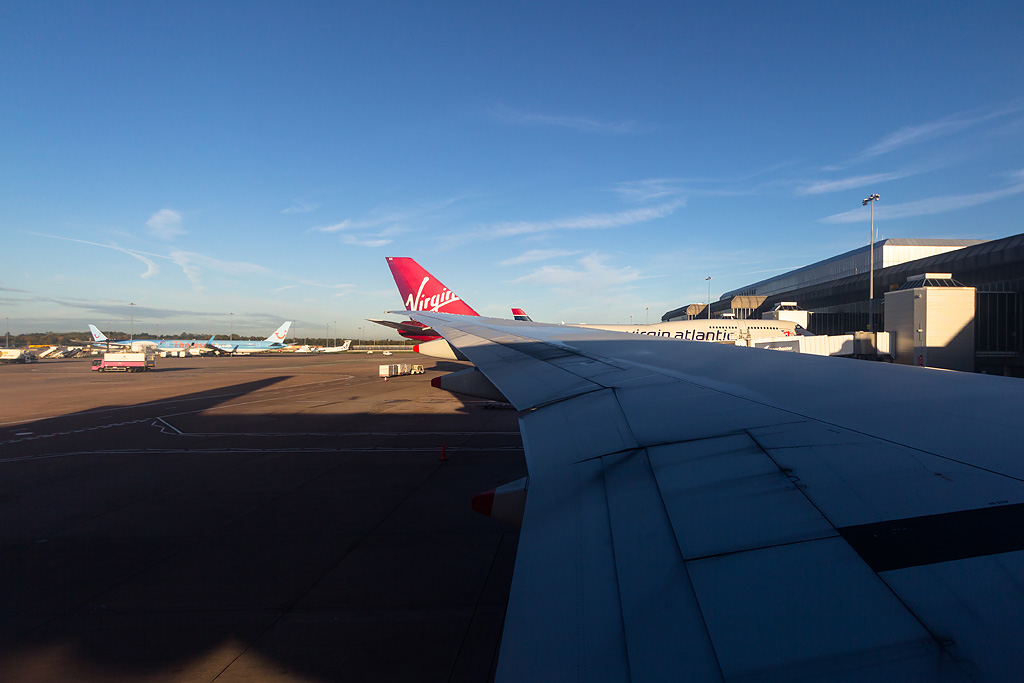 Taxiing towards departure runway which was 23 left today. Here crossing runway 23 right.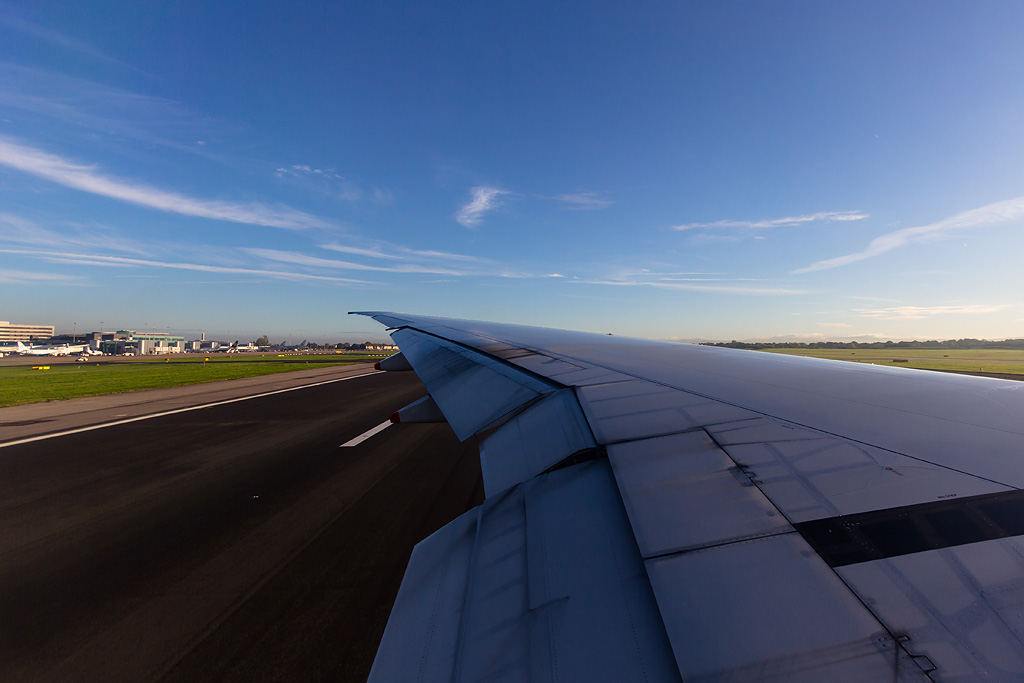 Moments after takeoff.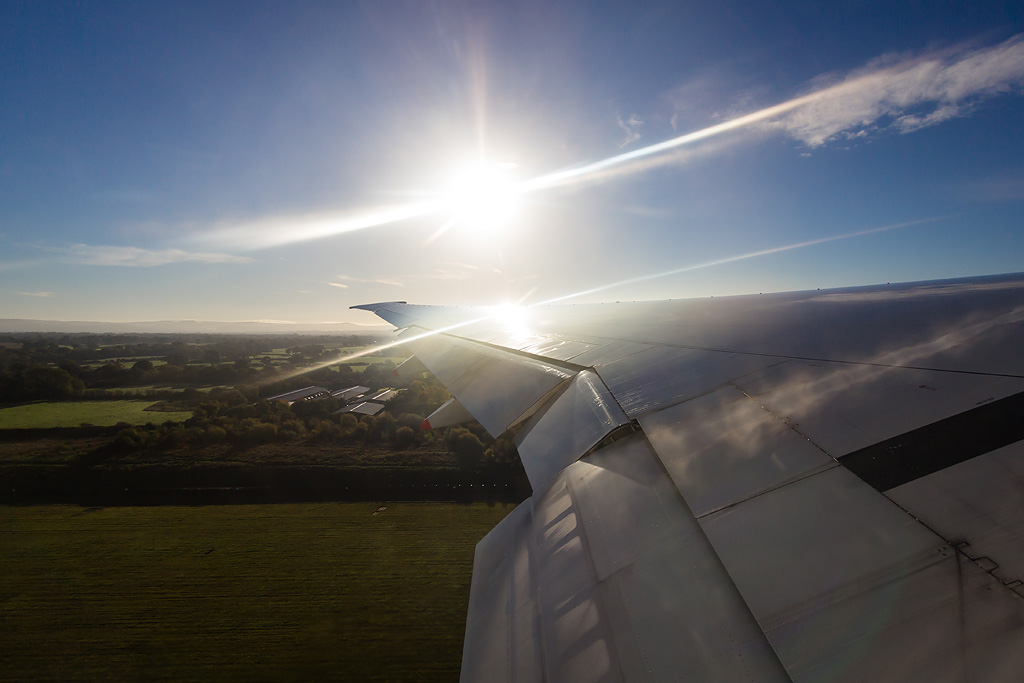 Turning right to follow the HON 1Y departure route.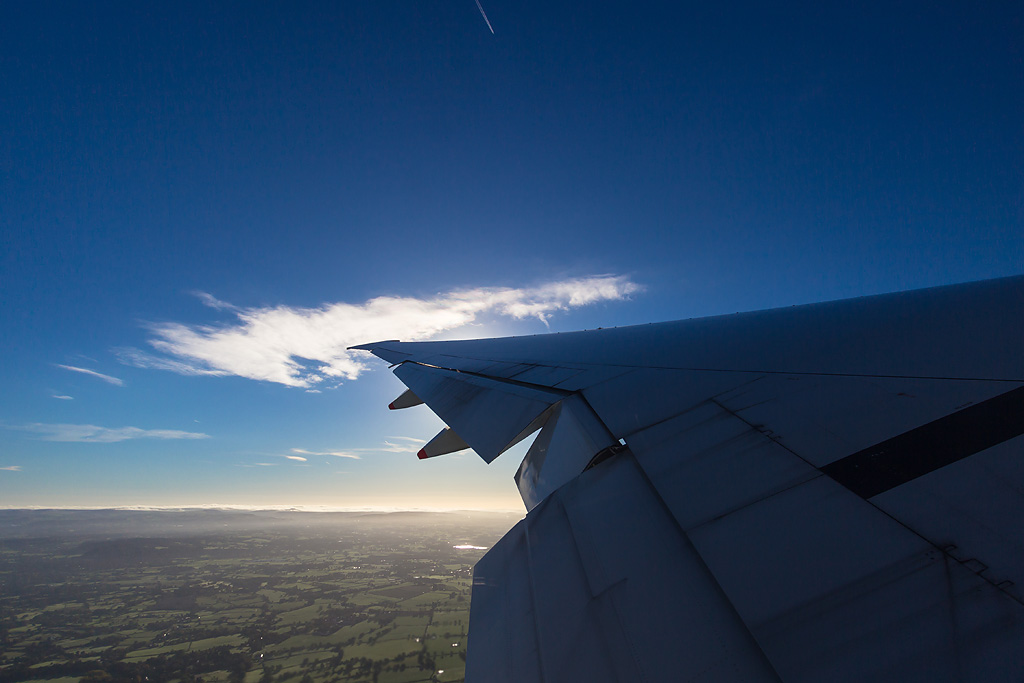 Here on a long left turn. The airport can be seen right next to wing tip.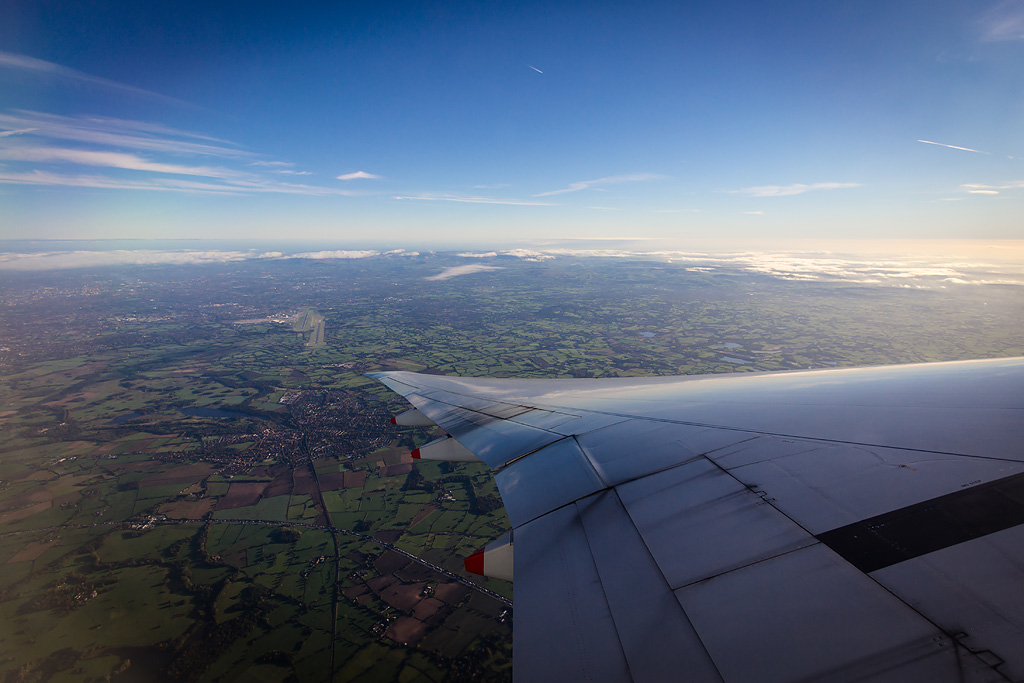 Singapore Airlines distributes menu cards even on this short intra-European hop in economy class.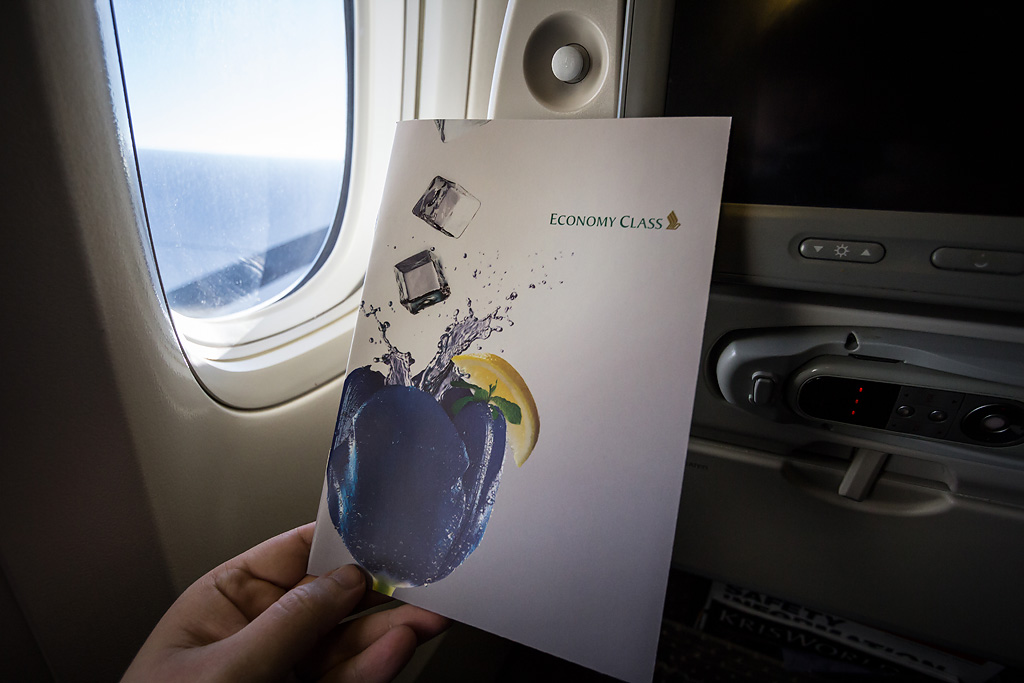 Obviously a bit limited, but way more offerings than one usually gets complimentary on intra-European short haul flight.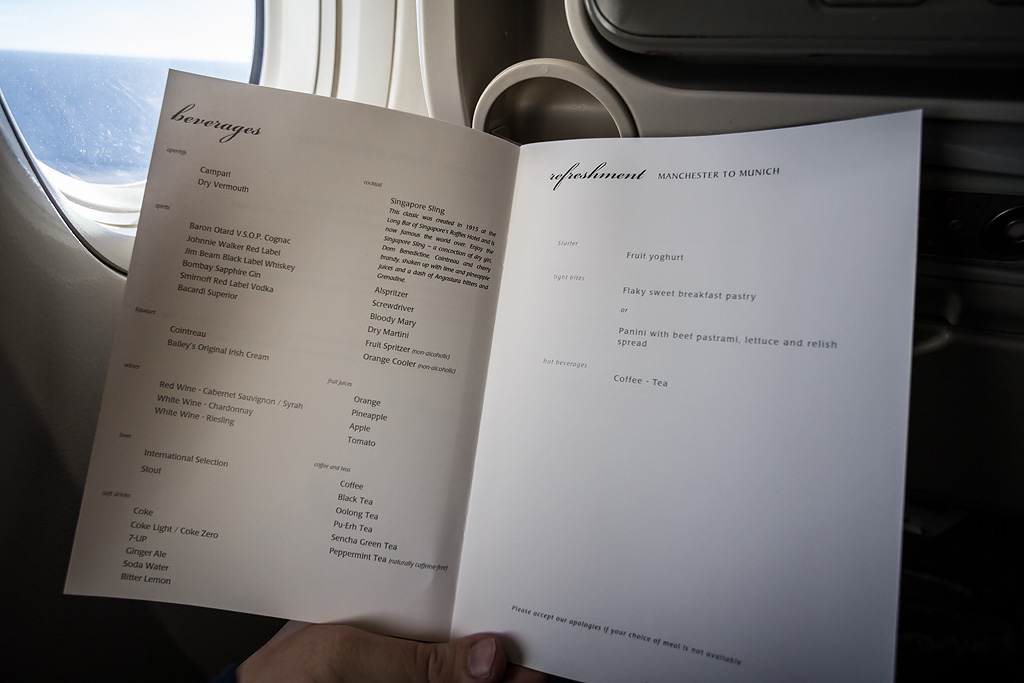 Heading southeast towards Bavaria.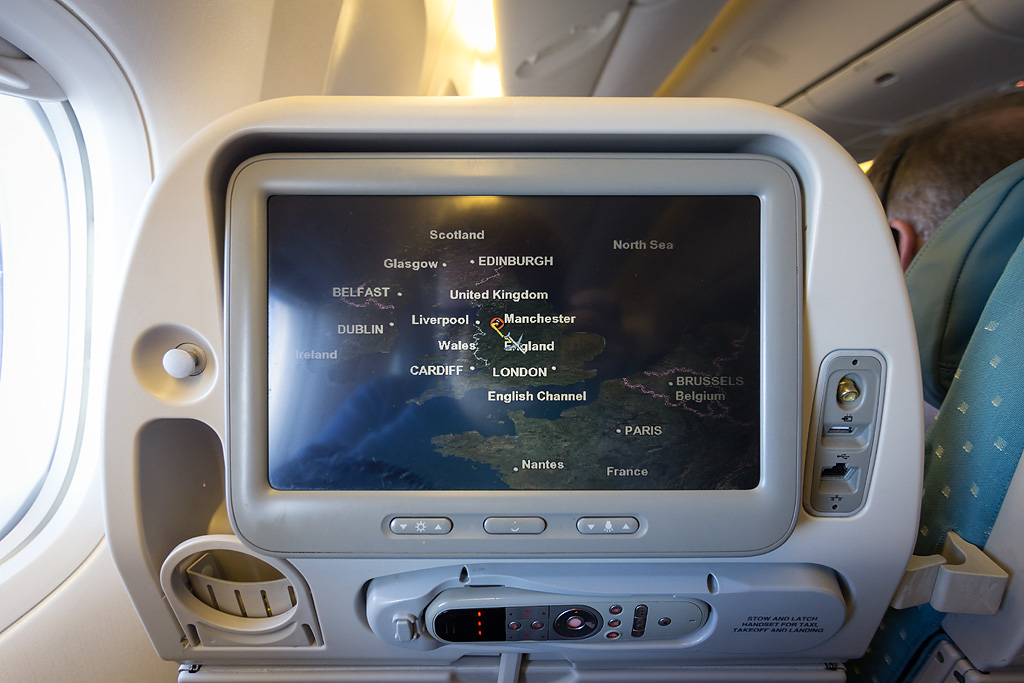 Breakfast. I choose the panini option and it was quite tasty. Also note the proper metal cutlery. Many airlines don't even distribute metal cutlery in long haul economy class, let alone on short haul.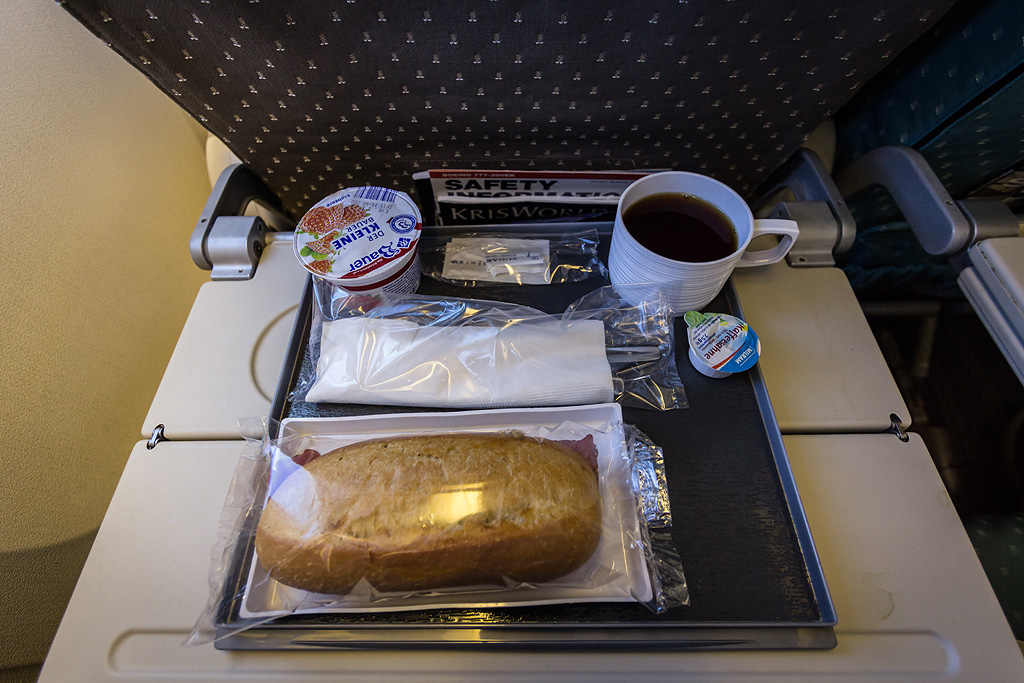 Two windows to admire the view.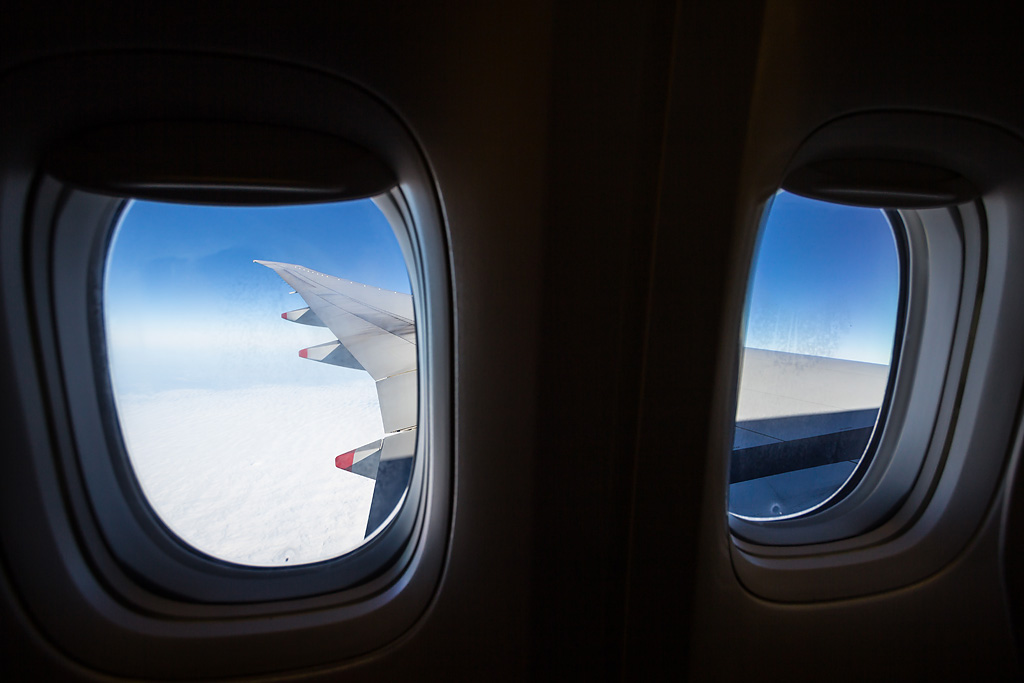 View of the cabin during cruise.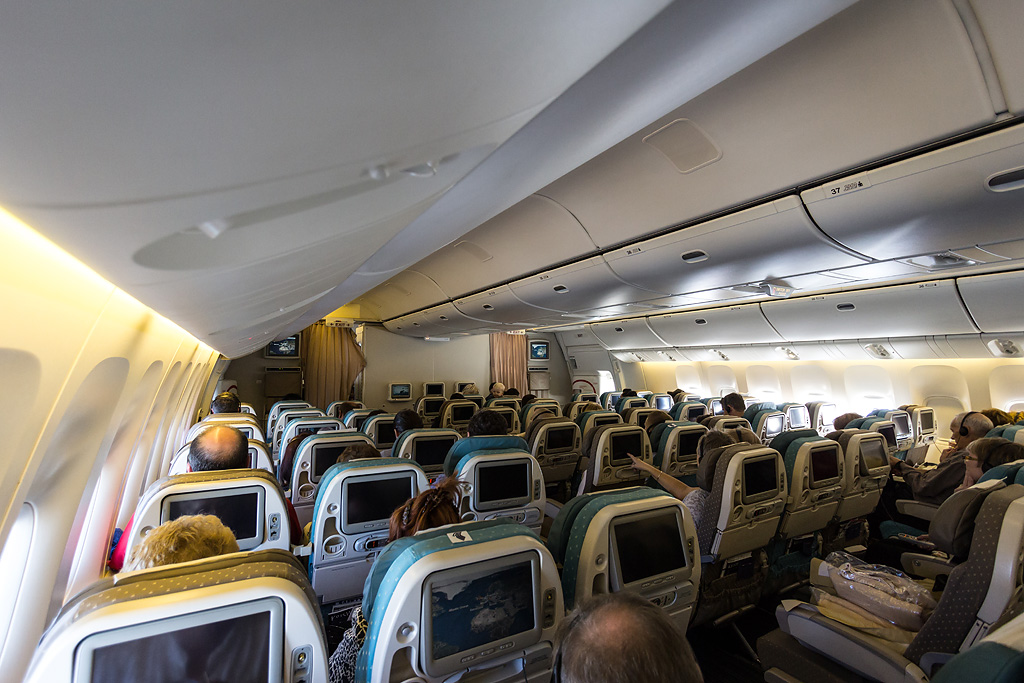 Almost there. The seats Singapore Airlines uses are very good economy seats and I'd be very willing to fly them long haul also.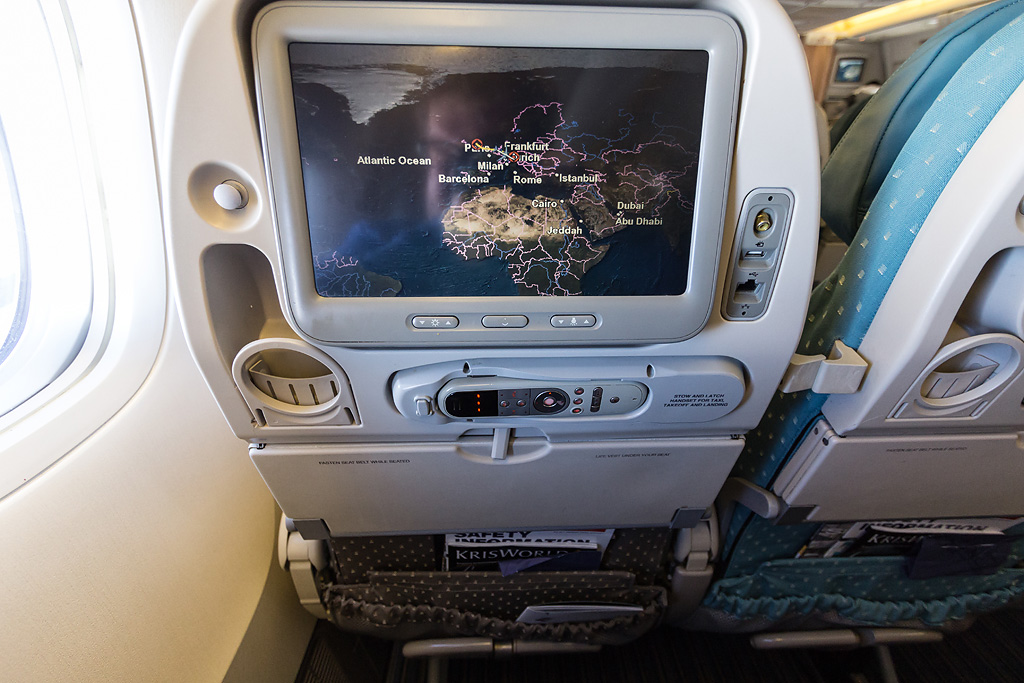 The weather was really beautiful. Here we're about to turn to final approach.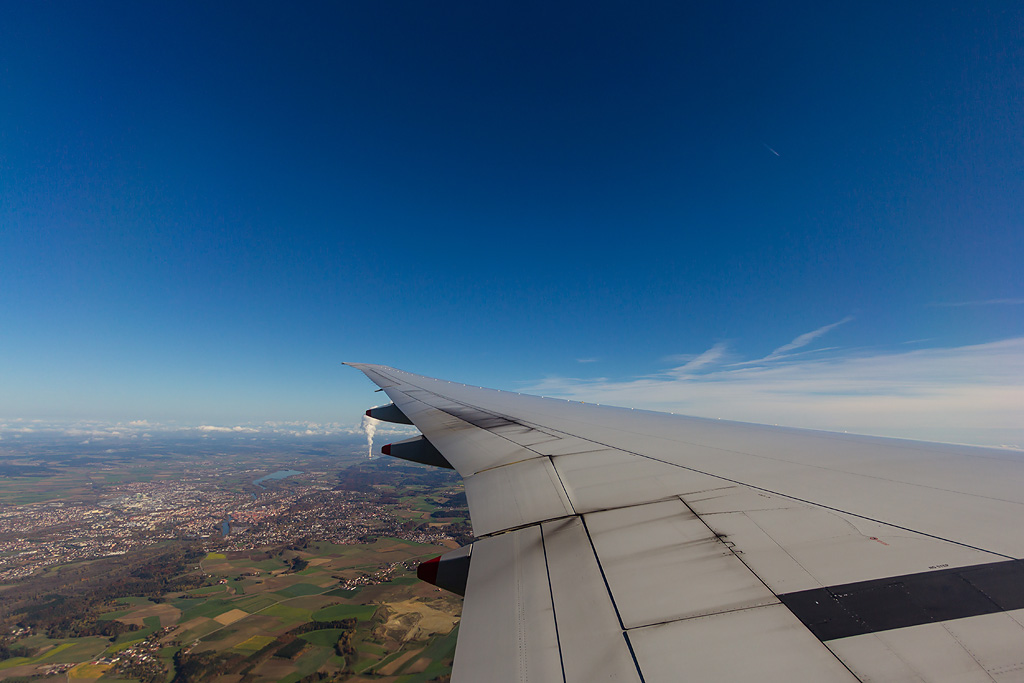 Touchdown!
---
Munich Airport
There were no queues at immigration and my bag had arrived by the time I got to the baggage claim. Here already going for check-in for my next flights. Not shown here, but I used the very convenient Lufthansa First Class checkin area where there is own security line. It took maybe 5 minutes total to clear checkin and security.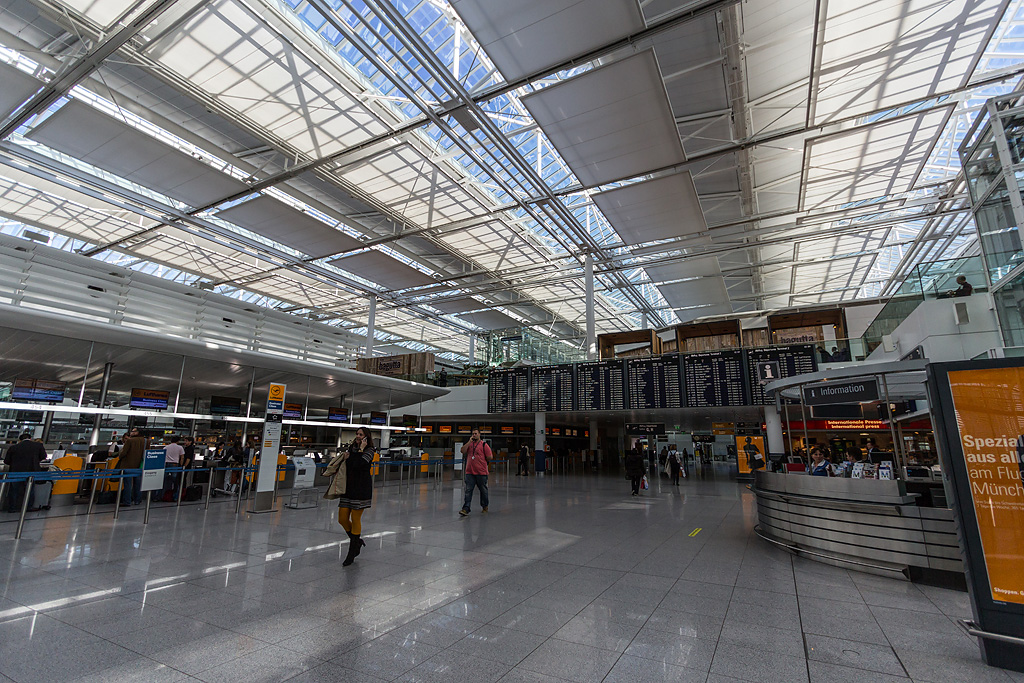 Area right after security. Walked around a bit and found Munich Airport to be very user friendly.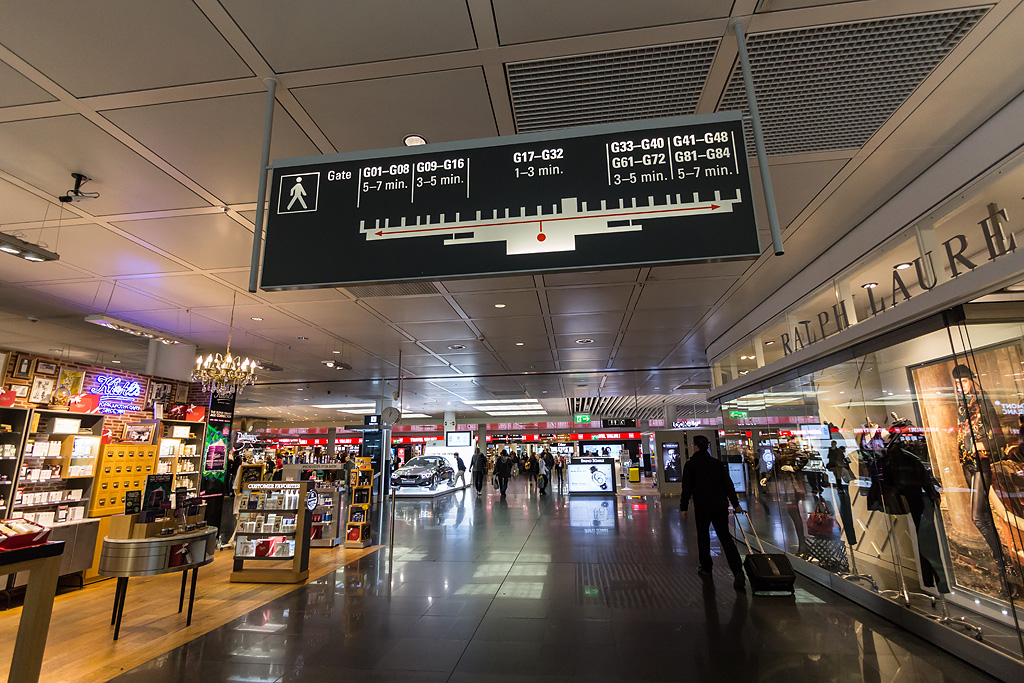 Lufthansa Senator Lounge. No food photos this time, but offering was quite good.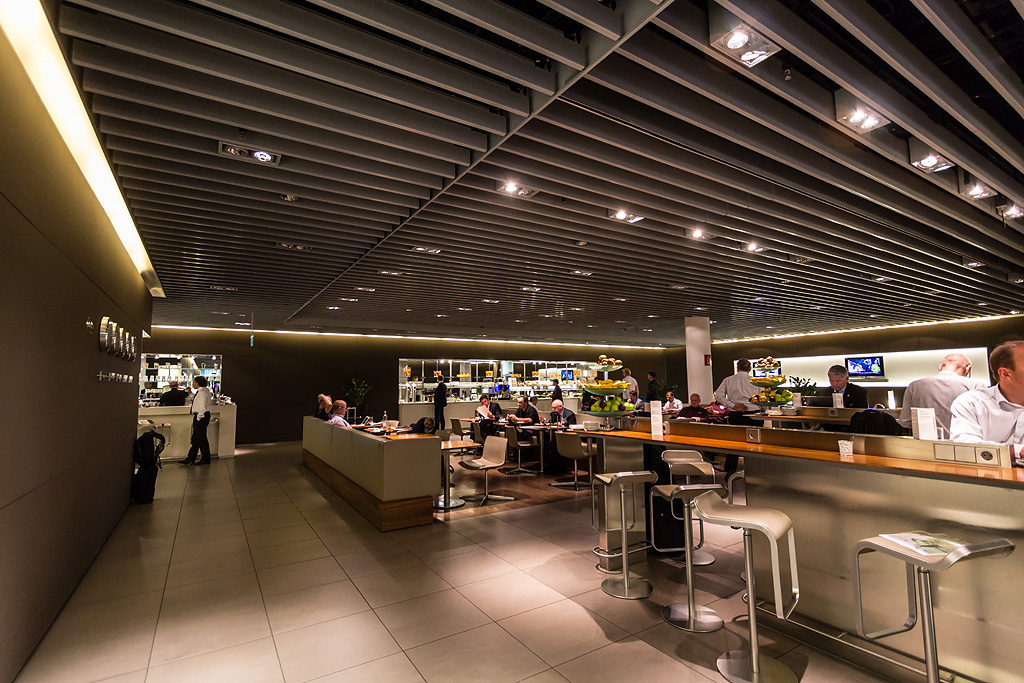 After having a bite to eat at the lounge I headed back to the main area of the terminal and wandered around bit more.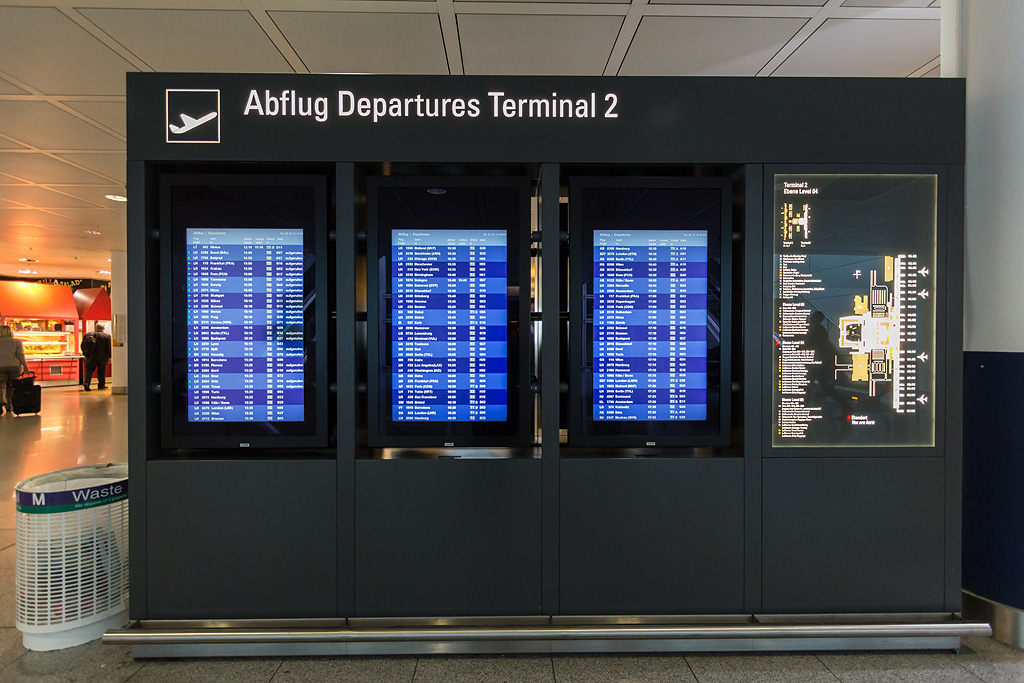 At the north end of the terminal I decided to grab a few photos of the departing aircraft. Seen here is Lufthansa Regional's Embraer 195.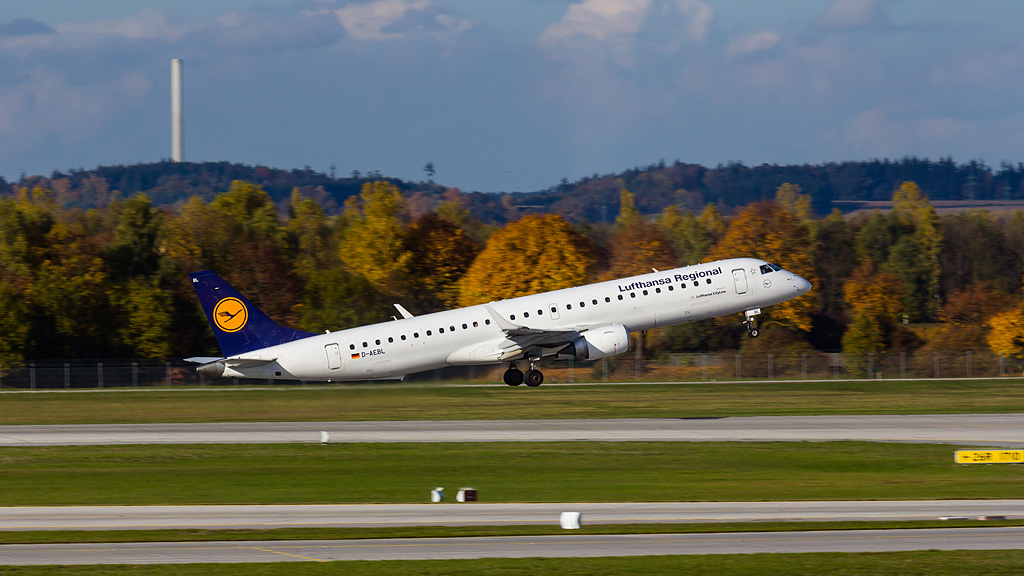 One of the firmly not eurowhite liveries out here.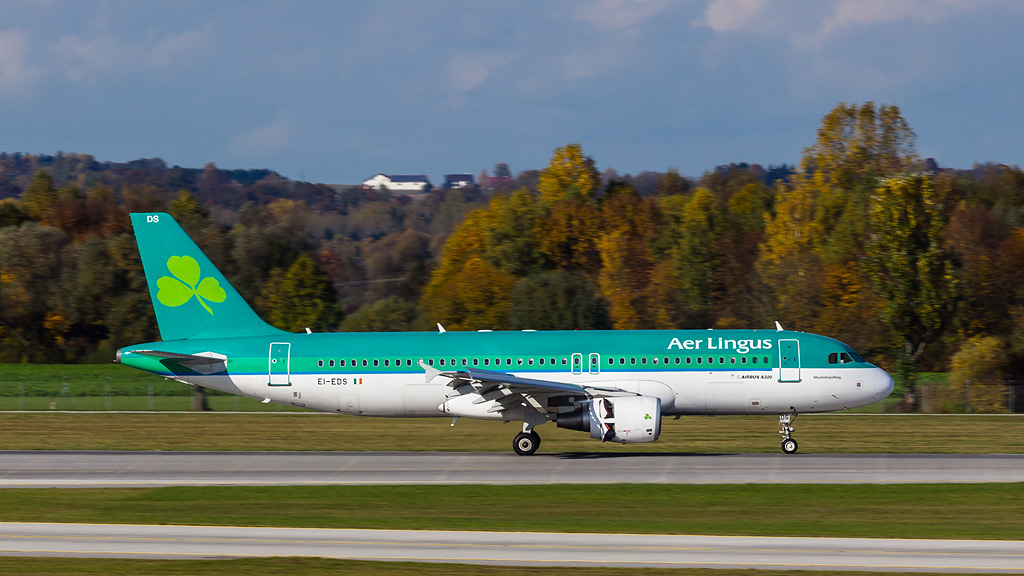 Lufthansa's A340-600 starting it's long haul flight to cross the Atlantic or to Asia.
Gate G02 today.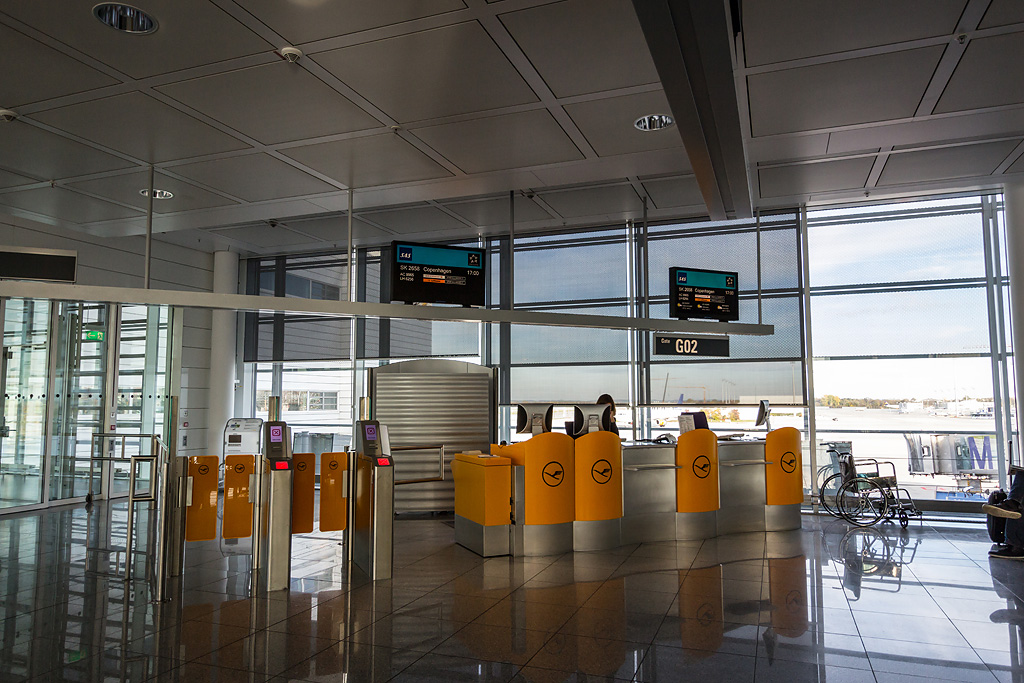 ---
Munich to Copenhagen
Flight Details

Date
Flight
Route
Scheduled Time
Actual Time
Duration
Distance
Aircraft
Seat
Class
24OCT2013
SK2658
MUC-CPH
17:00-18:35
16:58-18:24
1h 26min
810km
Airbus A321
25A
Economy
View from my window during boarding, we're just about on the northernmost edge of the terminal and apron.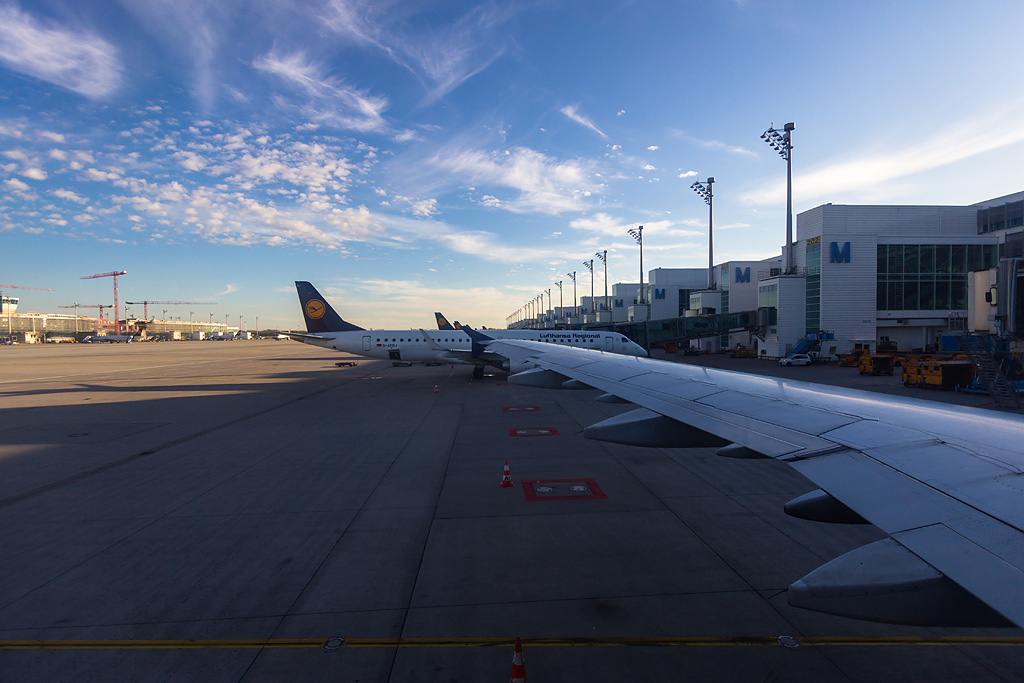 Lots of legroom on seat 25A. Slightly narrower seat though because of the table is in the armrest.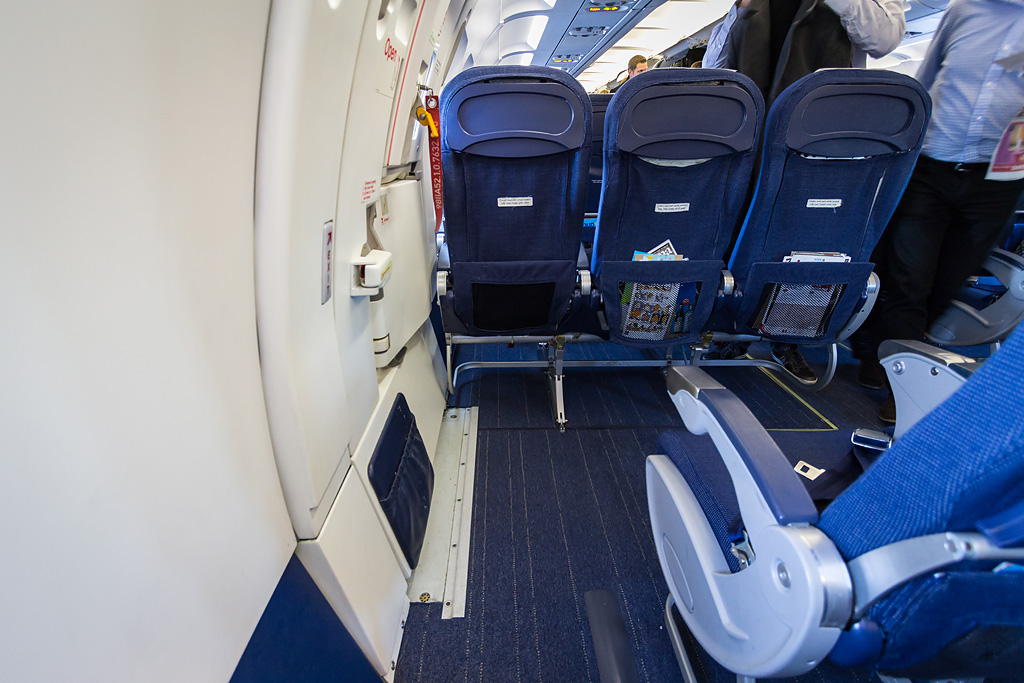 View soon after takeoff from runway 08 left as we turn north towards Copenhagen.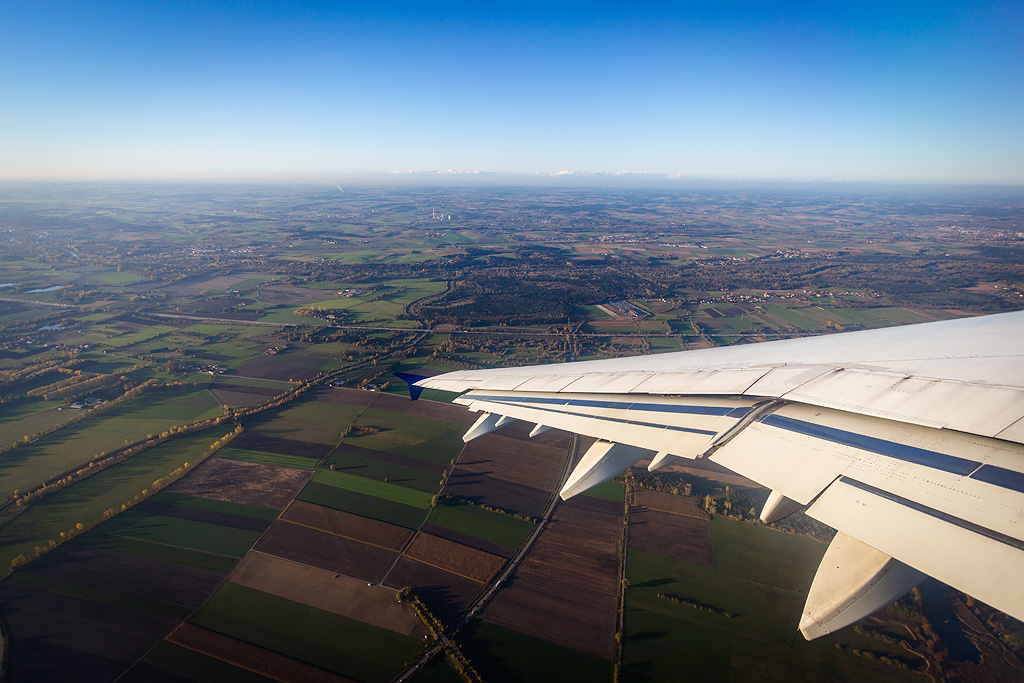 I decided to try out the salad they had for sale. It came in quite nicely designed box with lots of small print telling how good it is...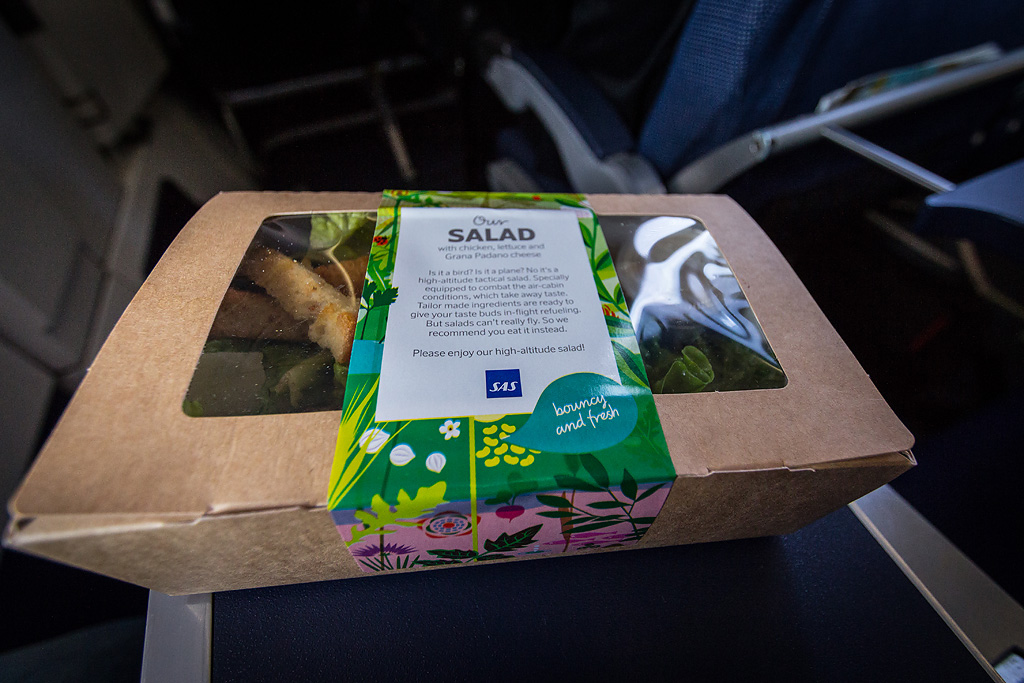 ...and mostly it actually was rather good. I'd add more greens though. Taste was good, better than I expected.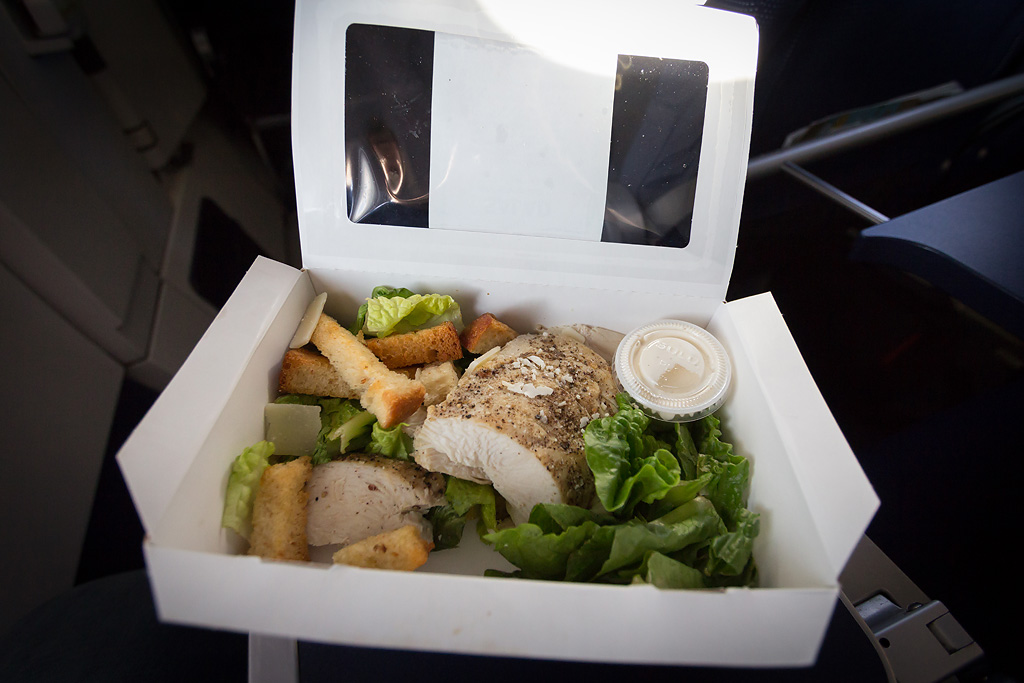 My single window. Sunset was approaching fast.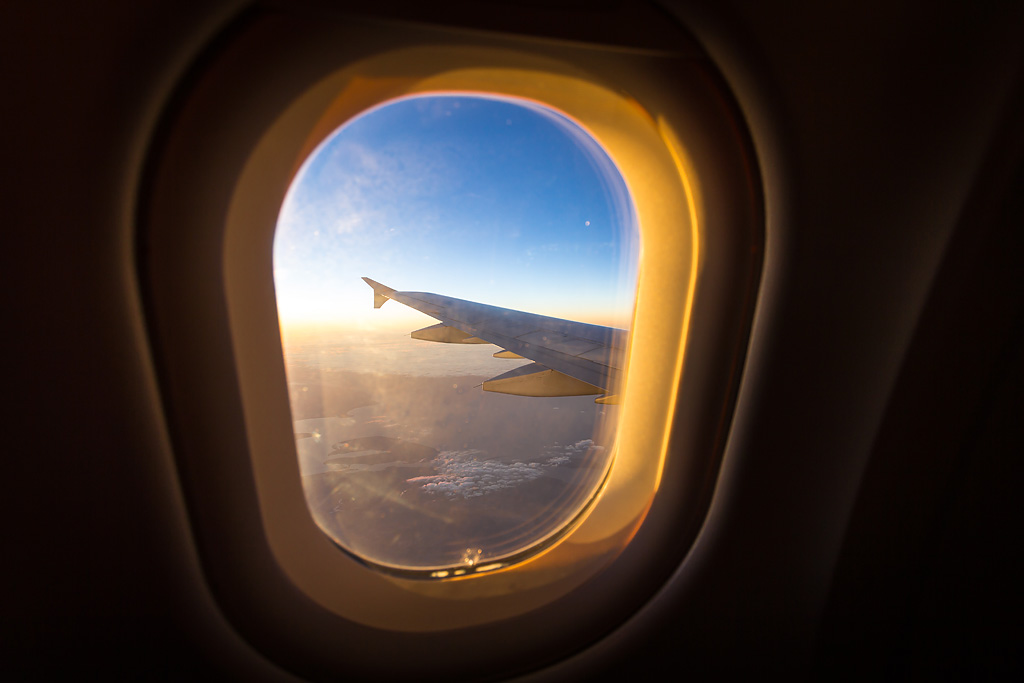 And what a sunset it was! This is one of the views why I like flying so much. We were on descent to Copenhagen at this point and sun was going down fast.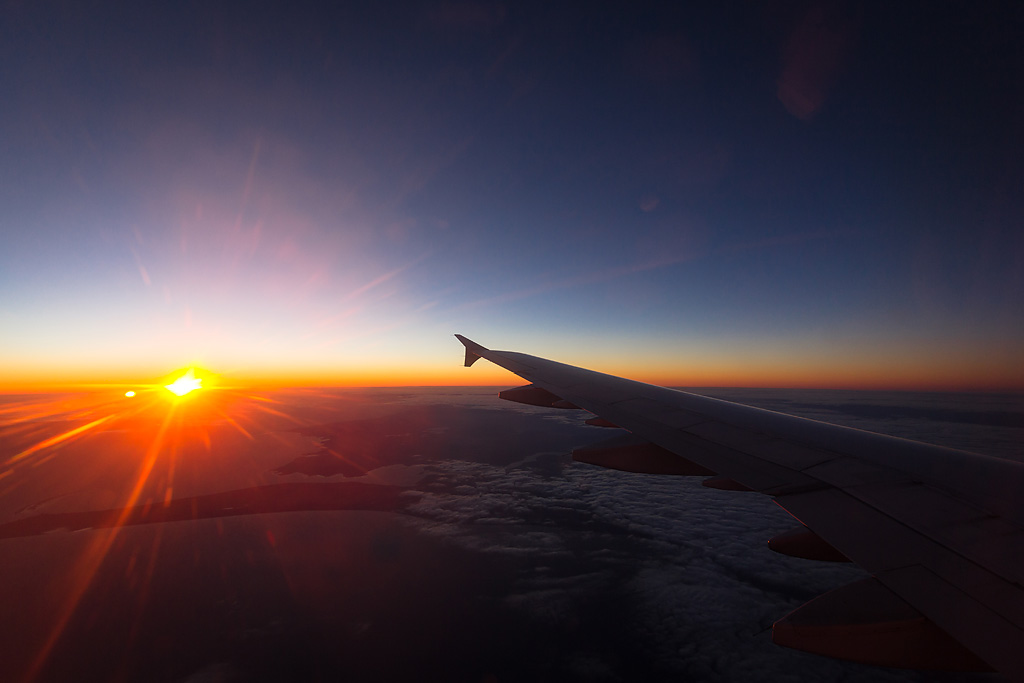 Descending...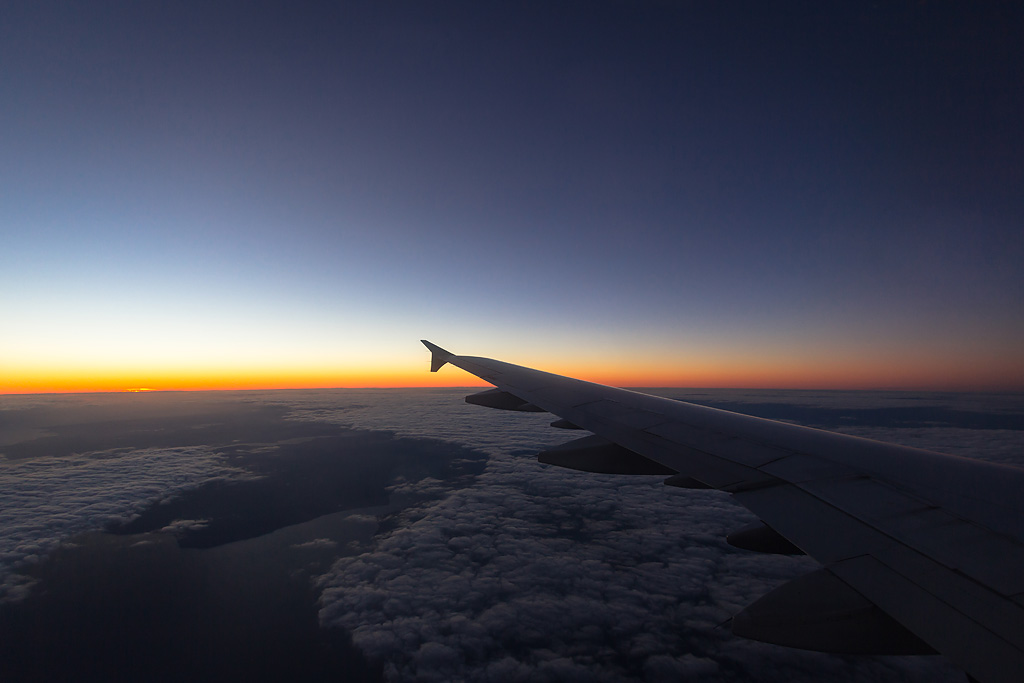 The Great Belt Bridge. We're about to turn for final approach.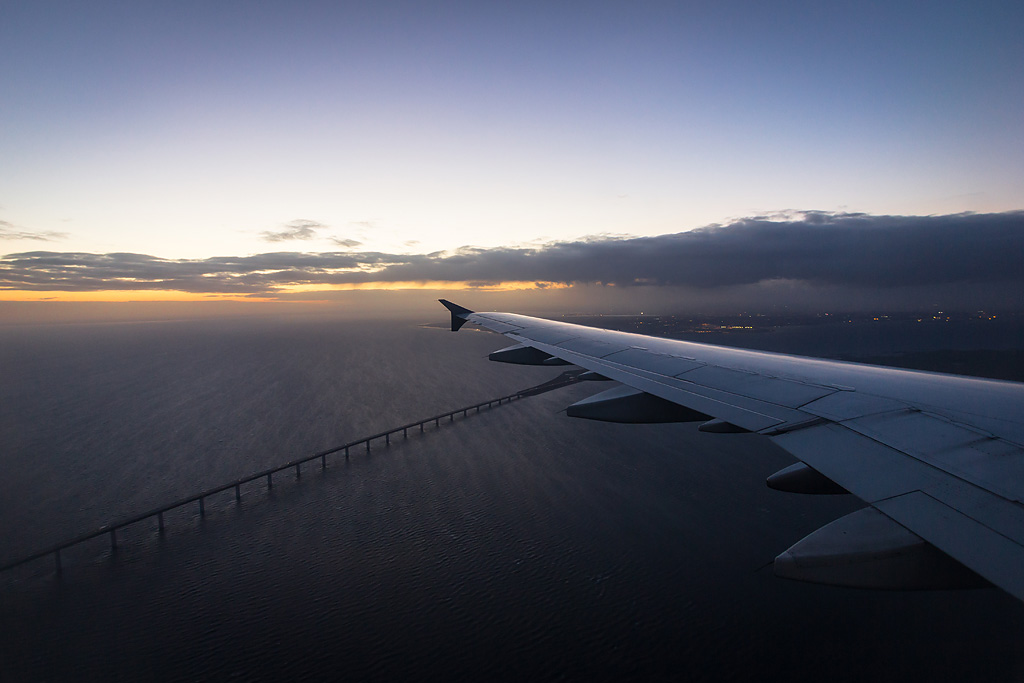 Here on final approach to Copenhagen's runway 22 left.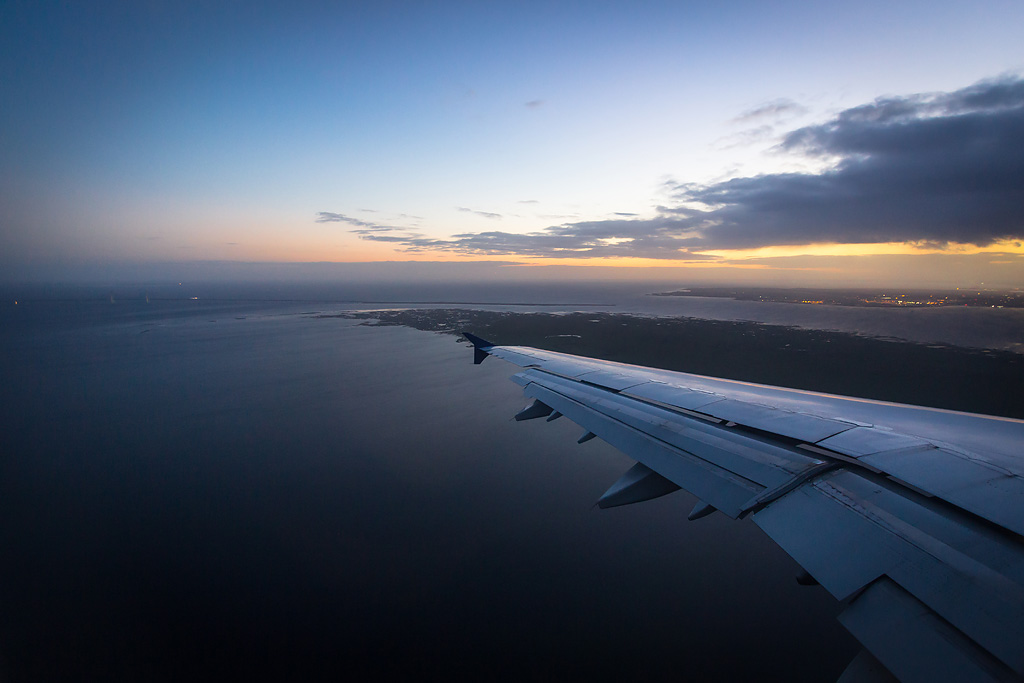 ---
Copenhagen Airport
This was the view that waited me when I exited the jet bridge. CRT screens, in 2013?! Copenhagen Airport, you have to be kidding me!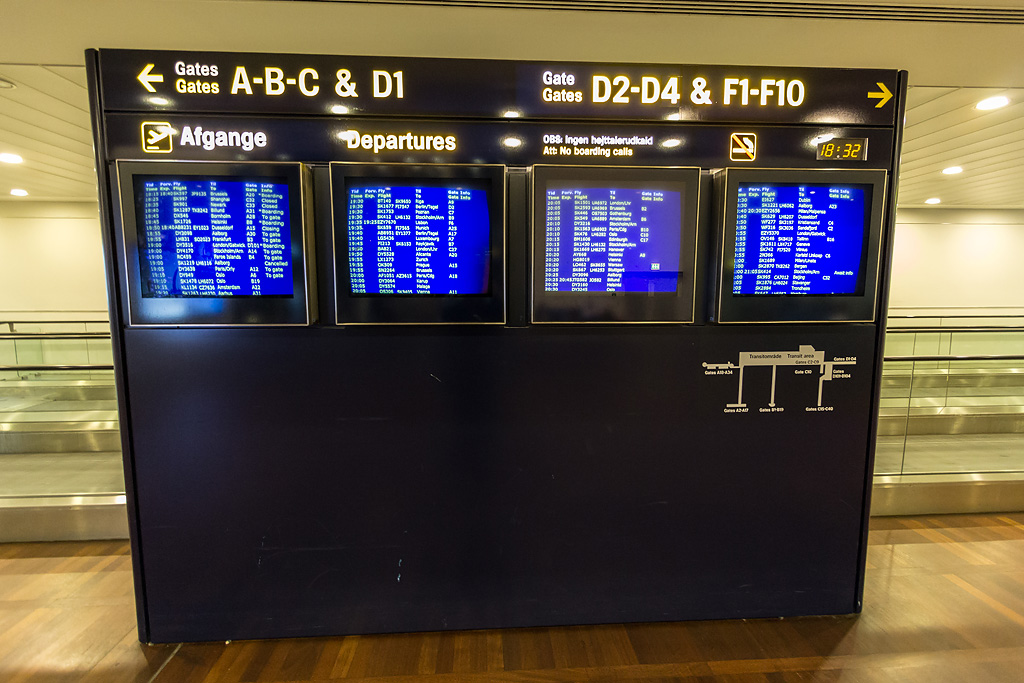 Going to SAS lounges.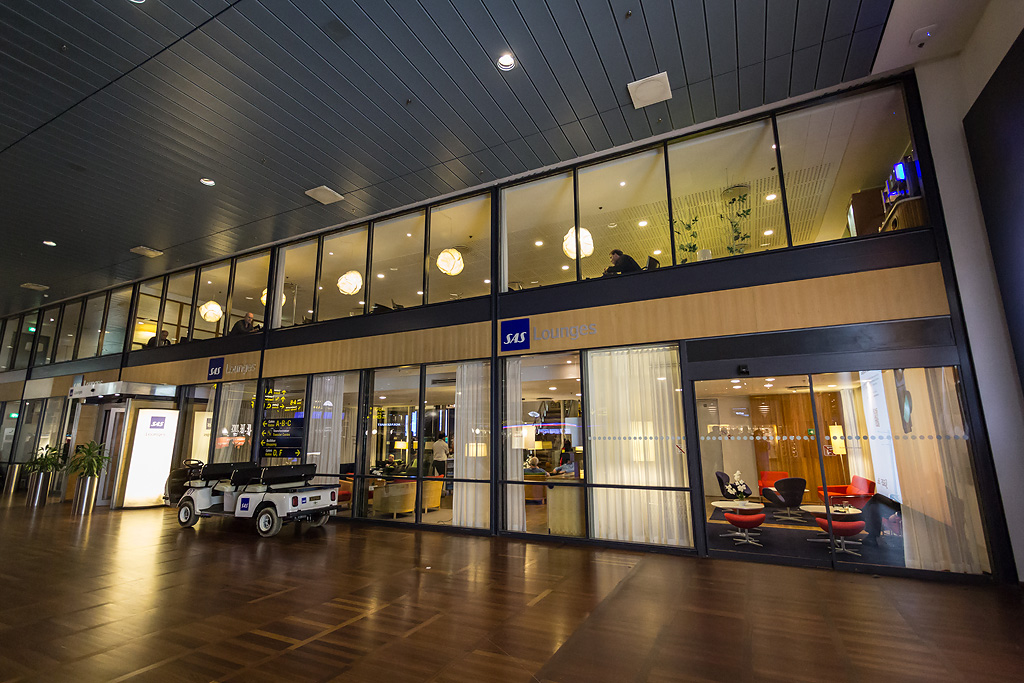 Nice model at the lounge entrance. Business class lounge is downstairs and Scandinavian(Star Gold) lounge is upstairs.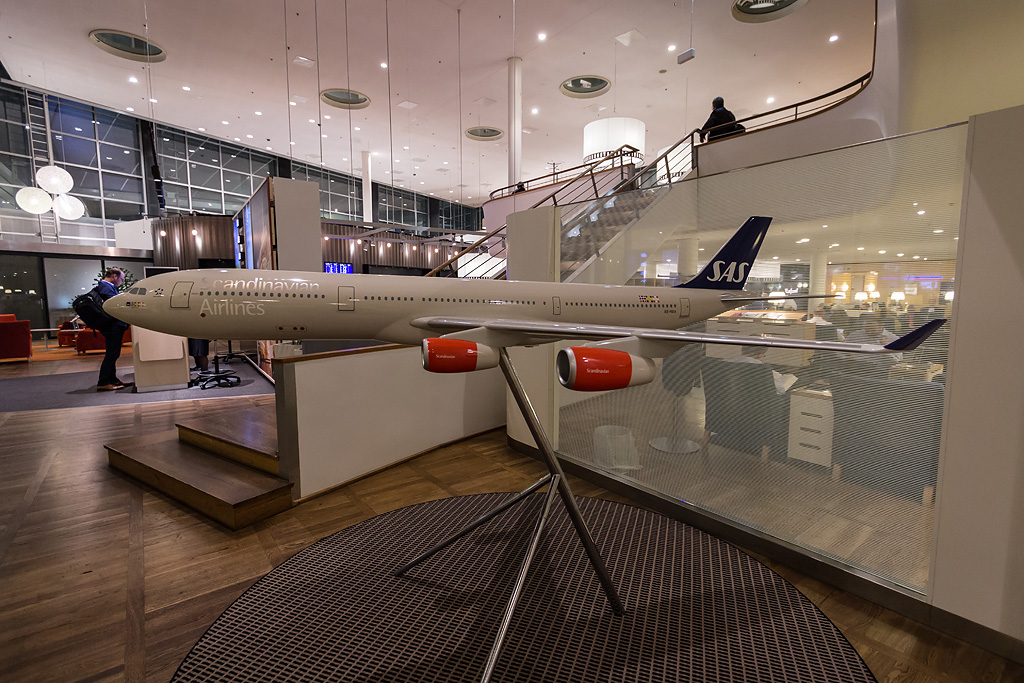 Scandinavian lounge of Copenhagen Airport.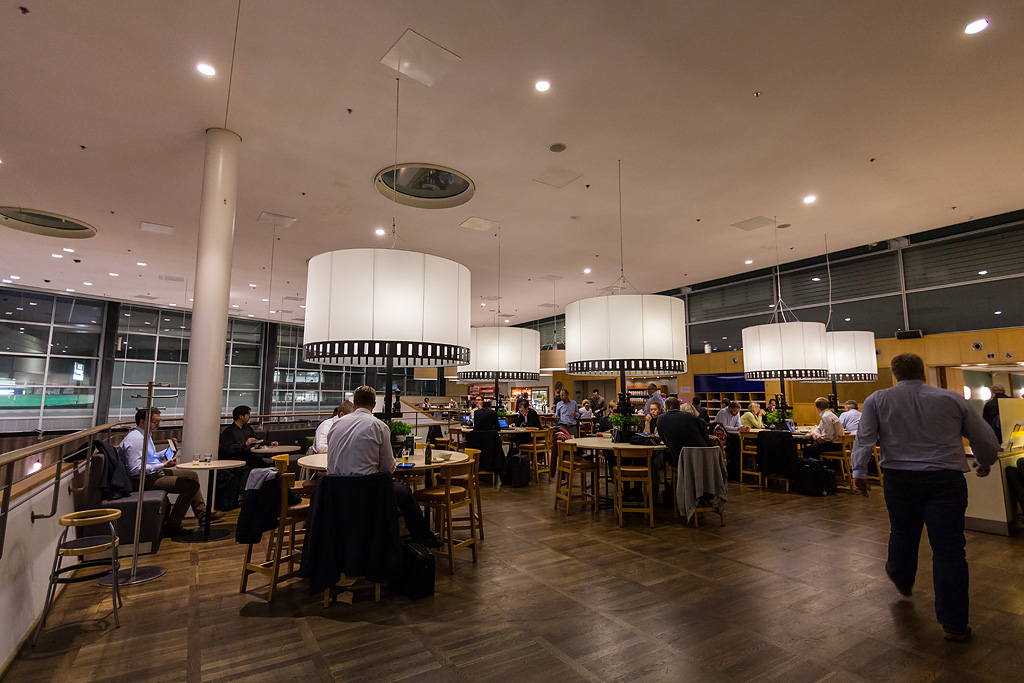 ---
Copenhagen to Amsterdam
Flight Details

Date
Flight
Route
Scheduled Time
Actual Time
Duration
Distance
Aircraft
Seat
Class
24OCT2013
SK549
CPH-AMS
20:05-21:30
20:03-21:33
1h 30min
635km
Boeing B717
16A
Economy
It was dark so no outside views anymore. Here is the exit row of Blue1's B717. Lots of leg room.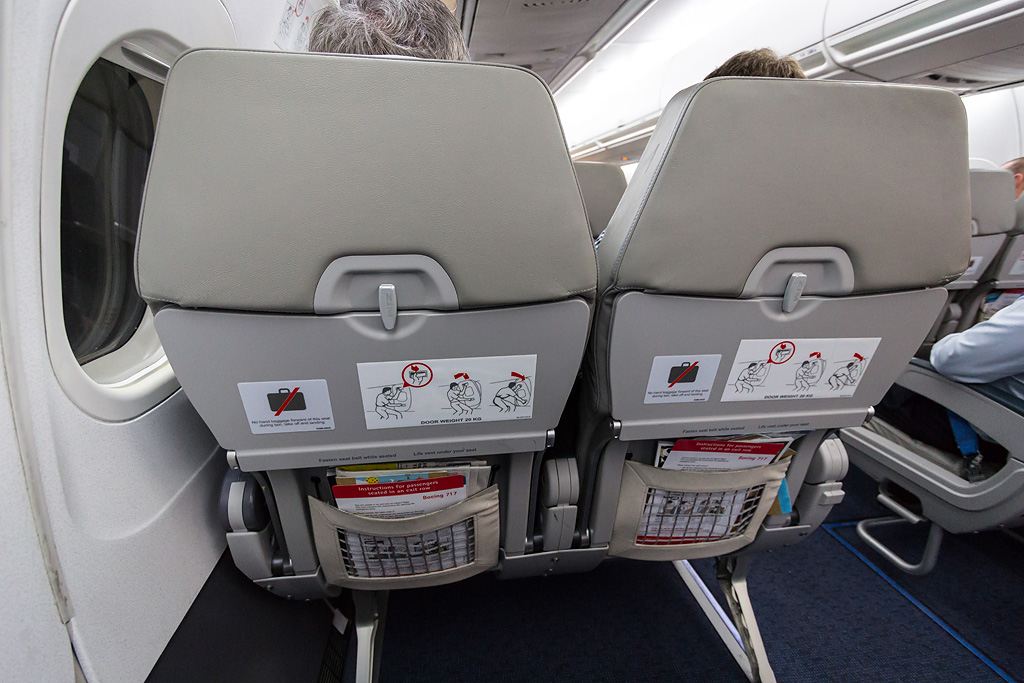 And of course extra safety card because of the exit row.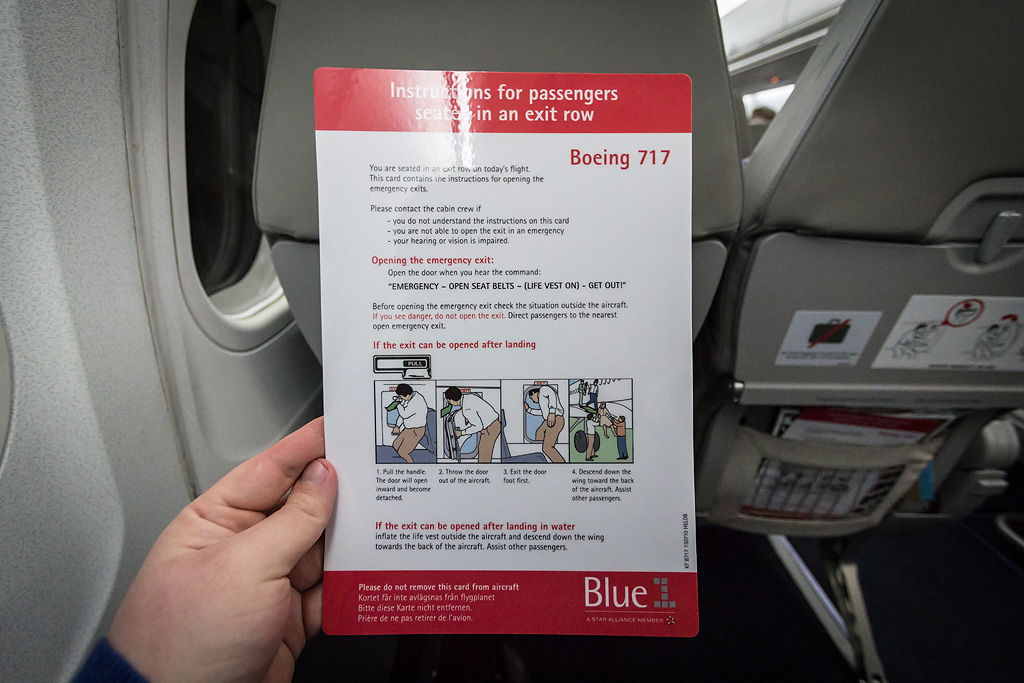 Got only tea on this flight, but there were the same options available for purchase as on other SAS flights.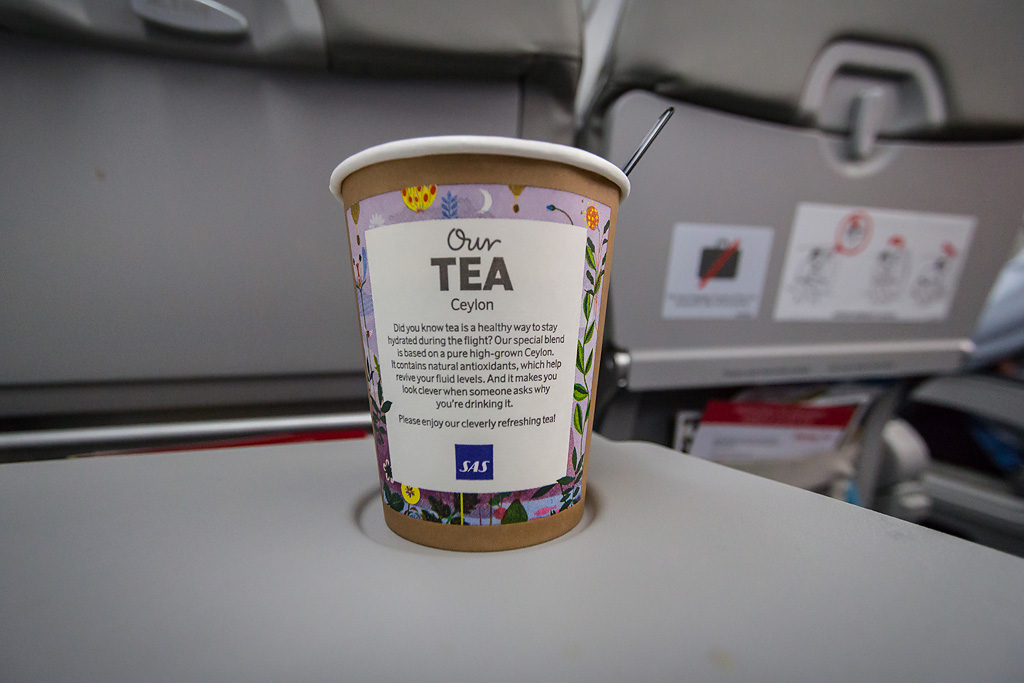 So they're now multi-bags...ok.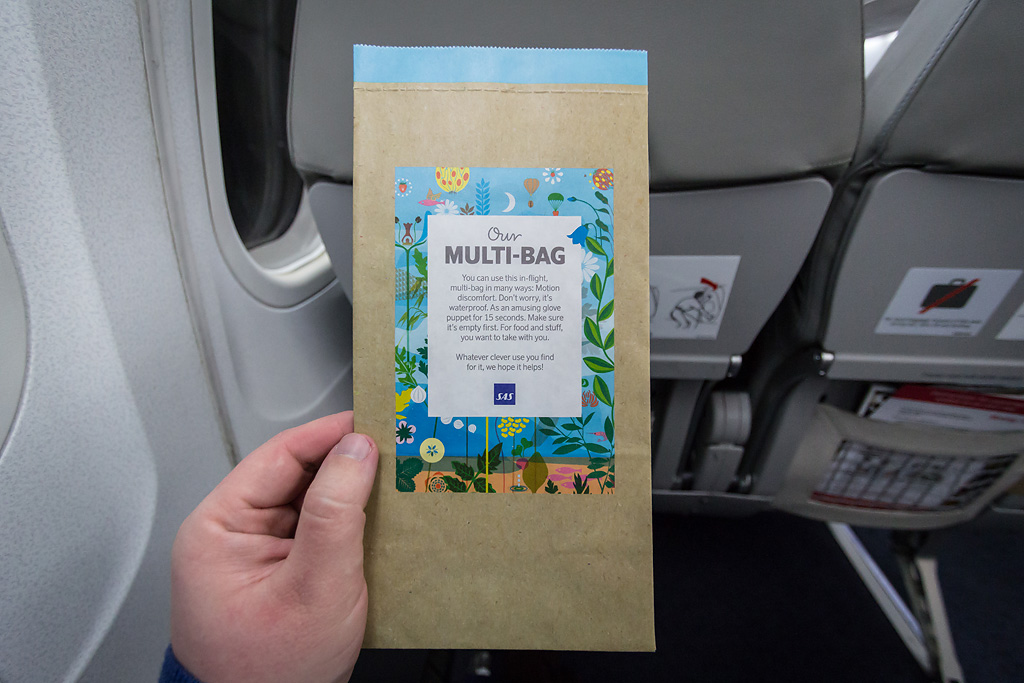 ---
Amsterdam
After arriving to Amsterdam Schiphol I made the short walk from the terminal to CitizenM hotel. This is one of the stranger properties I've visited and at the same time totally awesome! This is view of the room from the door. Toilet and shower are pretty much integrated part of the room.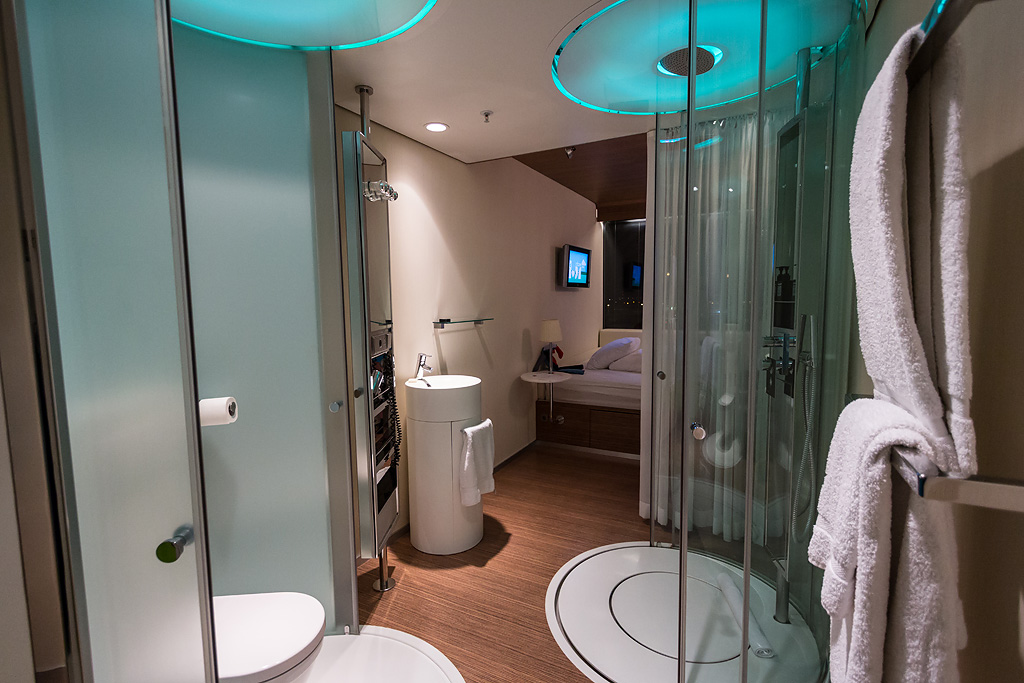 Most definitely in need of this after all day of traveling.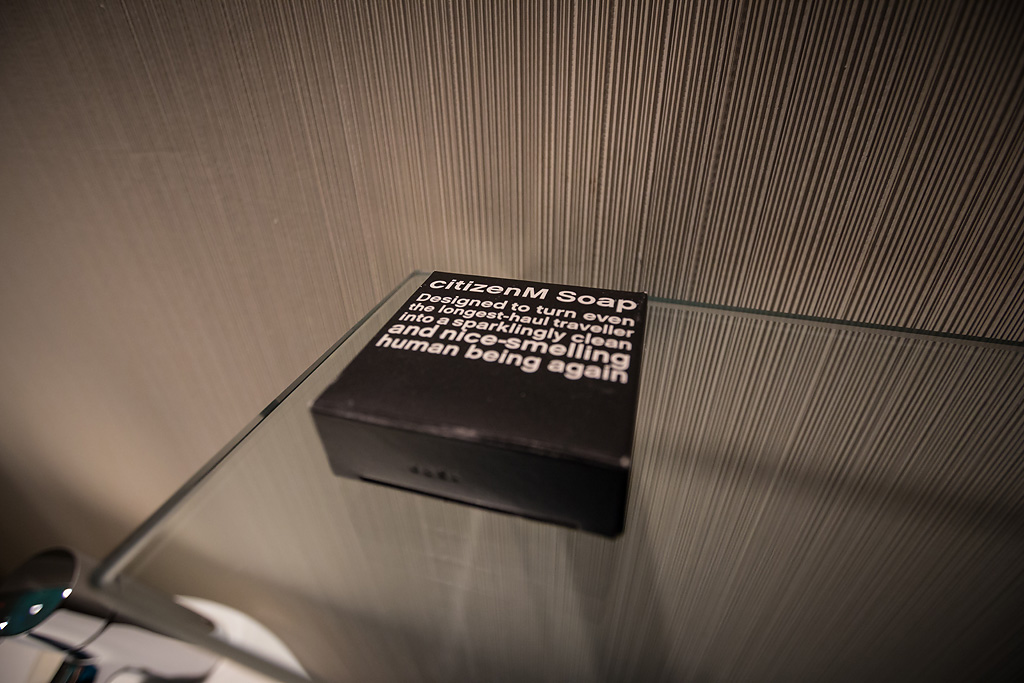 Uhm, ok. No "entertainment" for me please.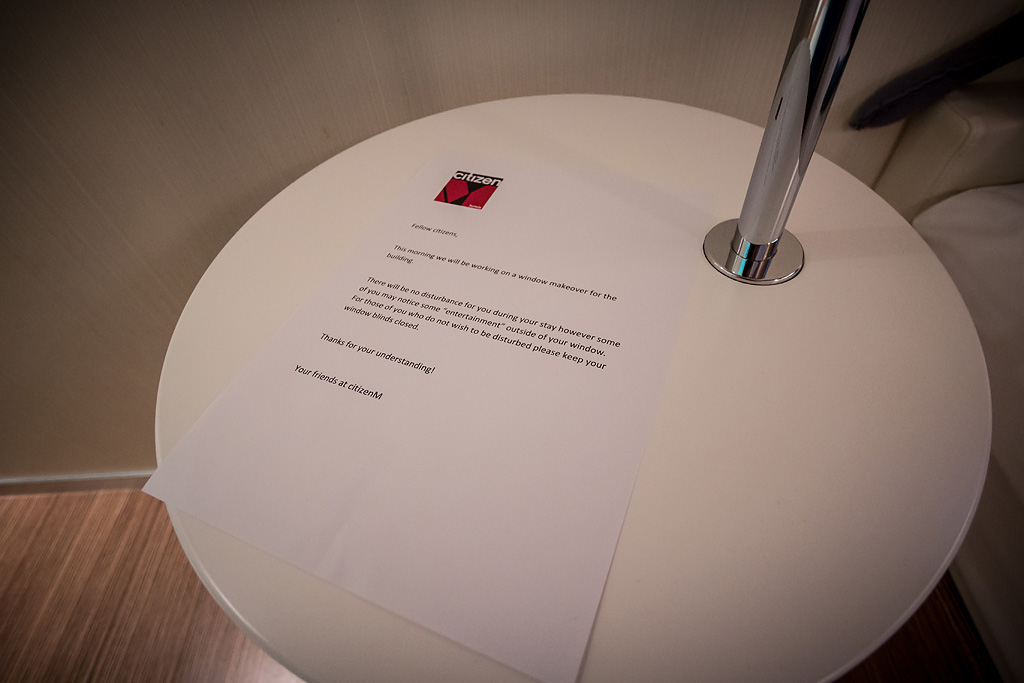 They even had a sleeping buddy for me!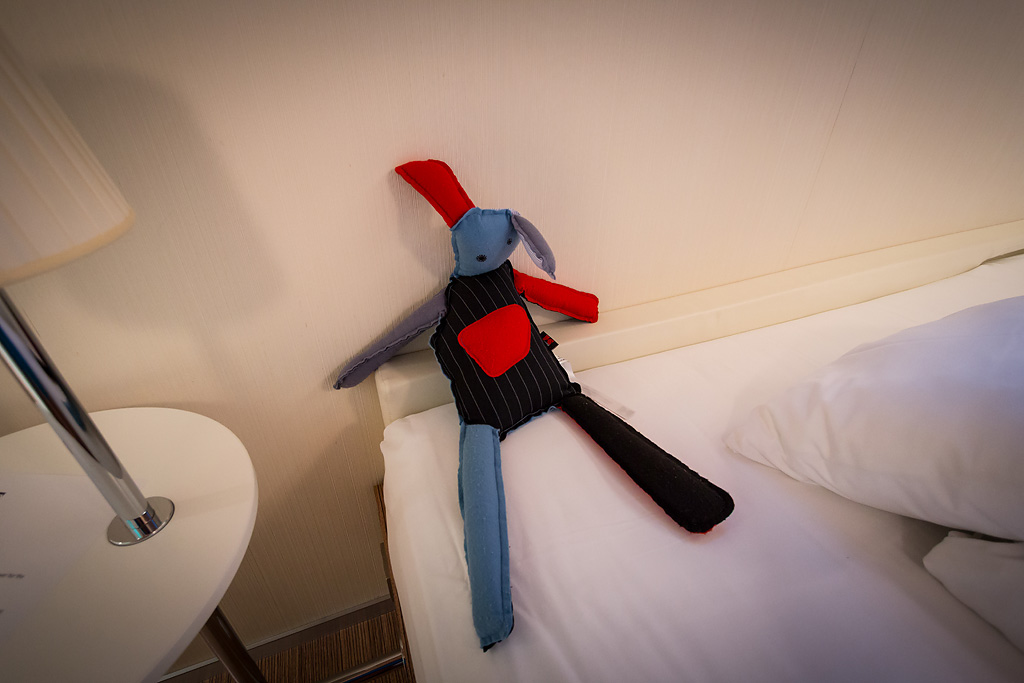 Next morning I checked out as late as possible and again made the short trip to the terminal. Having not eaten any breakfast I decided indulge on Dakota restaurants 747 double decker burger. Not cheap but well worth it when compared to other options at the airport.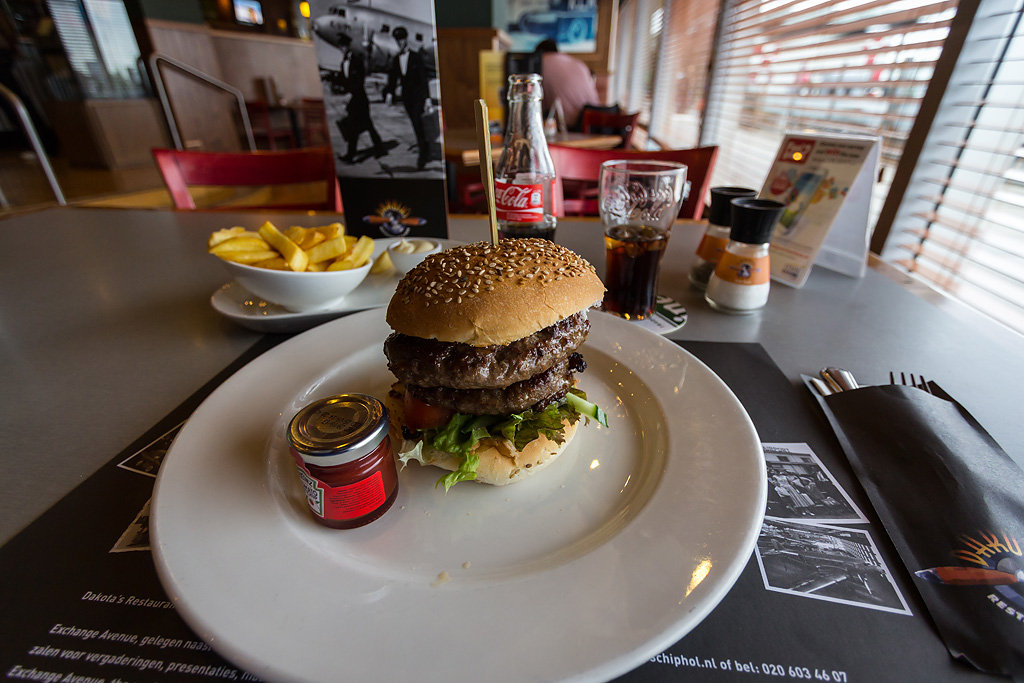 The Dakota restaurant is right at the (free) viewing terrace. This retired KLM Fokker 100 is also on display at the terrace.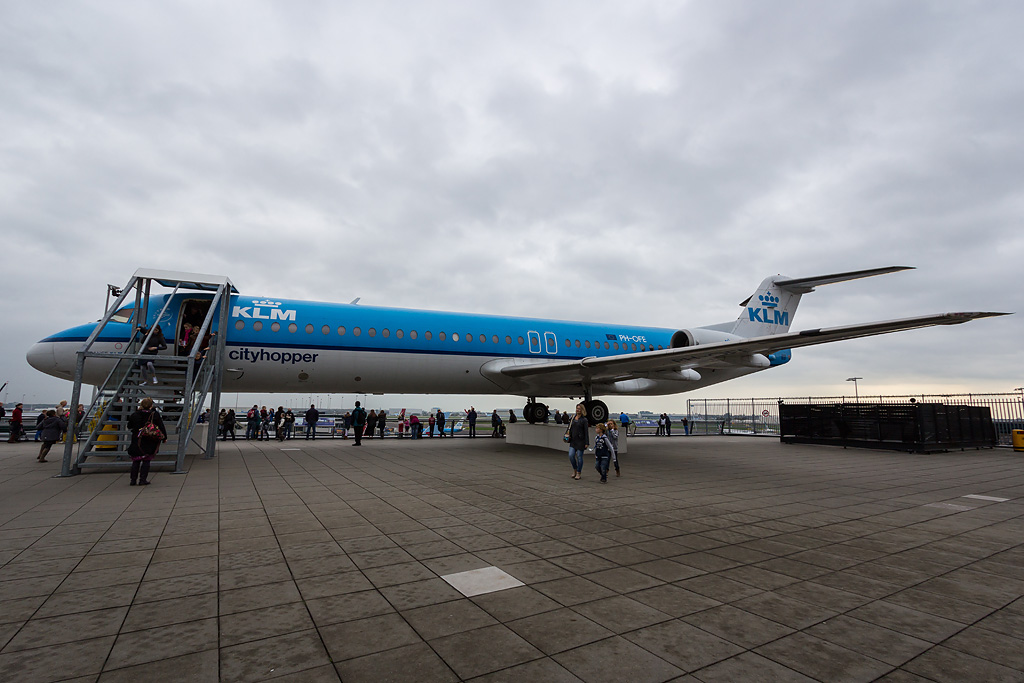 KLM B747-400 departing.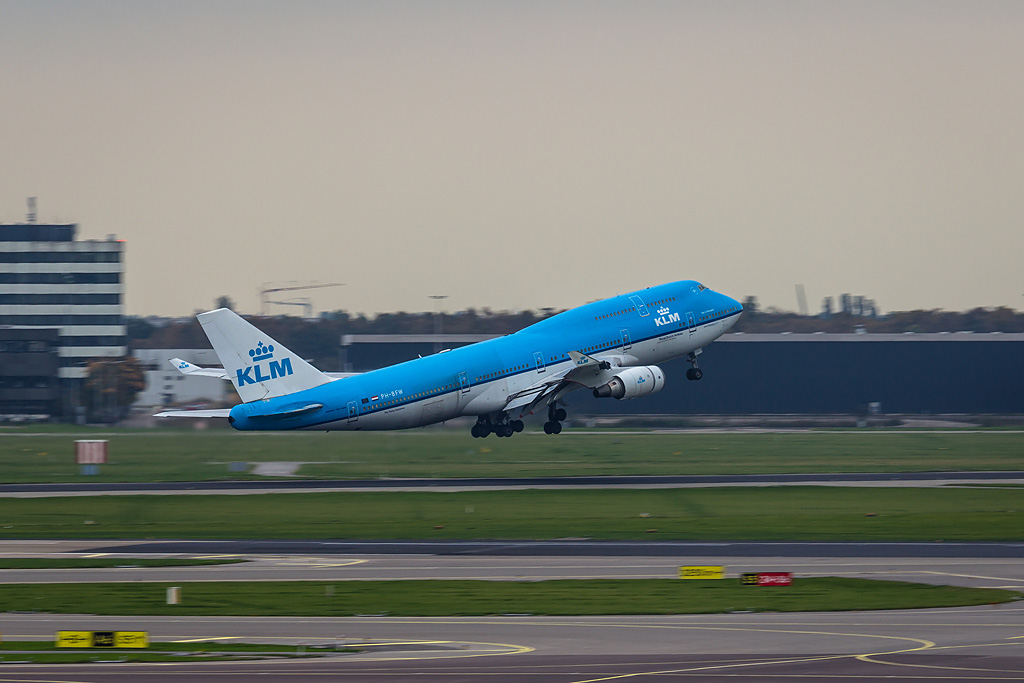 KLM B737 starting it's taxi while Arke's B767 is taxiing in.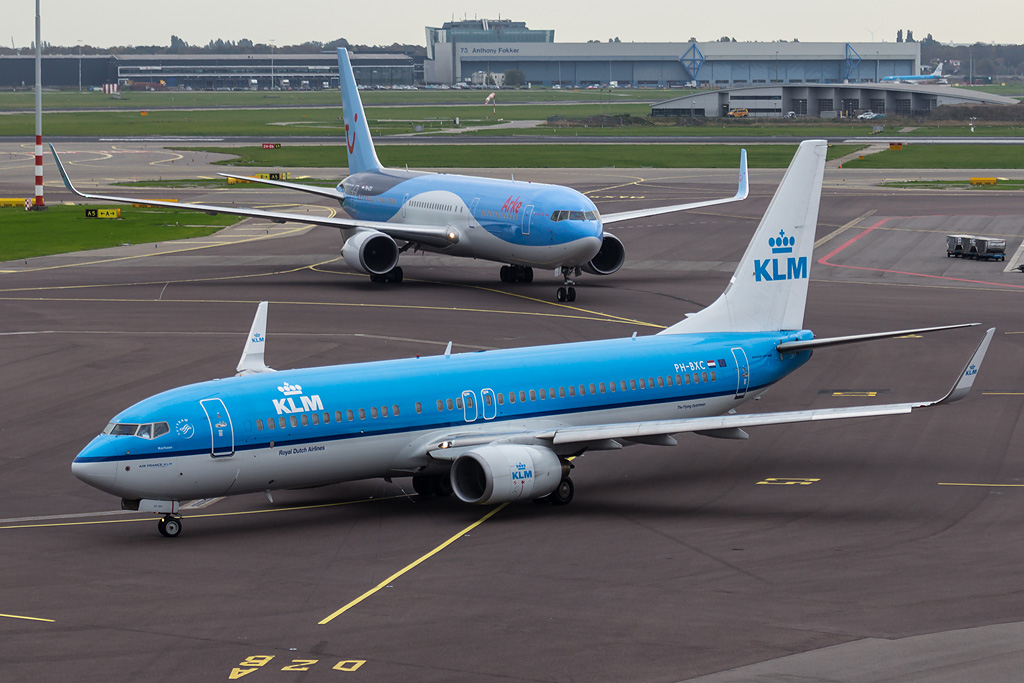 One can get really close to the aircraft at the terrace.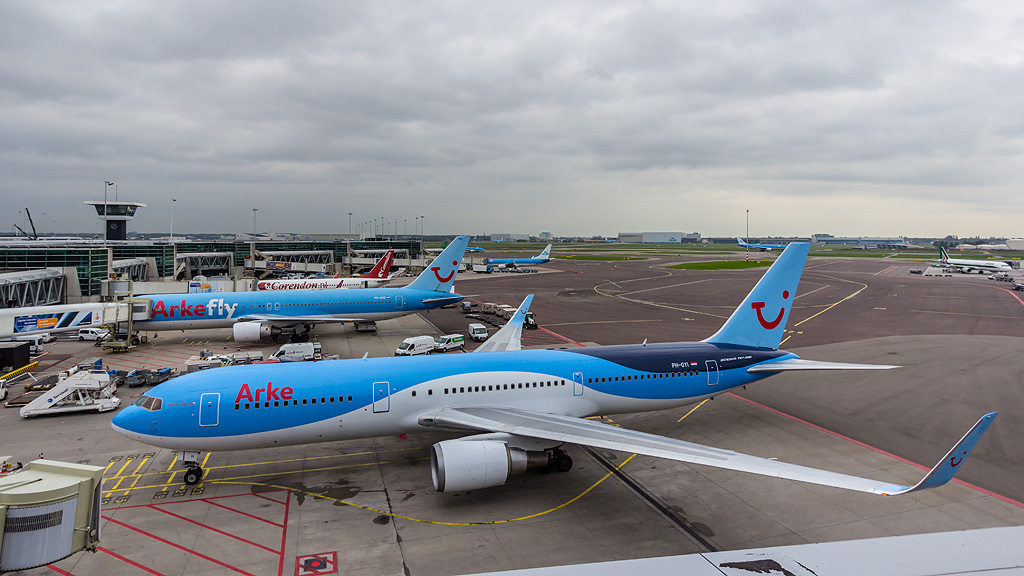 The terrace is not only used by plane spotters and photographers but there's also considerable amount of families visiting.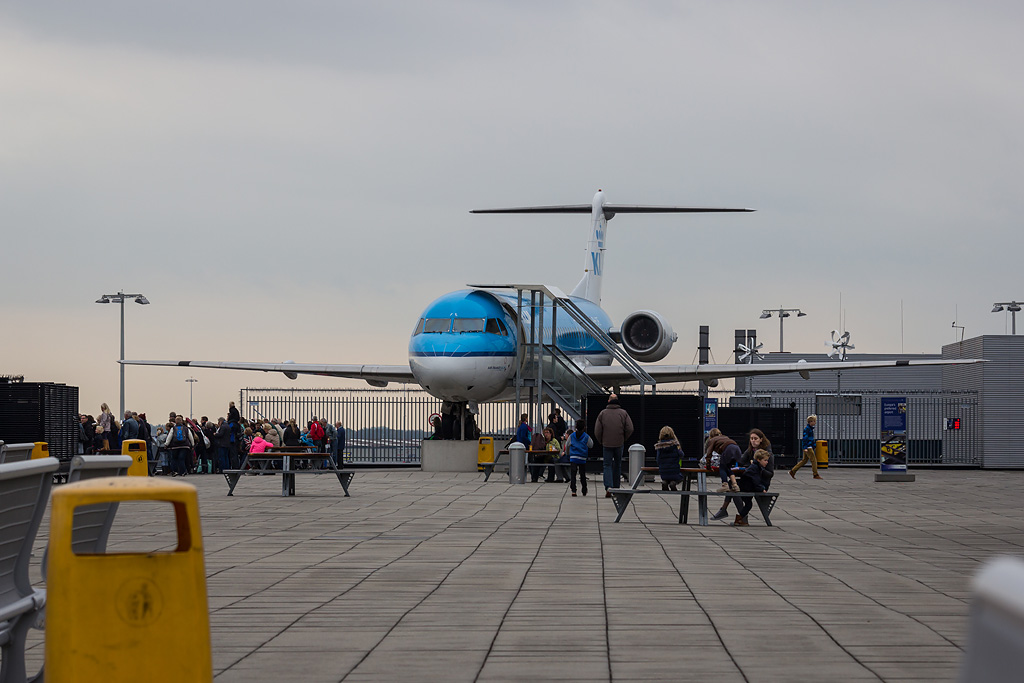 And it's huge.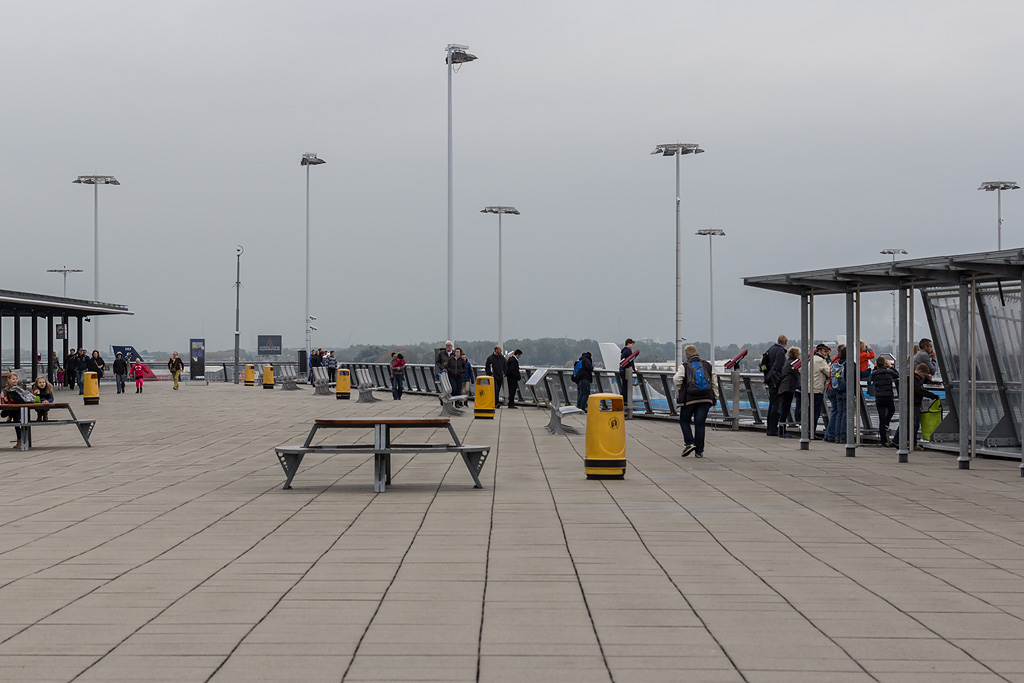 After couple hours of watching and photographing aircraft coming and going I entered the terminal and quickly made my way to the SAS contract lounge. This Servisair/Menzies combined lounge left lot to be desired. Only 30 minutes of free wifi? In an lounge?! Come on, Helsinki Airport does it free for everyone and that really should be the norm, not the exception.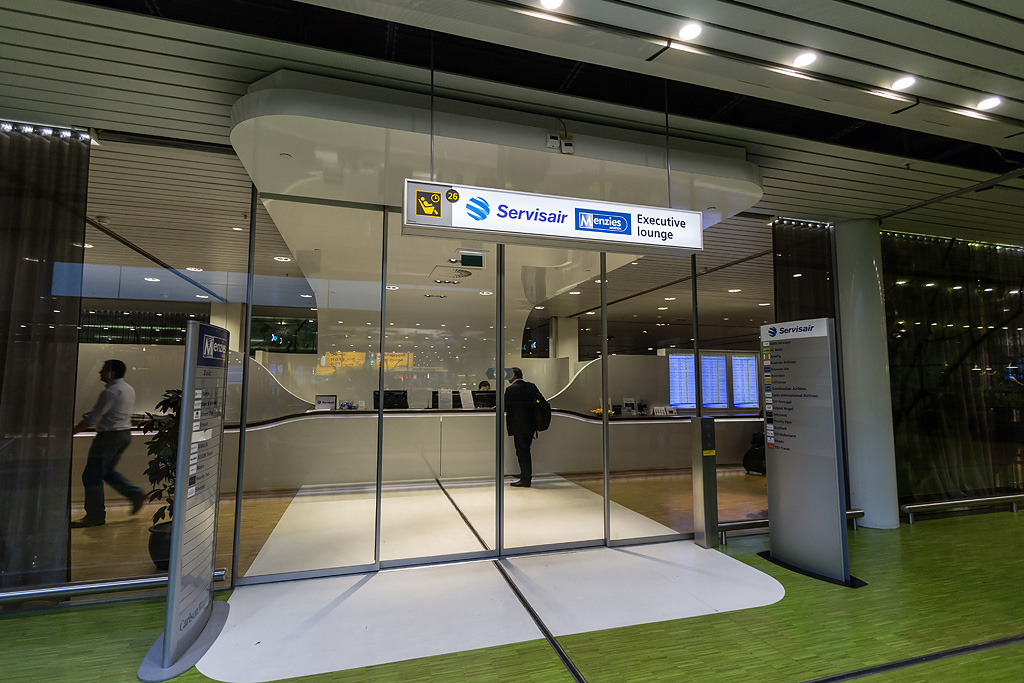 Lounge was also fairly crowded.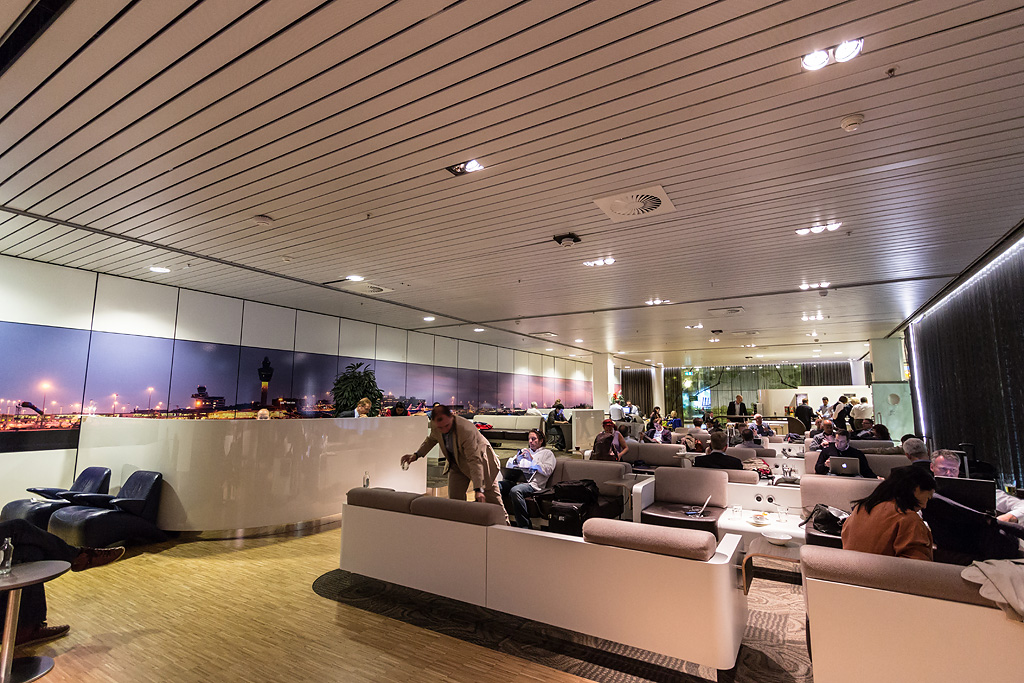 The new BMW i3 electric car was on display at the terminal.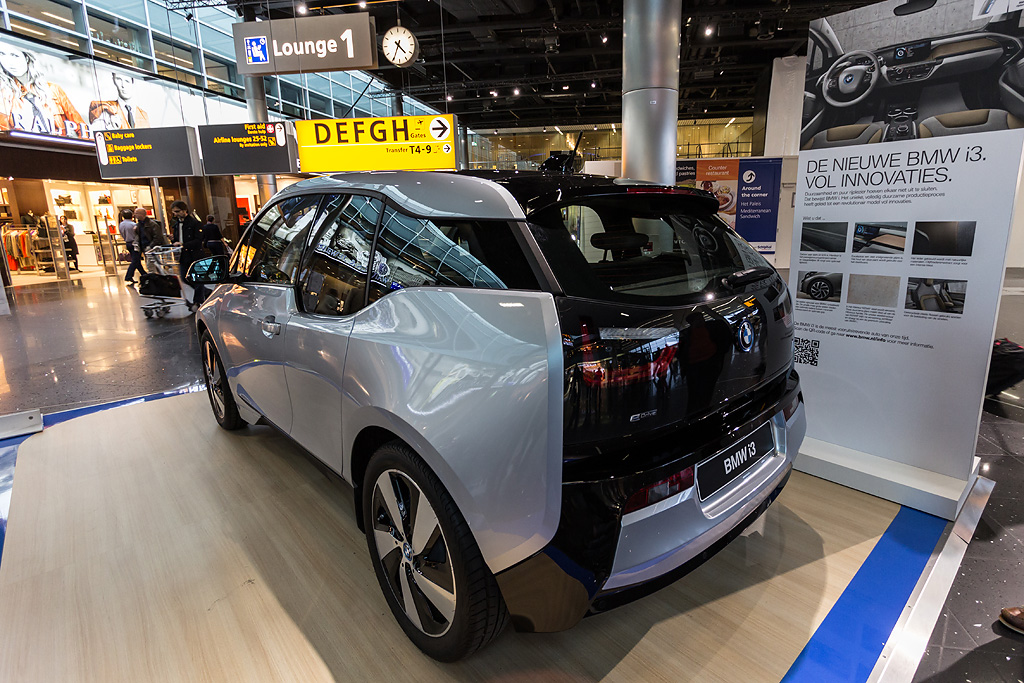 Our gate. Schiphol has good priority line system as the railings mostly prevent gate lice from blocking the priority line.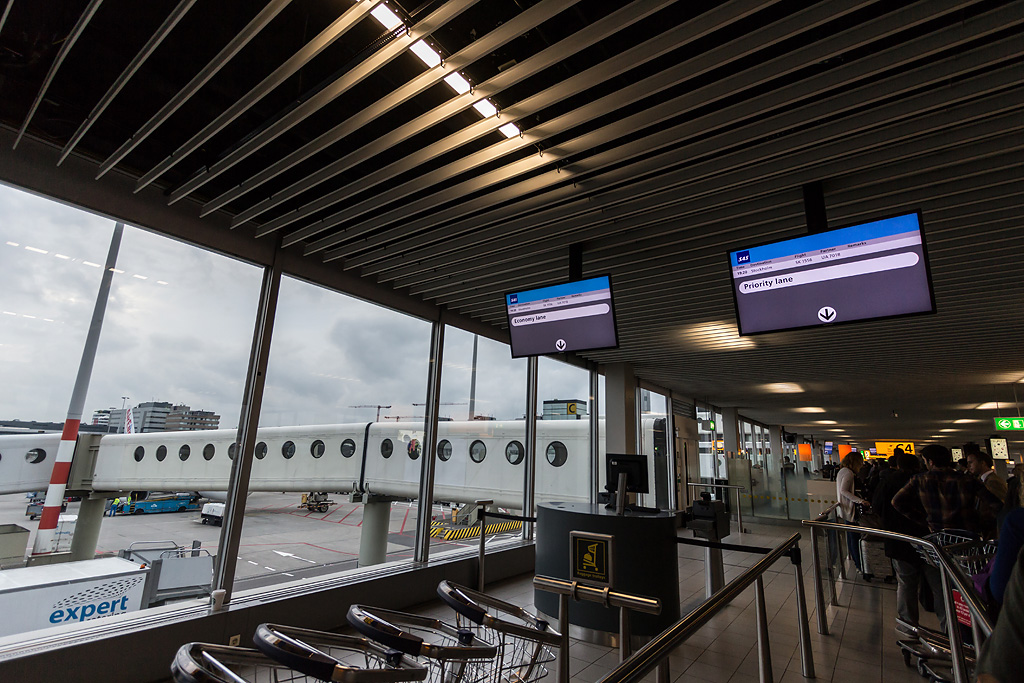 ---
Amsterdam to Stockholm-Arlanda
Flight Details

Date
Flight
Route
Scheduled Time
Actual Time
Duration
Distance
Aircraft
Seat
Class
25OCT2013
SK1556
AMS-ARN
19:20-21:20
19:33-21:17
1h 44min
1155km
Boeing B737-700
17A
Economy
Only photo from the flight from Amsterdam to Stockholm. Here few minutes after departing Amsterdam. Flight it self was uneventful and service was very similar than on the other flights described in this trip report.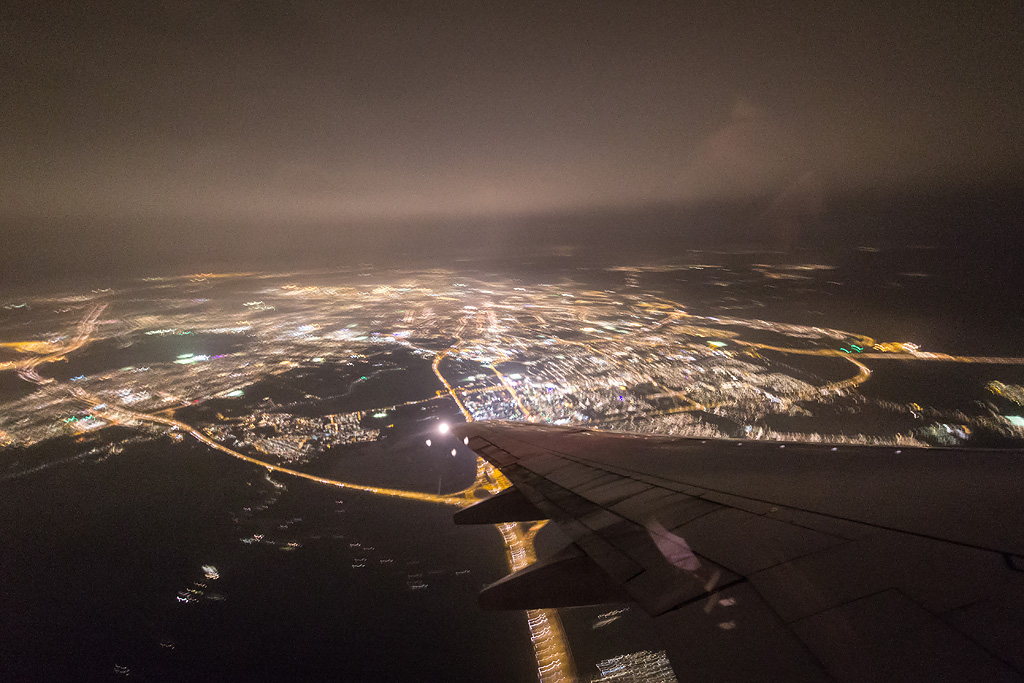 ---
Stockholm-Arlanda Airport
After getting to Arlanda, I headed to Scandinavian lounge for quick bite to eat. There were only few passengers in the lounge at this late hour.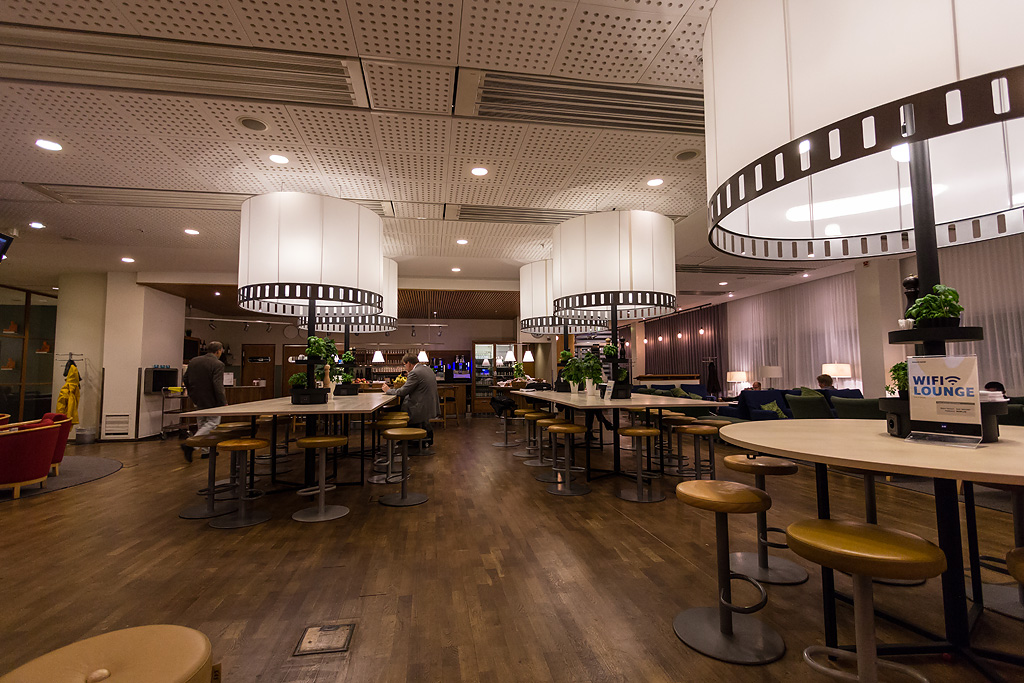 ---
Stockholm-Arlanda to Oulu
Flight Details

Date
Flight
Route
Scheduled Time
Actual Time
Duration
Distance
Aircraft
Seat
Class
24OCT2013
SK4208
ARN-OUL
22:30-00:50
22:35-00:59
1h 24min
702km
Saab 2000
15A
Economy
Saab 2000 again. This time with different seats though. There were same 50 seats on this aircraft but the configuration seemed tighter, maybe pitch was about the same but the seats were narrower.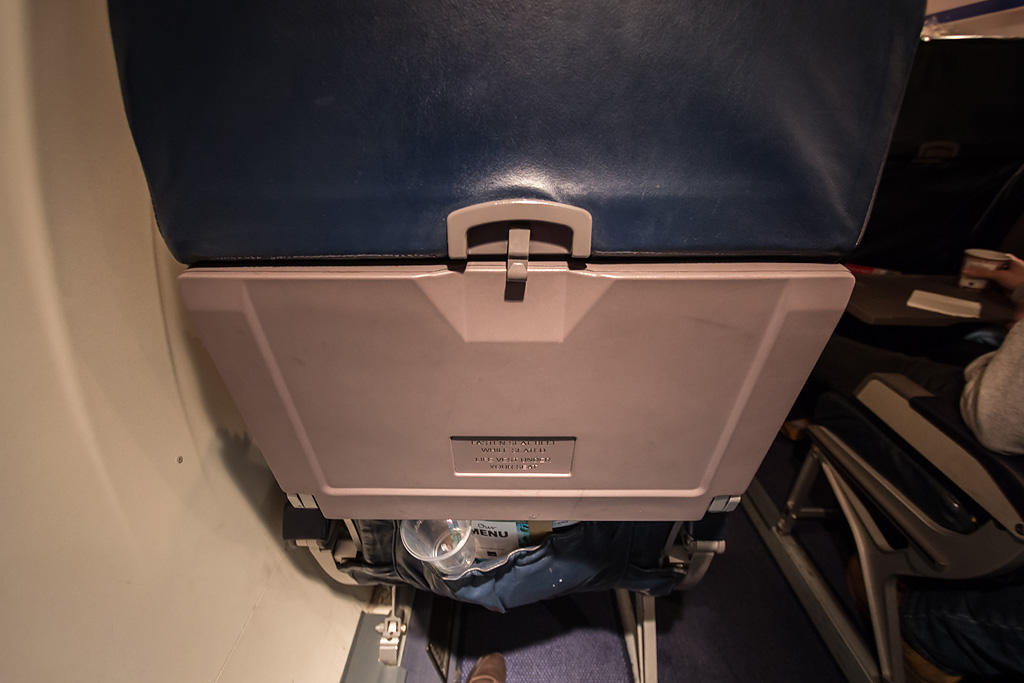 Cabin illuminated by all the reading lights.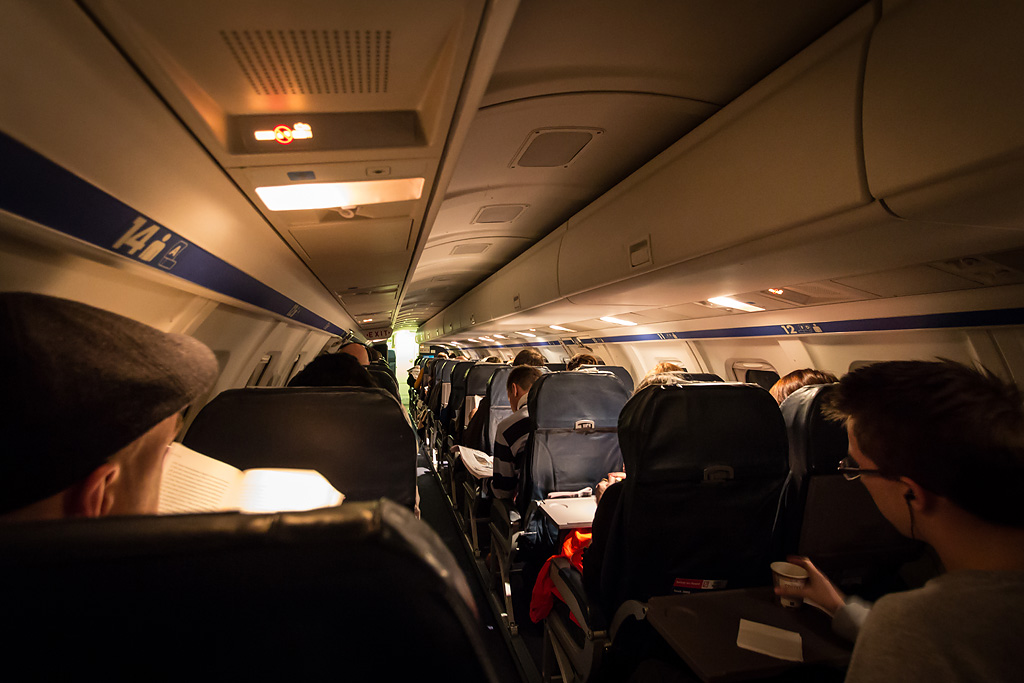 Back home!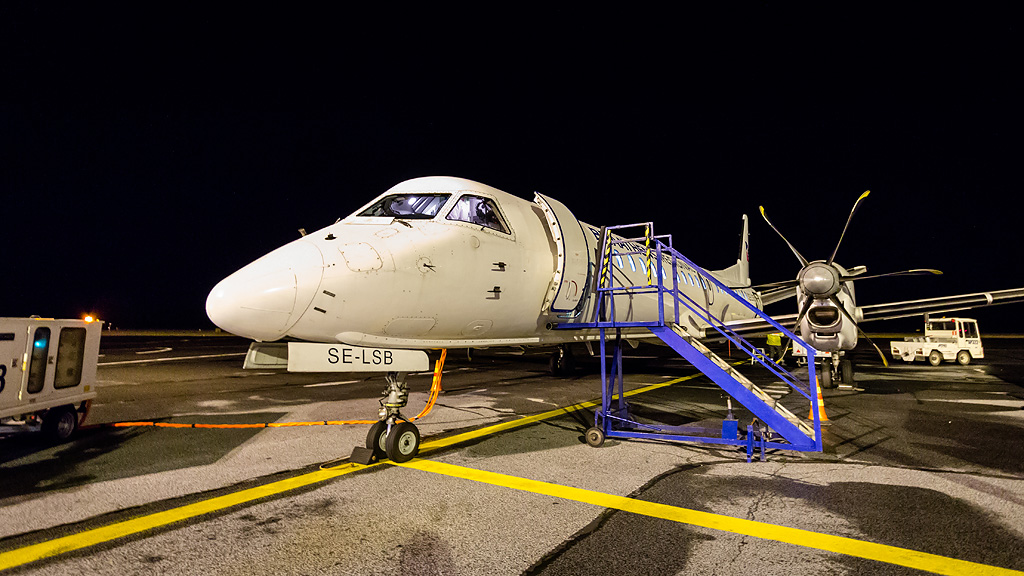 ---
Conclusion
SAS has tweaked their soft product, but still I'd like to see complimentary soft drinks on European flights. Otherwise their product is mostly good enough. Singapore Airlines on an intra-European flight is on league of its own, but then again, they are not really trying to get people to fly between Manchester and Munich but really to Singapore. If one is going from Manchester to Singapore, then it makes lot of sense to offer same soft product on the short intra-Europe leg also. All in all, very enjoyable few days.
---
About
I'm a traveller and an aviation photographer from Oulu, Finland. This site is a journal of my travels. If you want to contact me, just email me to olli.vainio@kapsi.fi. For my aviation photographs, visit Olli Vainio Photography.