---
Oulu Airport
As I had only carry-on, I arrived at the airport about 40 minutes before my flight was scheduled to depart. One can easily get away with even smaller margin at Oulu if there isn't too many departures at the same time.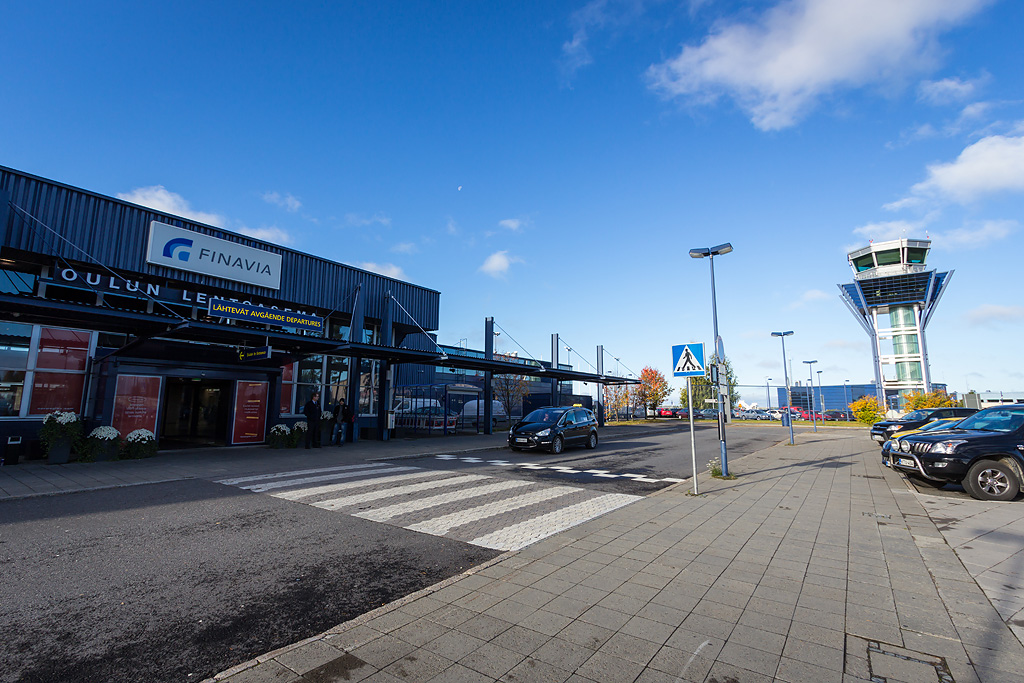 Check-in area is rather quiet at this hour.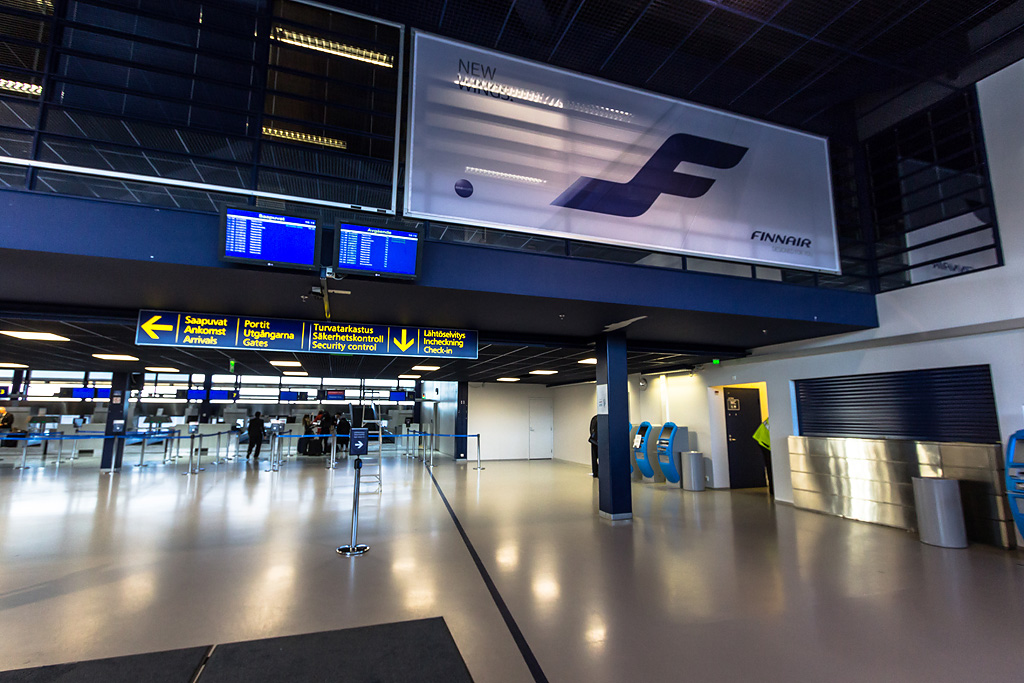 All Finavia operated airports use same check-in machines and they can be used to check-in on almost any airline using the airport. I had done online check-in on the previous day(Finnair allows online check-in 36 hours before departure) so I only printed my boarding pass.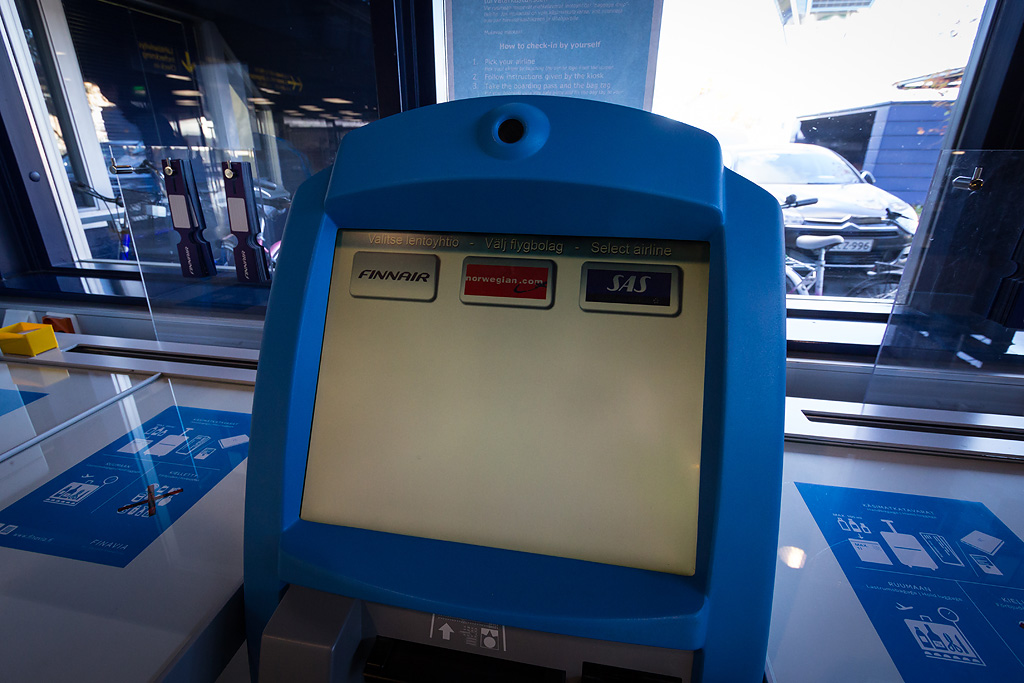 With no queues at security I was through very quickly. Many of Finavia's airports feature Hello Cafés and there's one in Oulu too. Nothing fancy, but also not overly expensive.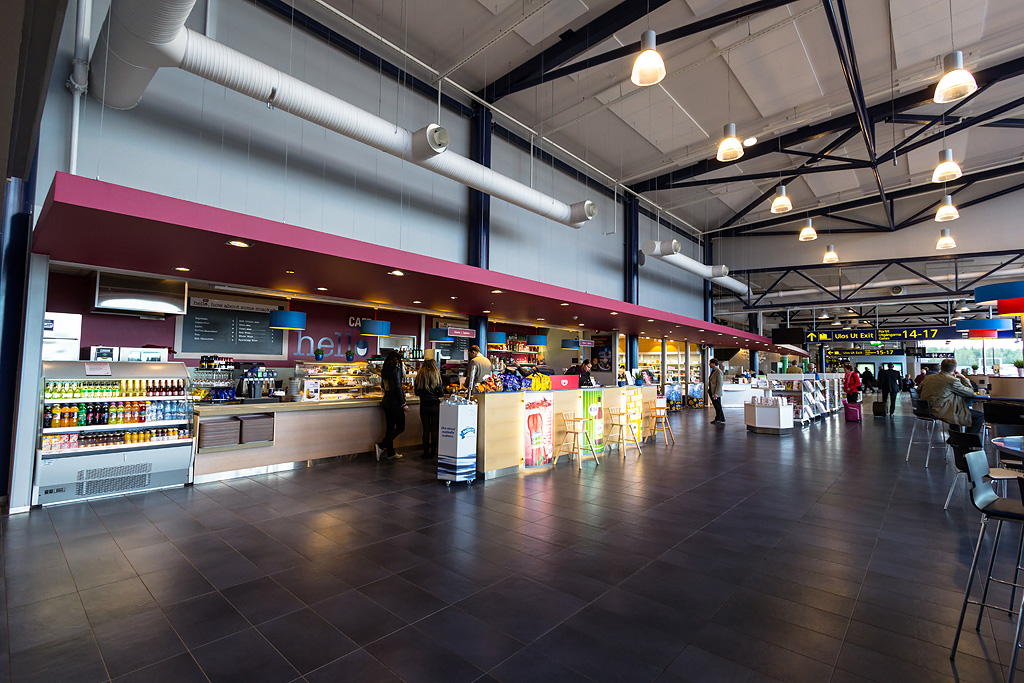 Finavia installed these old style rocking chairs to few airports in Finland for a trial period. I kinda like the idea, I hope they'll stay.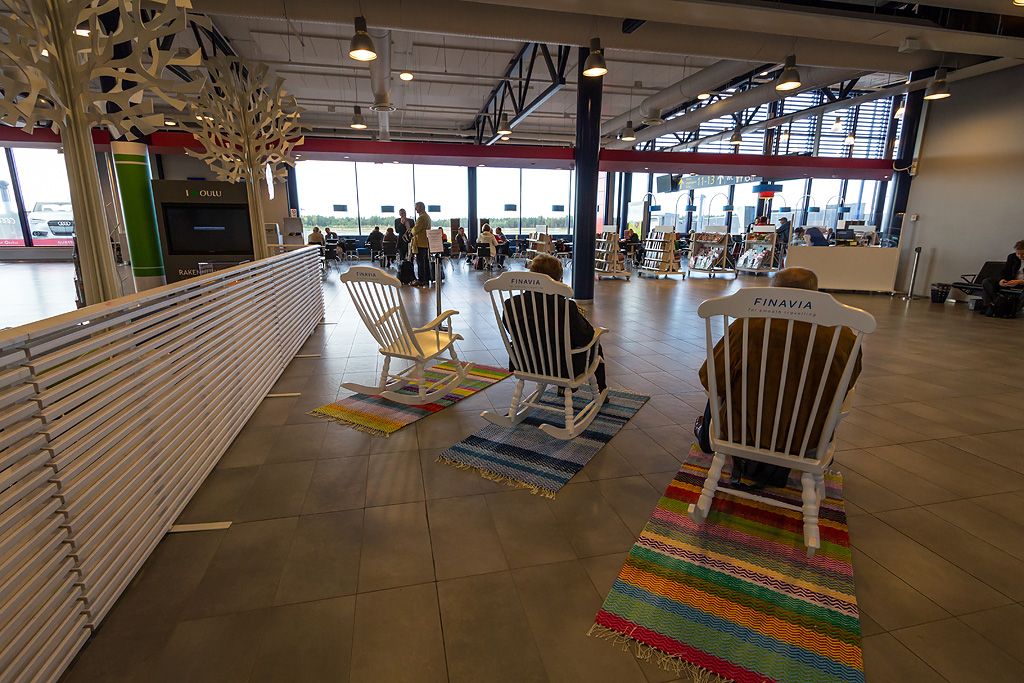 My ride to Helsinki waiting at gate 14.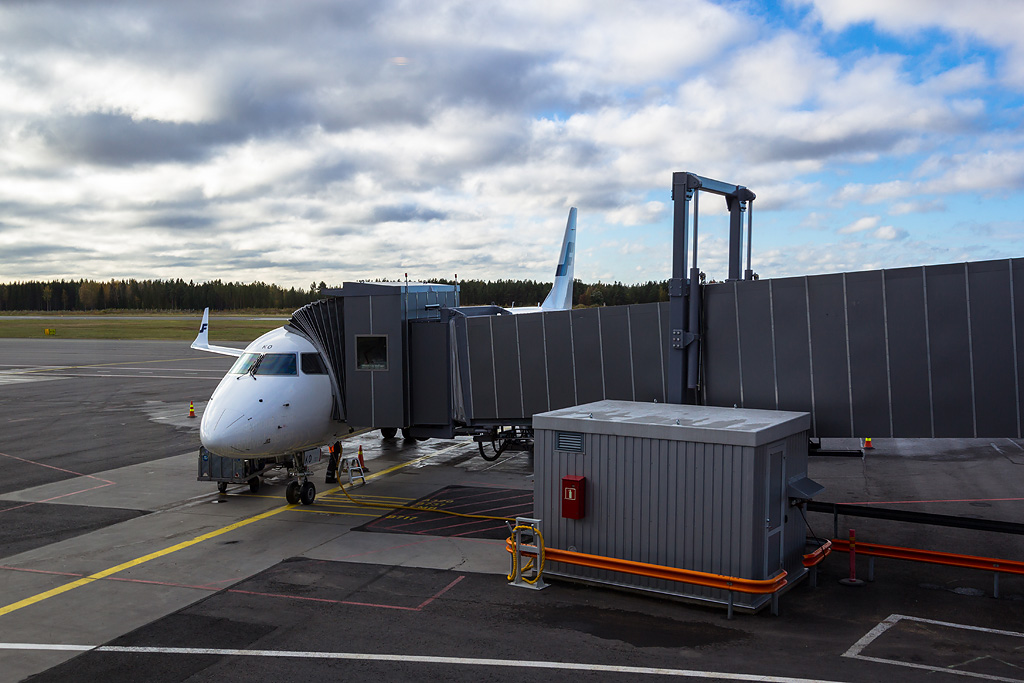 As this was mid day departure, the airport was mostly deserted except people on my flight and Norwegian flight departing shortly afterwards.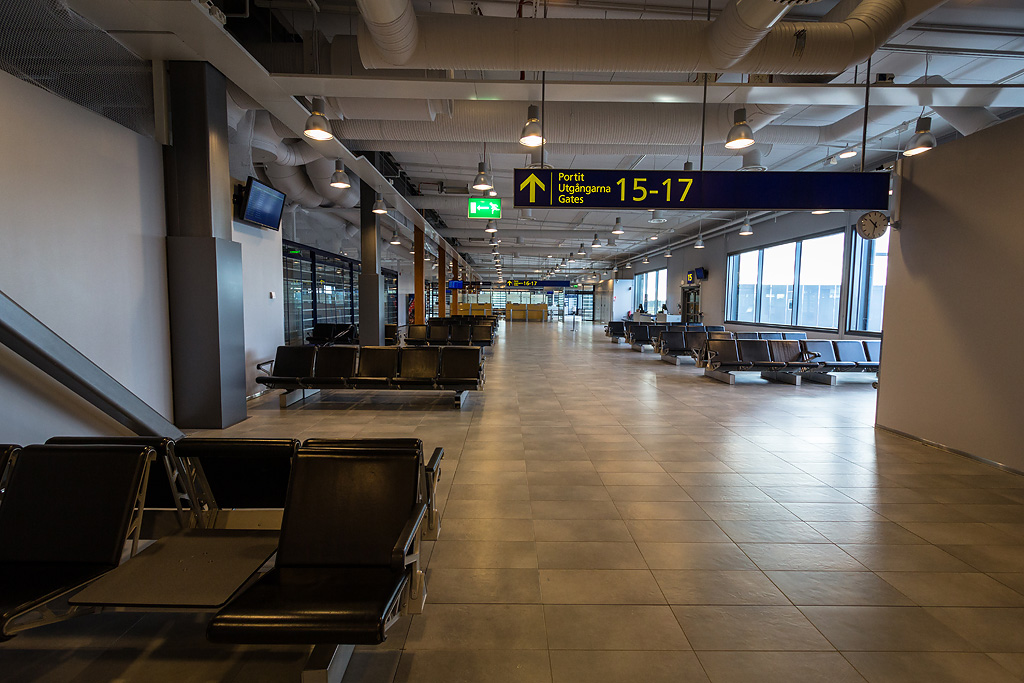 As confirmed by the information displays. Not much going on here.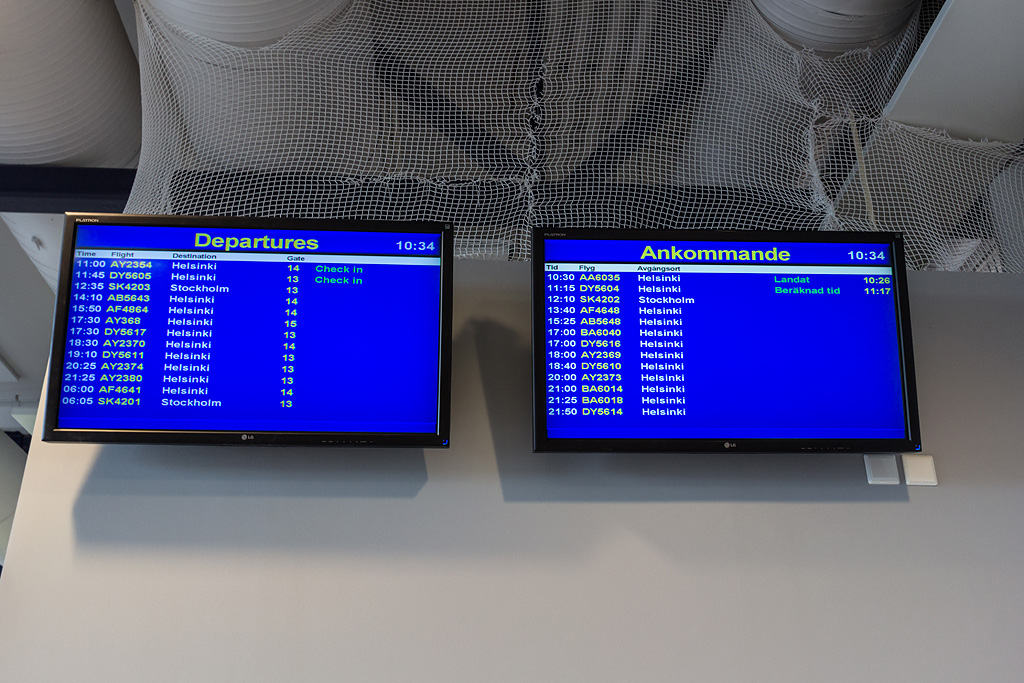 Oulu Airport and Oulu's Audi Center have some sort of co-operation going on as there's always some new Audi model on display near gate 14. Audi Center customers(ie. people who have bought their Audi from there) have also dedicated parking area at the airport.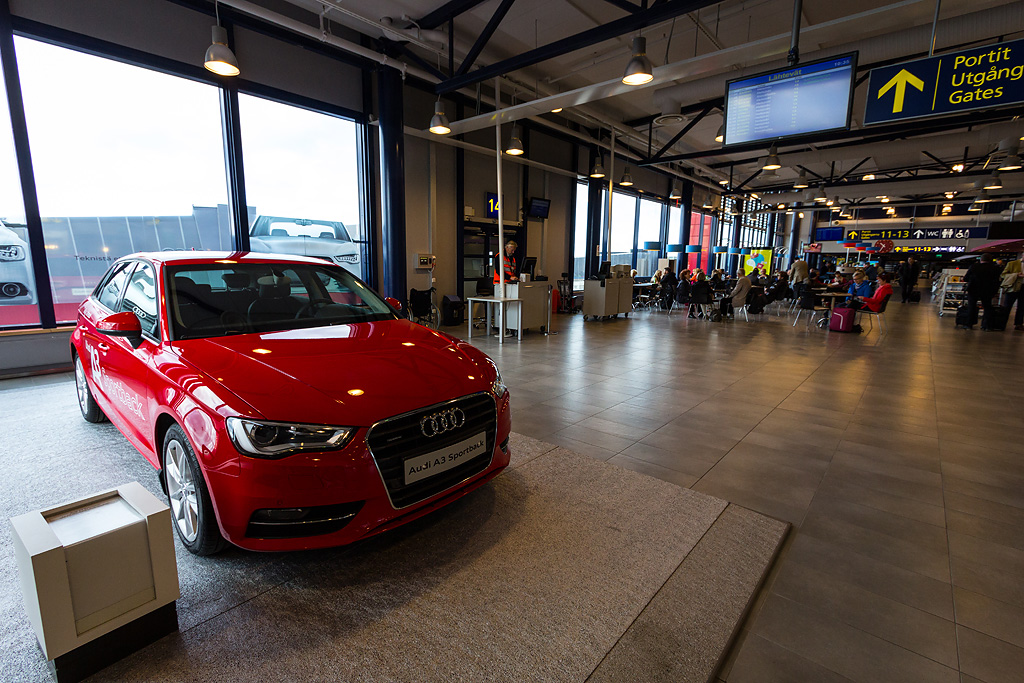 ---
Oulu to Helsinki
Flight Details

Date
Flight
Route
Scheduled Time
Actual Time
Duration
Distance
Aircraft
Seat
Class
25SEP2013
AY2354
OUL-HEL
11:00-11:55
10:55-11:53
58min
514km
Embraer E190
21F
Economy
Shortly after taking off to a beautiful autumn skies. City of Oulu is visible on the horizon and dominating the view is lake Papinjärvi. Popular swimming spot during warmer summer months.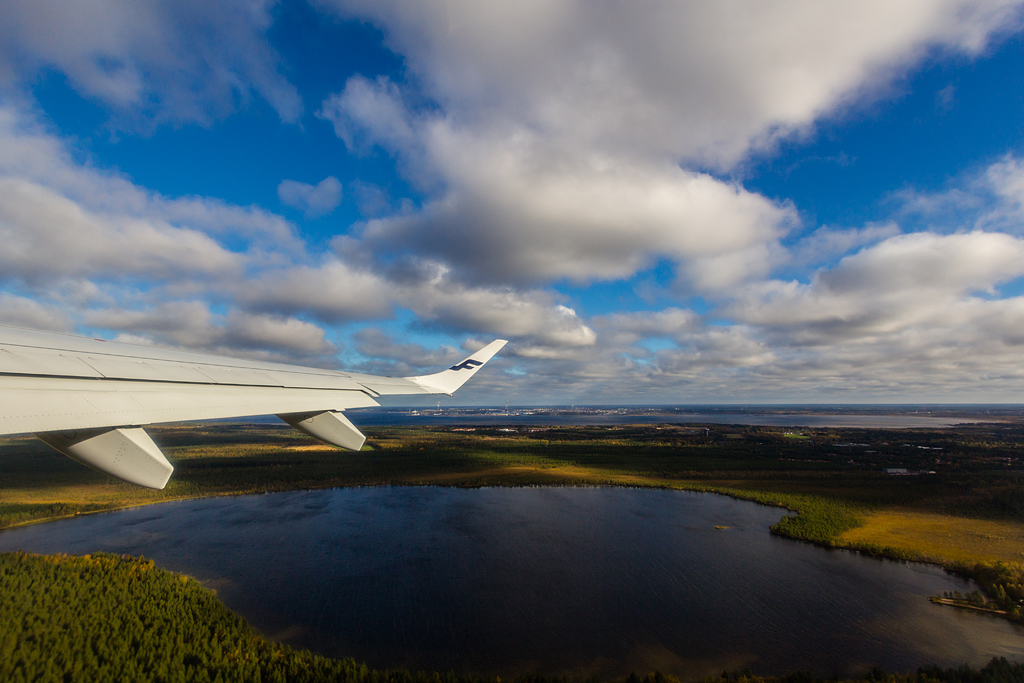 Shortly after going through the low broken cloud layer. Moon crescent also visible.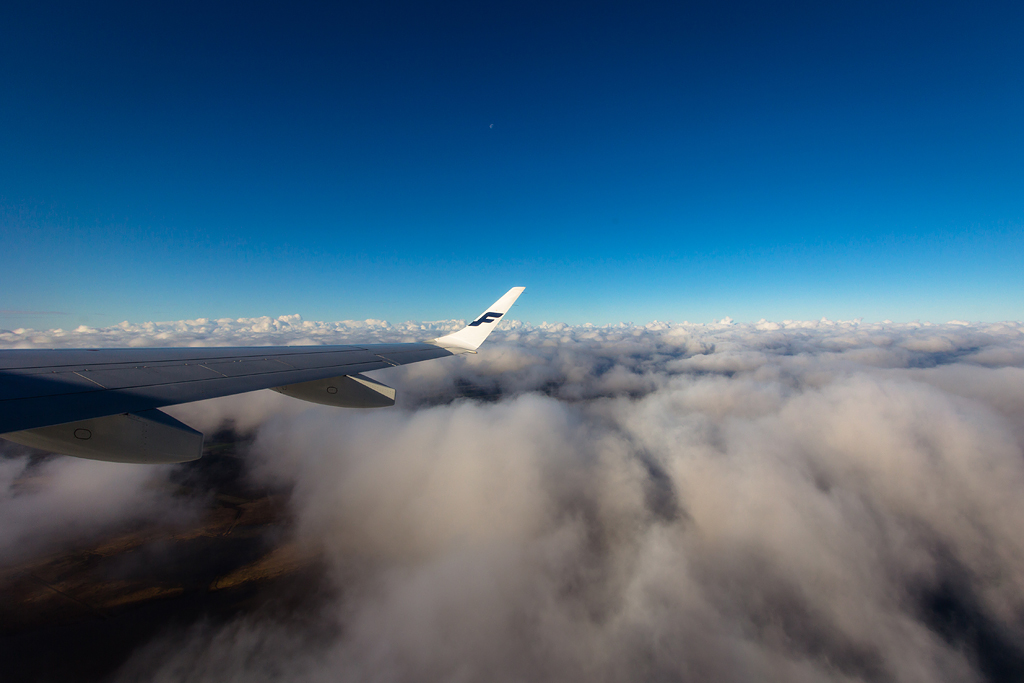 The service concept on Finnair domestic flights which are operated by Finnair or Flybe for Finnair with Embraer aircraft is the same. Flybe operated flights with ATR's have substantially worse concept(nothing for free and soft drinks are more expensive). On Finnair one has free coffee, tea, juices or water.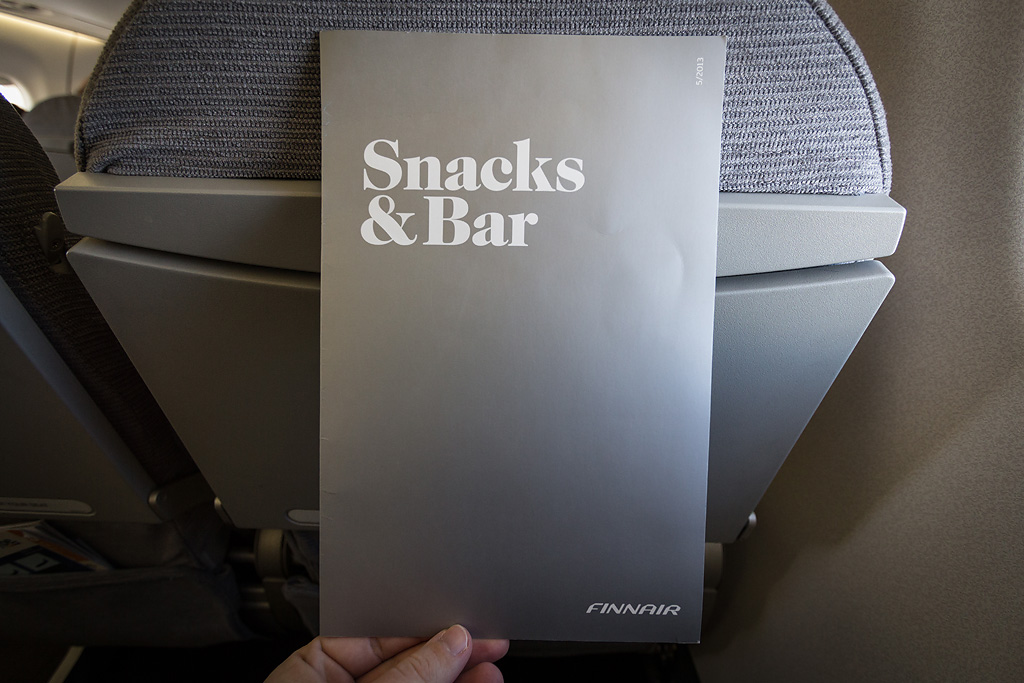 Full buy-on-board snacks selection. Enough offering for domestic flights.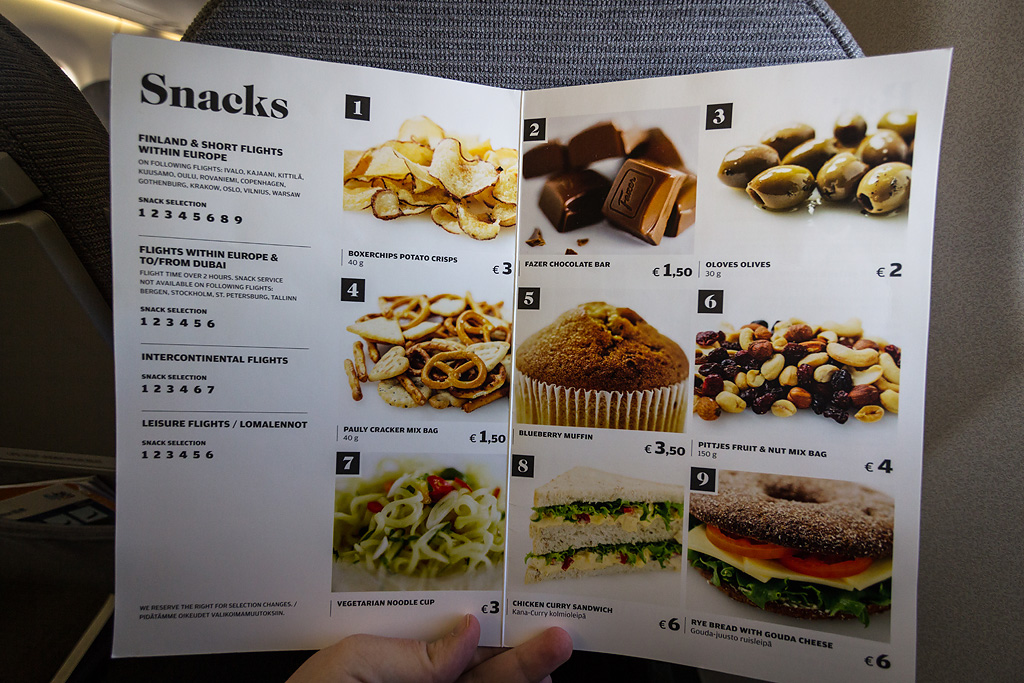 Drinks selection. Here I have one complaint. No Diet Coke on domestic flights, only normal Coke and Fanta.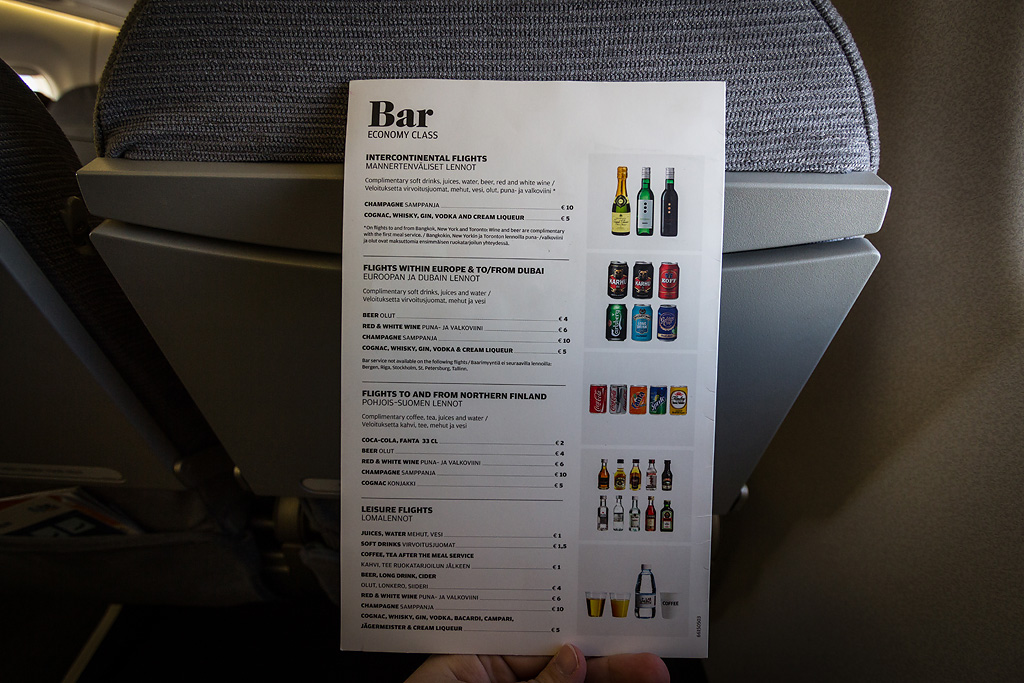 Safety card for this Embraer 190 aircraft. And as one can see, indeed operated by FlyBe. Even though all the interior, livery etc. is Finnair, the aircraft is owned(or leased) by FlyBe Finland and operated by their crew.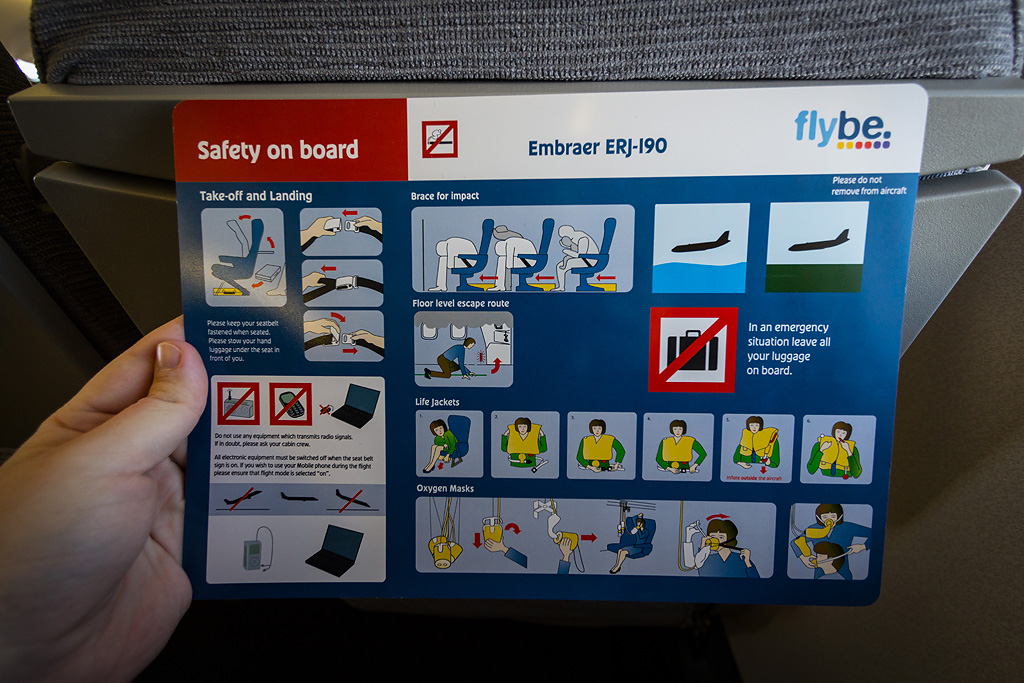 My tea served in Marimekko designed cup and napkin. Even though Marimekko has suffered some plagiarism charges and their reputation has taken a hit because of it, I still like the design and it suits well for Finnair.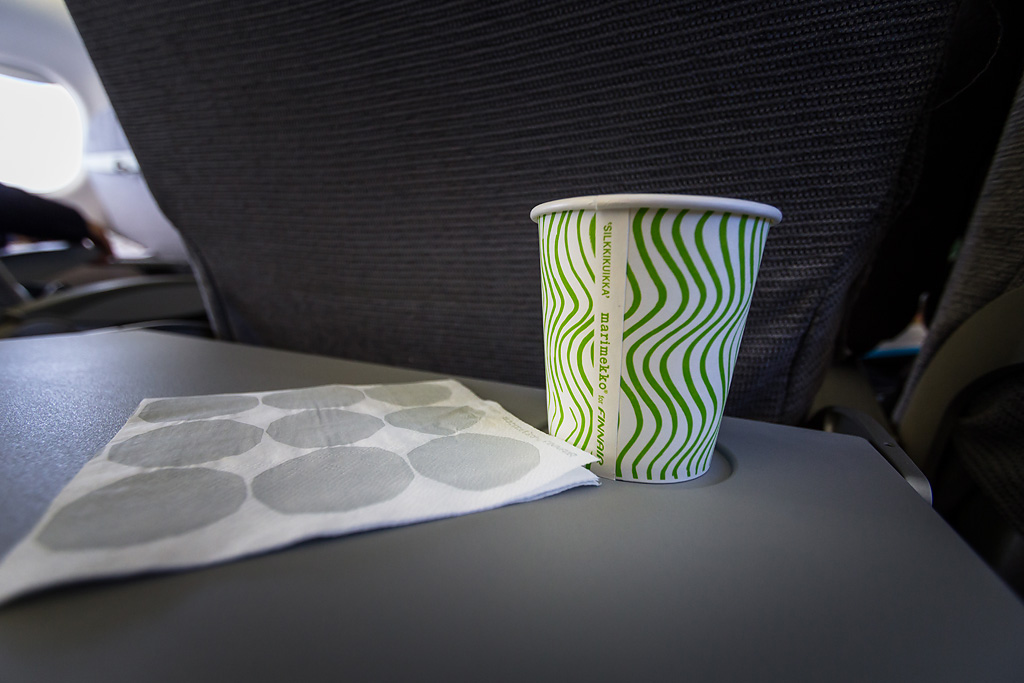 Approaching Helsinki Airport now. Finland is the land of thousands of lakes as seen here. Very typical Finnish landscape, lots of lakes and lots of forrest.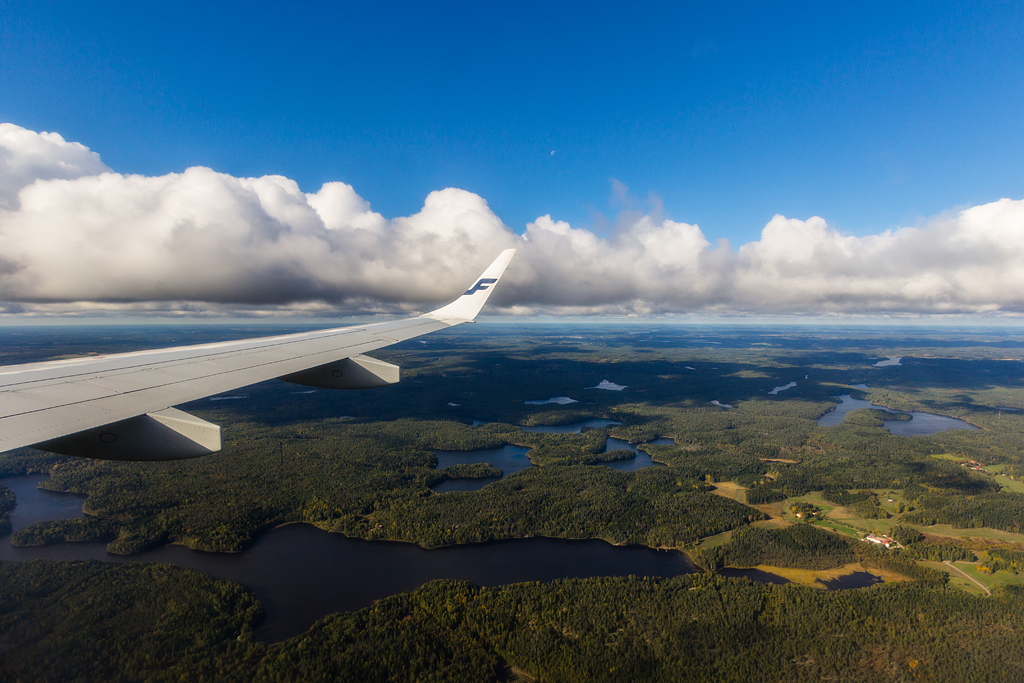 As we approach runway 04 right, the suburbs of Espoo and Helsinki are visible from the window.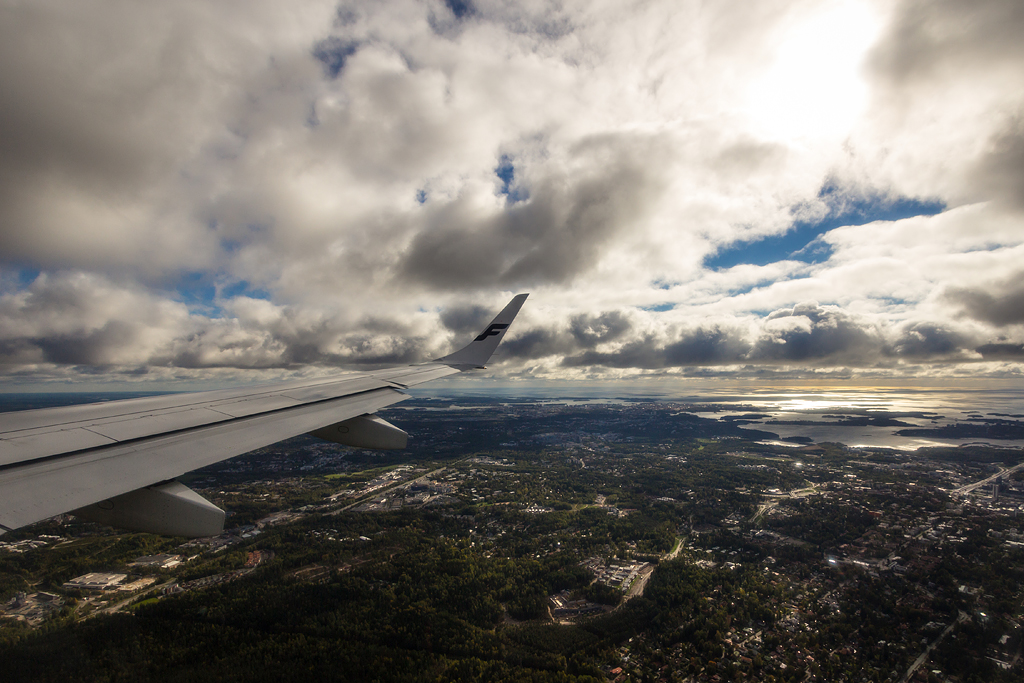 Finnair and Helsinki Airport.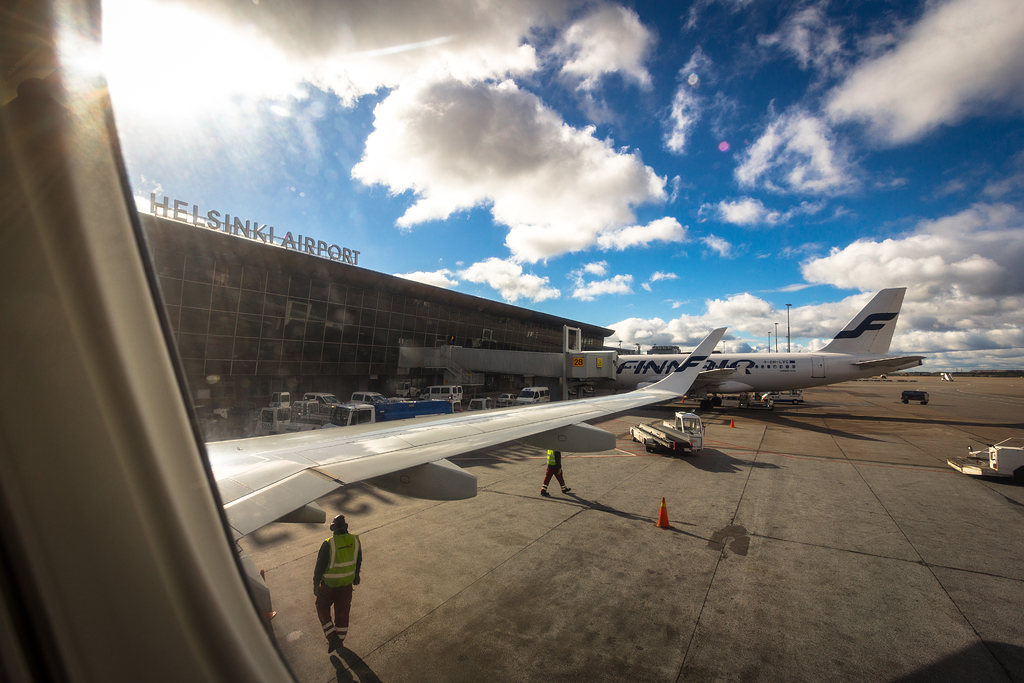 Seat headrests also feature Marimekko design.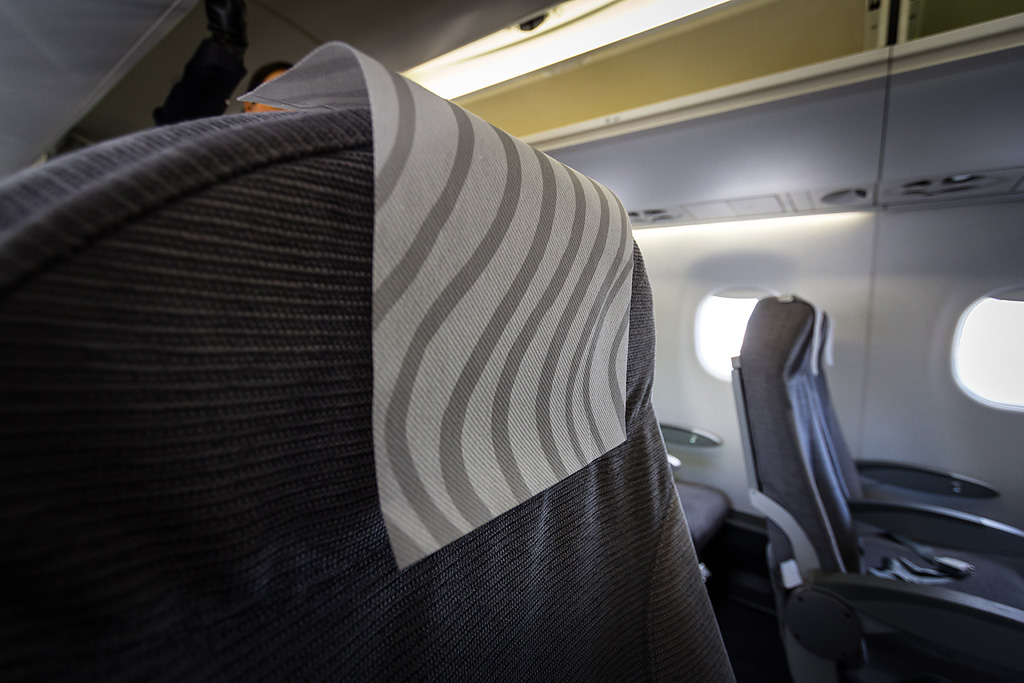 This - and all others operated by FlyBe Finland/Finnair - Embraer 190 has all economy 100 seat configuration. This configuration offers quite good comfort for the flights that are operated on these aircraft. Couple of newer aircraft in the fleet feature new slimline seating which makes even more room as they have the same 100 seat configuration but the seats them selves take less space.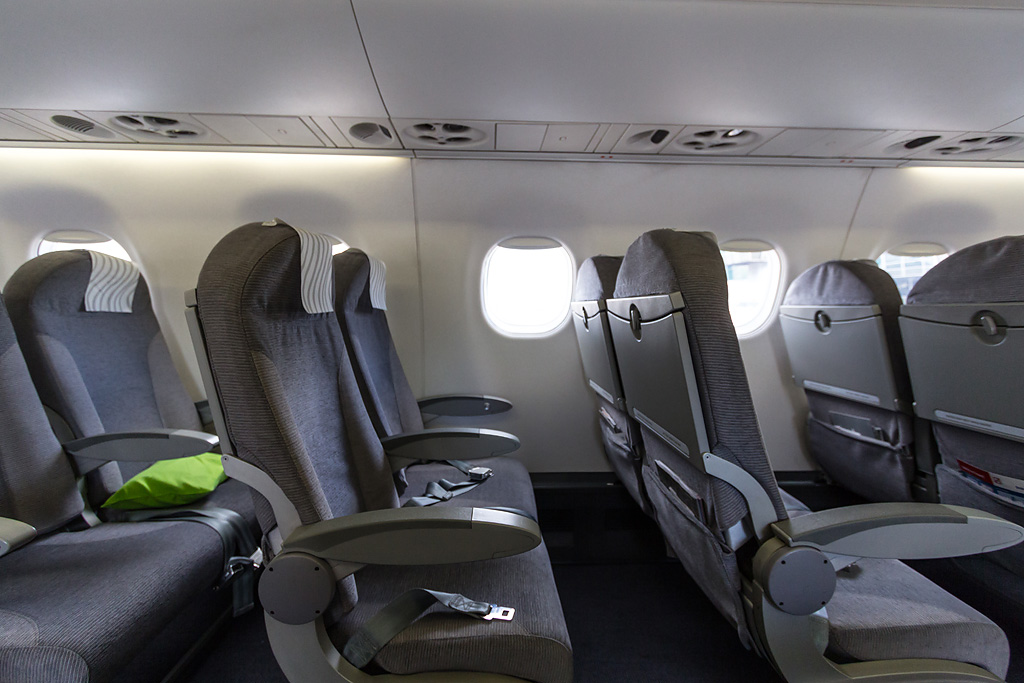 This aircraft has been on display here for a long time. Originally owned and flown by Väinö Bremer on many record breaking flights in the 1930's.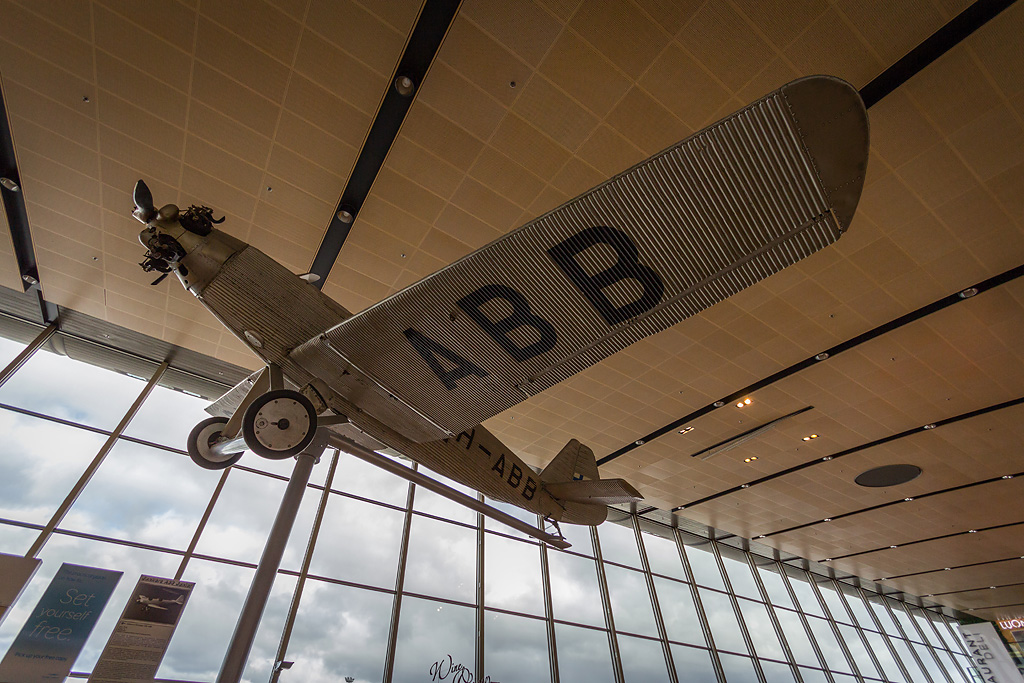 Information displays at Helsinki Airport are really good. On departures listing in addition of the gate there's direction to walk to and time to get there. Also when gate is almost about to close, there's timer that how many minutes gate is still open.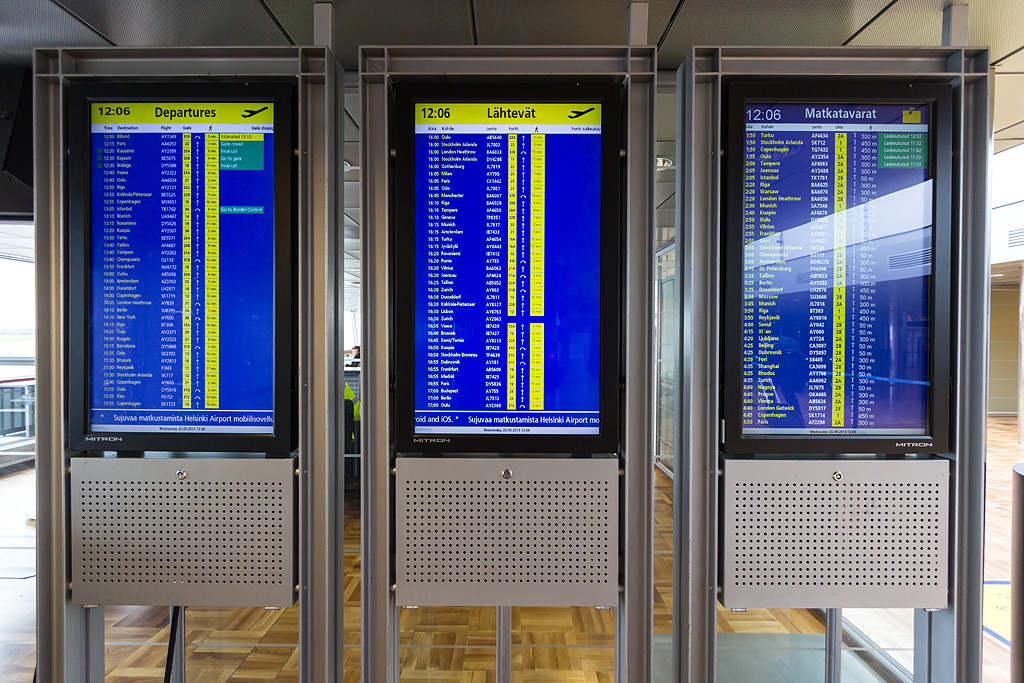 Very clear signs to different baggage claim areas and exits.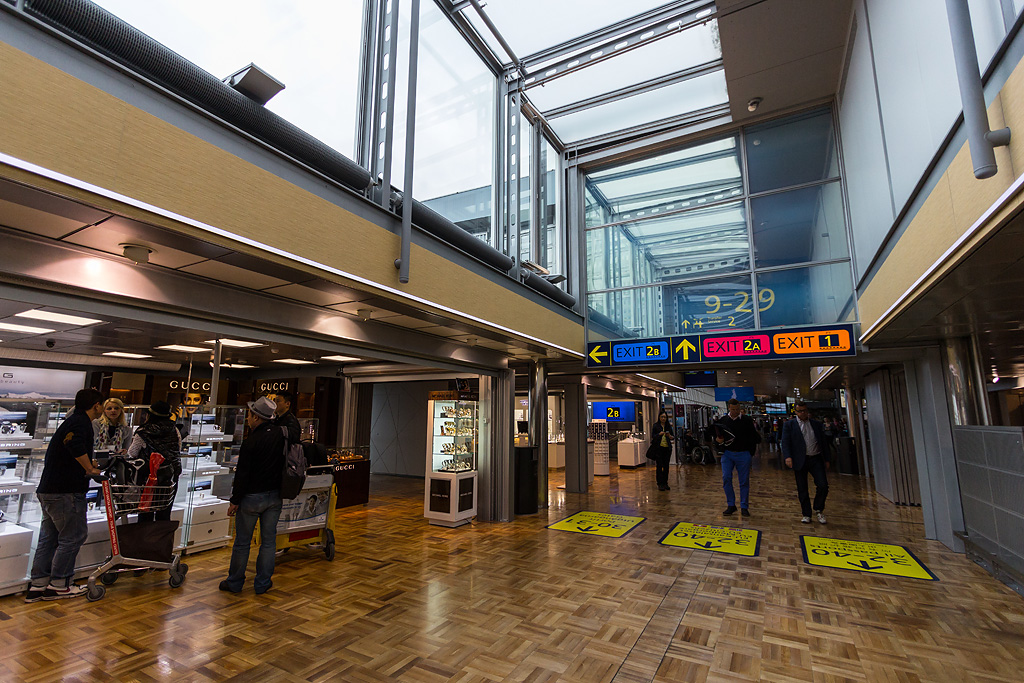 Also very clear indications on which flights use which baggage claim areas.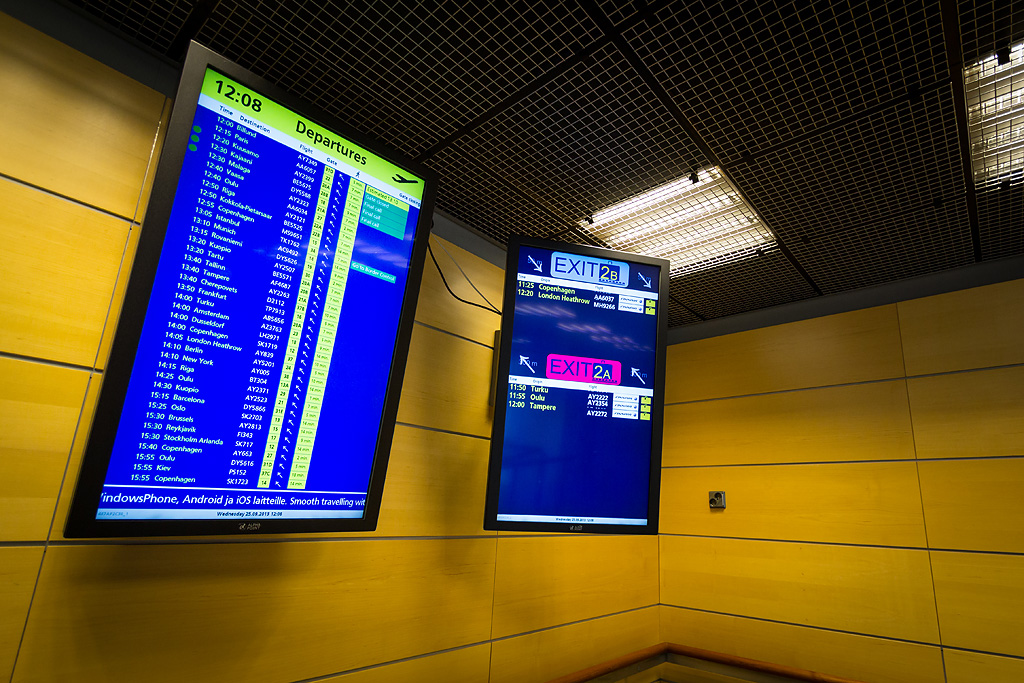 Baggage claim 2B is very much empty at this hour as it's mainly used for non-schengen flights which mostly arrive a bit later in the afternoon.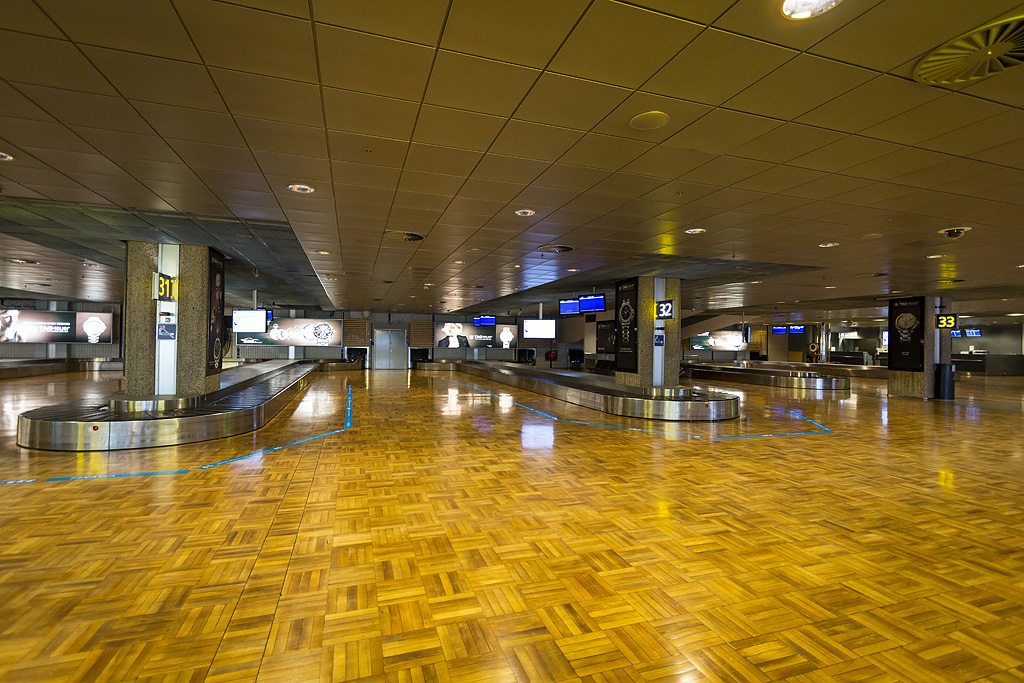 Terminal 2 departures hall is getting busier by the minute as wave of aircraft are departing to Asia and Europe.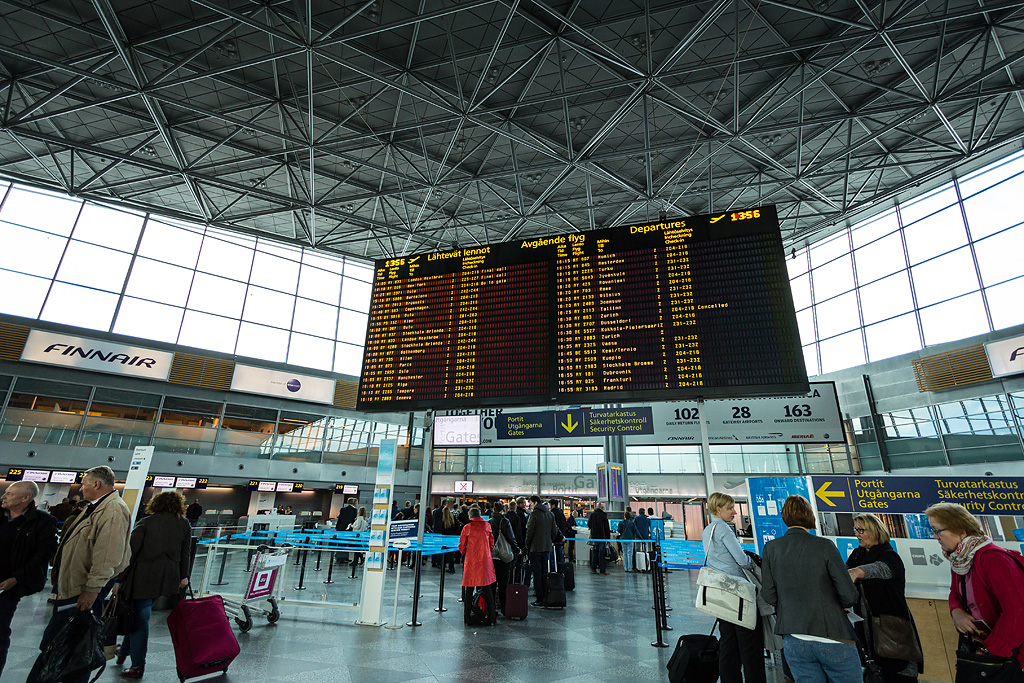 Finnair is celebrating it's 90th birthday this year. This huge poster on terminal 2 entrance is telling everyone about that. Very nice design in my opinion.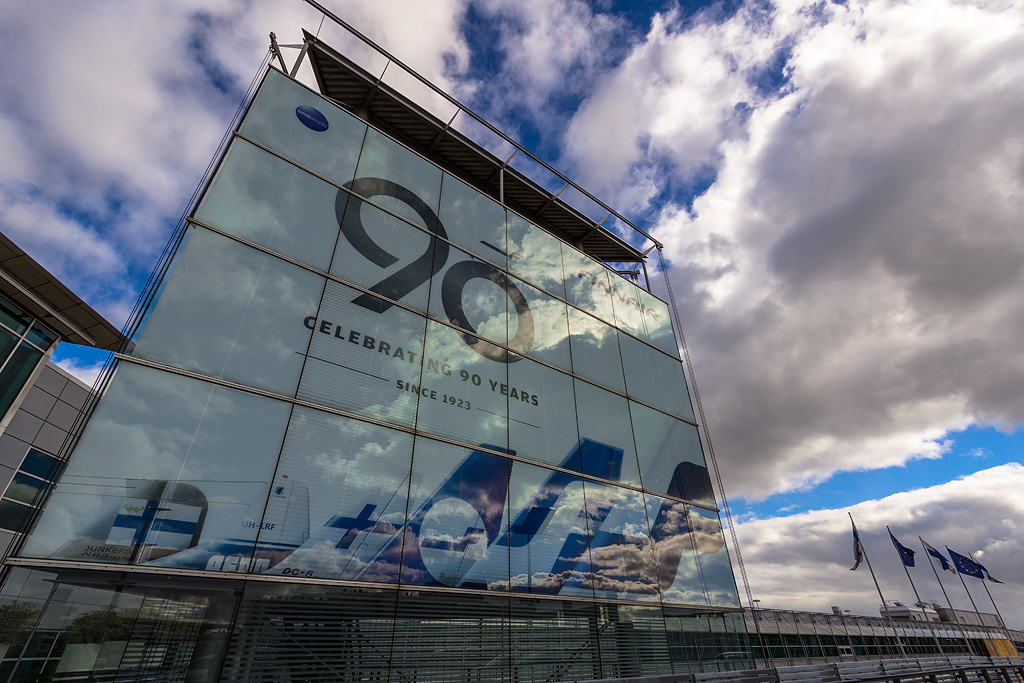 I had few moments before my meetings on that afternoon and headed to the observation deck located in the nearby office building. There are very clear signs leading to the observation deck from the terminals. There is an outside viewing platform and small indoor space. It has quite good service hours from 7 am to 10 pm. Next few photos are all taken from the outside viewing platform.
One of Finnair's A330 arriving from some Asian destination. Old DC-3 stored at Helsinki Airport is also visible.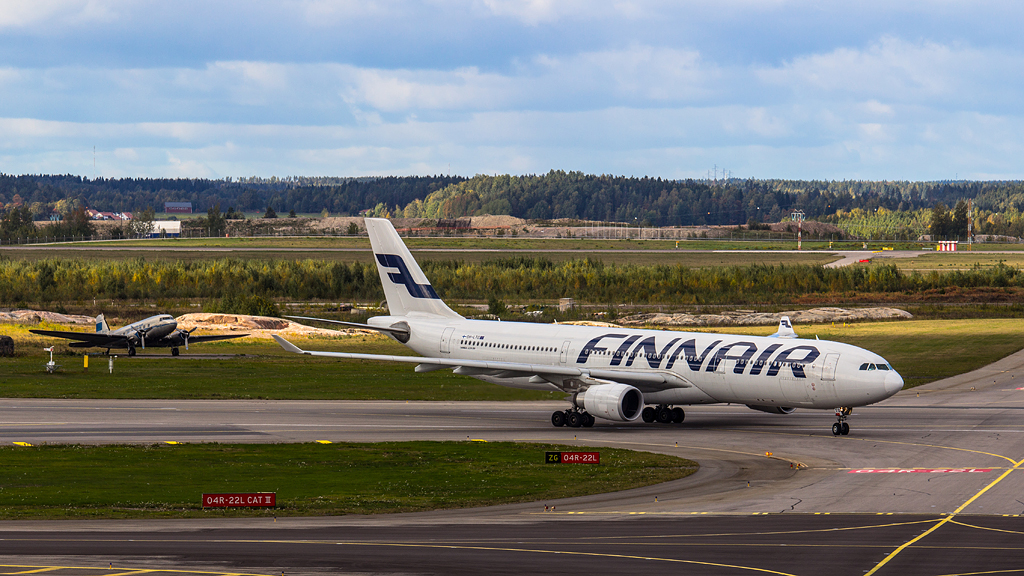 Japan Airlines stared their Tokyo-Helsinki service in July with the Dreamliner. I'll be trying out their service to Tokyo this December.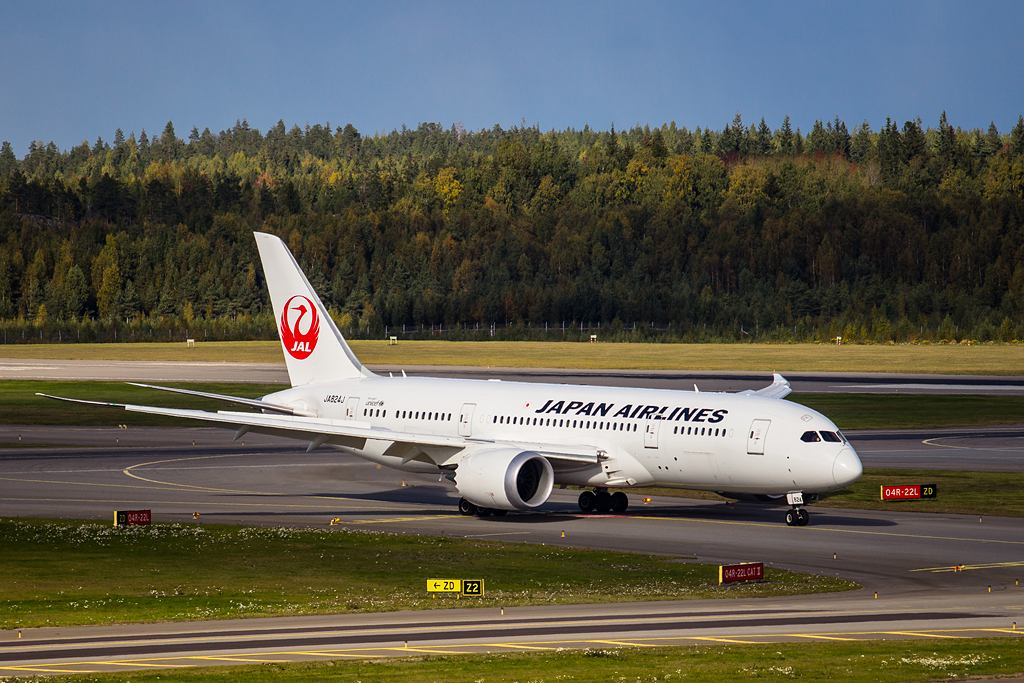 Finnair 5 Heavy departing to New York JFK.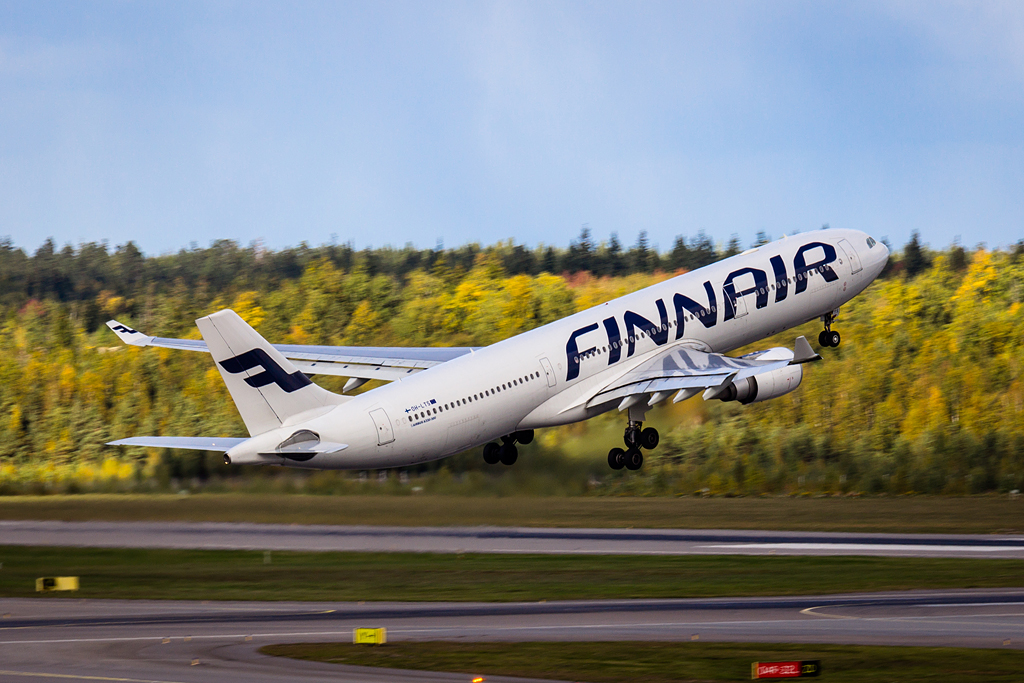 After few hours of meetings I headed back to terminal 2. Rather quiet at the entrance at this hour. Big Dipper also visible at the sky.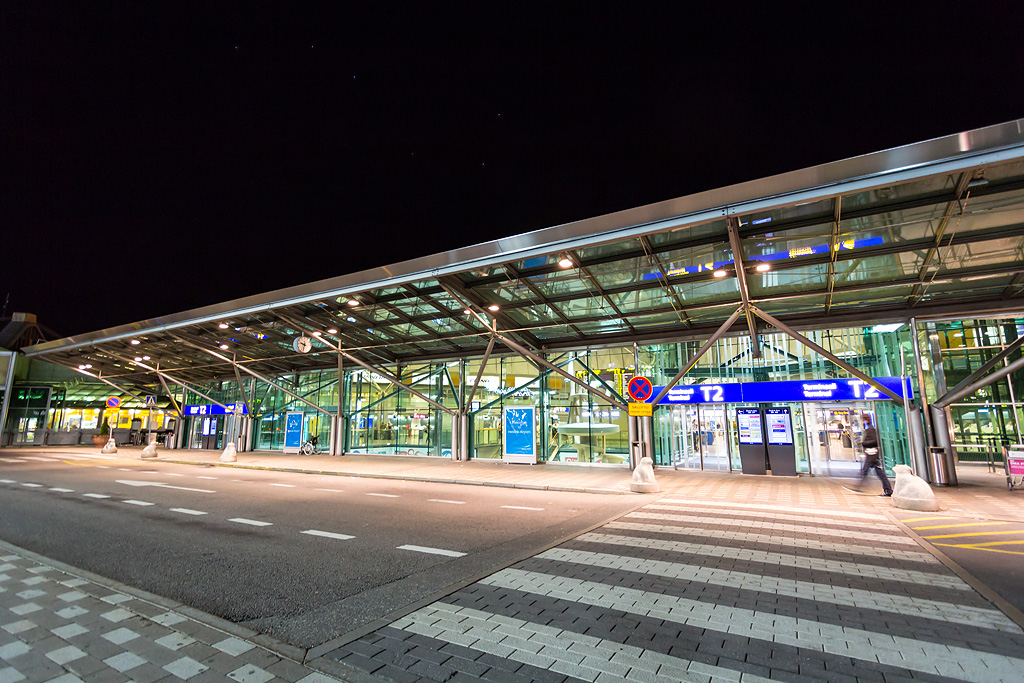 Departure hall is equally quiet.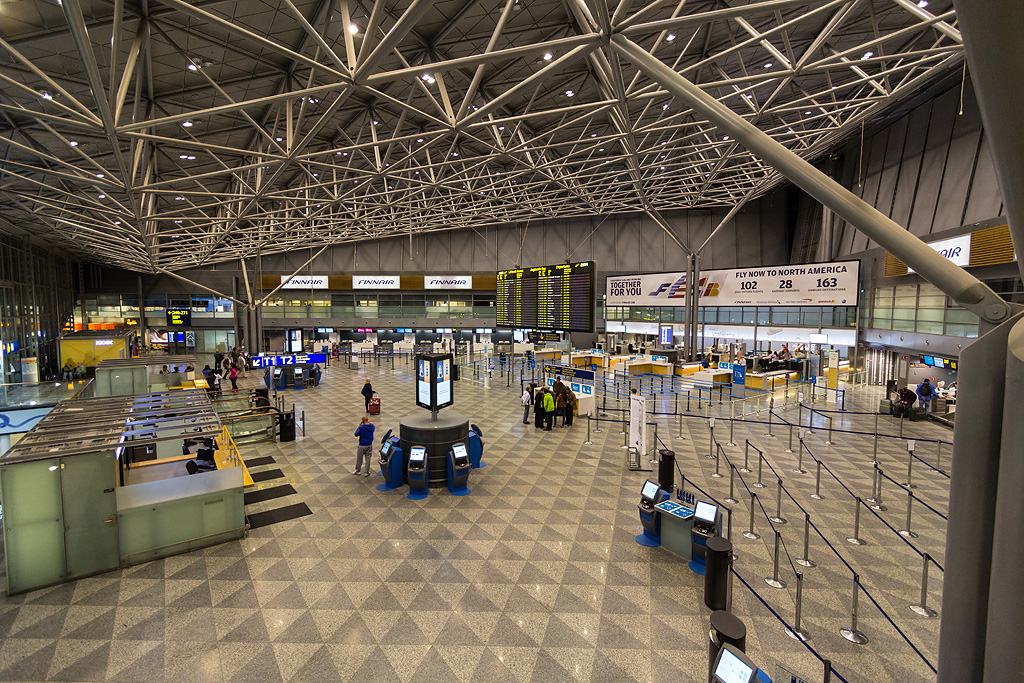 After very fast security check I was on the airside. There plenty of power ports everywhere at the airport and they are also very clearly marked.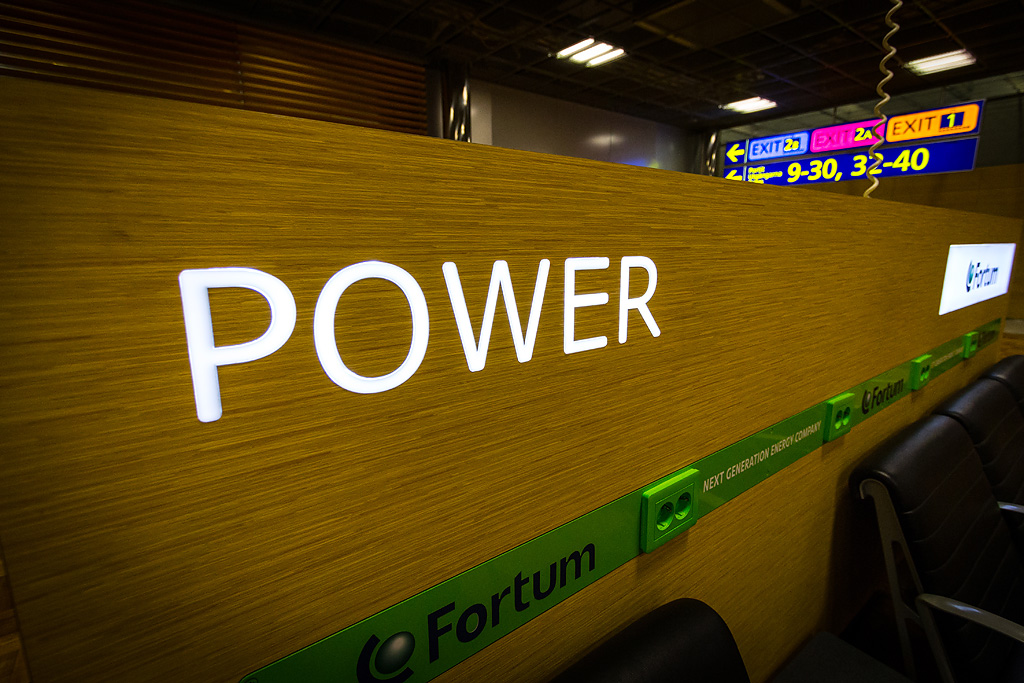 The new relaxation area near gate 31. It wasn't open yet so no photos from the inside. Basically there are many types of bed, relaxation chair etc. products to test there. Finavia is currently gathering feedback from the users which product they'll be installing for wider use at Helsinki Airport.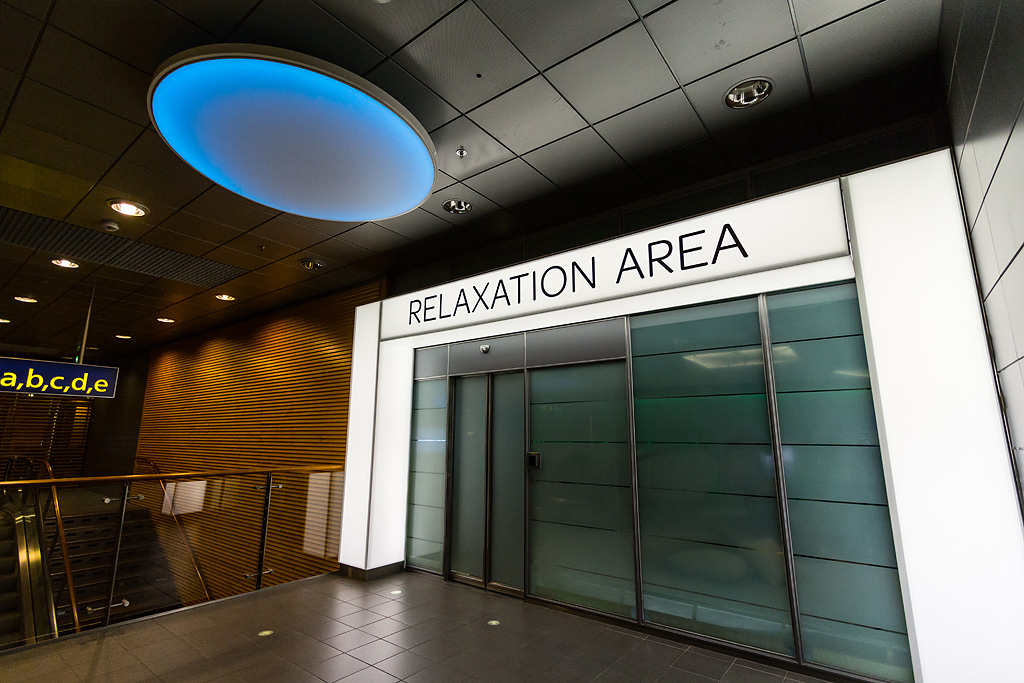 All Finavia operated airports have free, unrestricted and very fast Wi-Fi available. Beats most people's home Internet connections by far. And no stupid registration or any of that nonsense. Just connect your device, press connect on a website and you're good to go.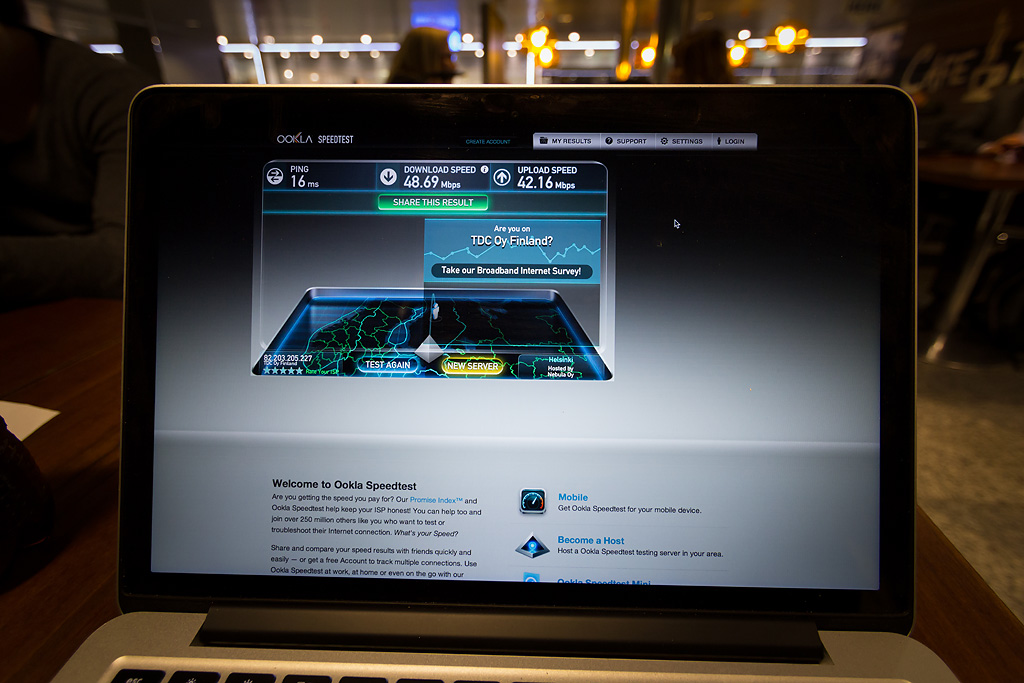 No gate lice today surprisingly.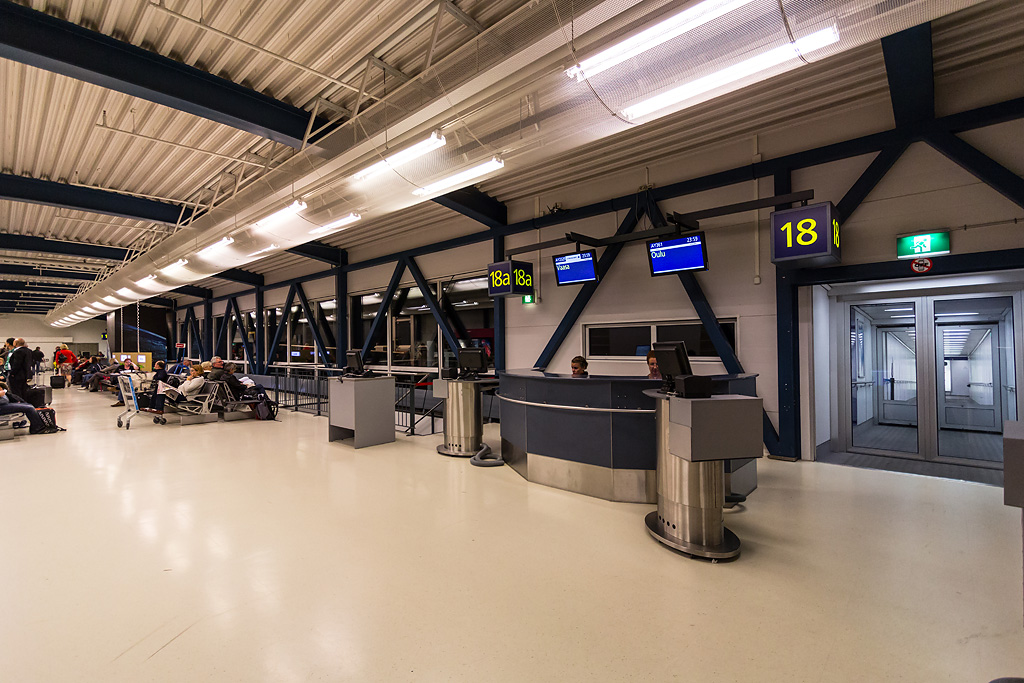 ---
Helsinki to Oulu
Flight Details

Date
Flight
Route
Scheduled Time
Actual Time
Duration
Distance
Aircraft
Seat
Class
25SEP2013
AY361
HEL-OUL
23:59-01:05
23:49-00:51
1h 02min
514km
Airbus A320
28A
Economy
My ride for this red eye flight to Oulu.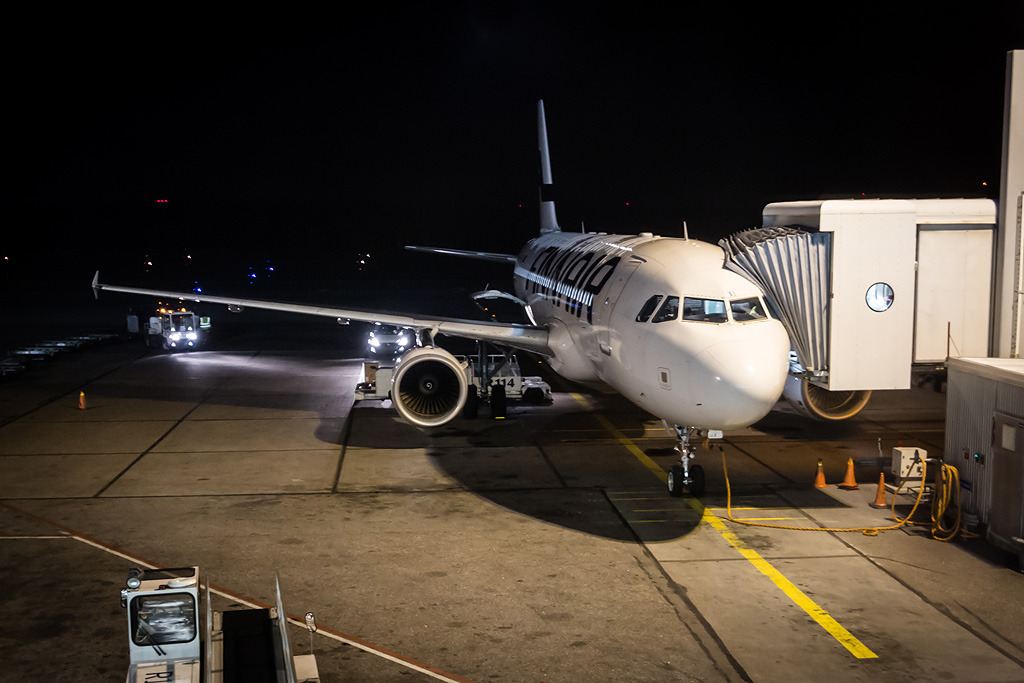 Finnair uses the Recaro slimline seats on their Airbus aircraft. The seats are actually more comfortable than they look and I really like them. No photos of the menu or drinks. The service is same as on the inbound flight.
View of the whole cabin, reasonable load tonight.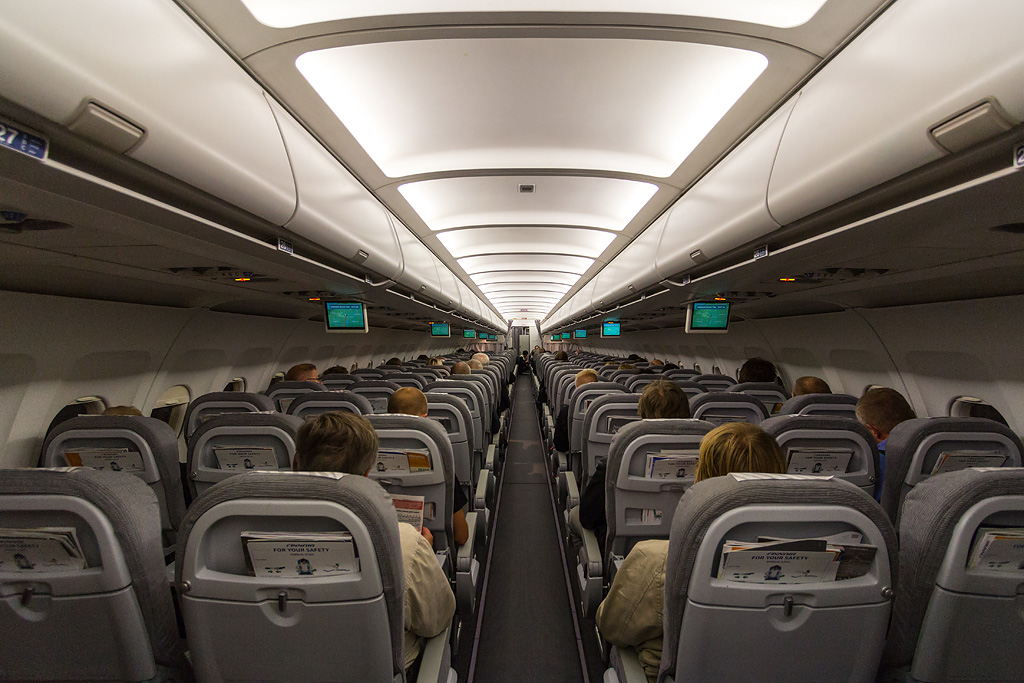 ---
Conclusion
Finnair offers very solid product for the Finnish domestic market and is always my go-to airline for domestic flying. Other option is Norwegian which isn't bad, but does not give as much value for money, especially if you hold oneworld status. While Norwegian brands it self low cost, their fares on Oulu-Helsinki route are actually very similar to Finnair, in most cases the difference is marginal and Finnair offers better availability too.
While I might be slightly biased on this, I firmly believe Helsinki Airport to be one of the best in Europe. And while might consider it a bit boring because I've used it so much, it's still very good. It's very easy to navigate and offers good service to average passenger who doesn't have airline status. Obviously it doesn't have the connections of Heathrow, but then again, it doesn't have the chaos either. Properly good Wi-Fi is still unknown to most European airports too. Helsinki Airport will have some challenges while Asian connecting traffic keeps growing. I just hope they manage to keep the airport small enough and easy enough even after next major expansion that is inevitable in the near future.
---
About
I'm a traveller and an aviation photographer from Oulu, Finland. This site is a journal of my travels. If you want to contact me, just email me to olli.vainio@kapsi.fi. For my aviation photographs, visit Olli Vainio Photography.